The competition to rank on Google is almost at its peak.
So, which SEO strategy you will use to outperform rivals and position your site in #1 position?
There are around 5 to 6 billion Google searches that are done on a daily basis.
On a yearly basis, Google observes 79% of global search traffic, Baidu- 6.55%, Bing- 7.27%, and of course Yahoo- 5.06%.
With such competition on Google, you have to use the best SEO techniques to rank higher.
Today we'll read:

21+ SEO Strategies:

1. Draw The Attention Of Online Users
2. Create a List of Keywords
3. Content Marketing
4. Focus On Technical SEO
5. Target Keywords
6. Create Something Different or Better
7. Video Content
8. Keyword Optimization
9. Create a Google My Business Account
10. Website Design
11. Add a Hook
12. Voice Search Strategy
13. Evaluate Your Website
14. Optimizing Your Website Design and User Experience
15. Competitor Alert
16. Optimize For On-Page SEO
17. Evergreen Long Format Content
18. Understand Consumers' Needs
19 Build Authority with Links
20. Marketing
21. Focus On Content Design
22. Social Media
Let's begin with the first one…
1. Draw The Attention Of Online Users
Do you know what search engines value the most?
Experience of online searchers! All the biggest search engines such as Google, Bing, and Yahoo want to serve their online visitors the most useful results for their queries.
Thus, your main focus should be on pleasing the searchers. But, note that you have only a few seconds to make the first impression.
A research study proved that average online visitors leave a webpage or a blog within 15 seconds. Longer dwell time shows the interest and engagement of web searchers on a site when staying for a long time or click on multiple pages.
By understanding it thoroughly, you will know how to improve Google rankings. Increased dwell time is a signal of positive user experience and conversion of visitors into email subscribers and potential customers. Mobile-friendly design with fluid site architecture and improved speed is a primary step to please searchers.
Use SEO link building to prevent micro issues such as redirect issues, thin content, broken links, 404 errors, etc.
2. Create a List of Keywords
The foremost step of any result-driven SEO strategy is keyword research.
And the top-most way to search for the keywords that your target customers use to search is by typing a keyword into Google's search box, and it will give a list of widely searched fruitful SEO keywords: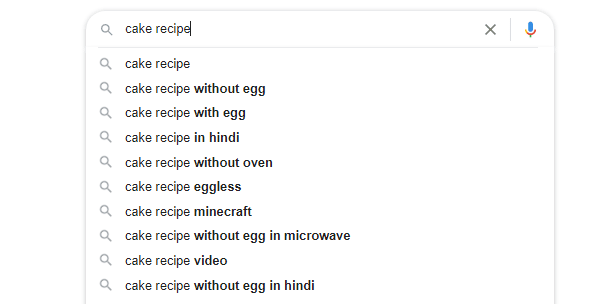 Like in this, we have typed cake recipes in the search box and every searched phrase related to that got listed in the suggestions.
These suggestions are the ones that people are actually searching for.
Adding to that, longer keywords are more likely to be less competitive compared to short-tail keywords.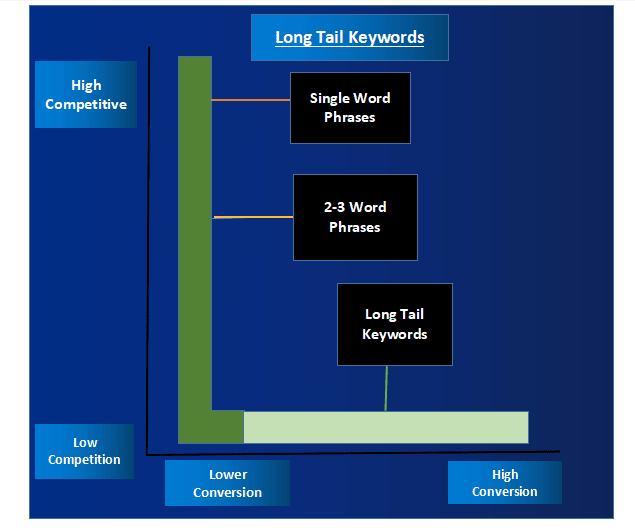 Even though long-tail keywords have low search volume levels, they are way more convenient to rank for.
It is suggested to type various keywords into Google till the time you get a list of around 10 keywords.
If you want to find out the competition levels as well as the search value for your typed terms, you can use popular keyword tools such as Semrush.
Once you have 10 keywords, you are ready to build a powerful SEO strategy.
3. Content Marketing
Today you just need to focus more on this factor, Google says to create high-quality contents that will work as anchors for your site.
So, concentrate on content marketing. The search engine suggests high trafficked websites like Quora, LinkedIn, WiseLike, and so on for content marketing that would massively push you up the SERP.
Strategy
☛ Develop keyword specific content that is massively relevant
☛ Locate at least 1 link to the main site
4. Focus On Technical SEO
Technical SEO is the method of optimizing the structure of your website pages so that the crawler can appropriately read and index your website. If you were to personify the crawler, the aim is to have to identify your website.
Even if your effective content writing is great, issues with technical SEO will affect your website's capability to rank high in search engines. So before developing new content to attract potential customers, take stock of the quality of your content from a technical point of view.
Some issues are best left to engineers-
Like ensuring your encryption protocols and security are up to date, page speed optimizations as well as the structuring of data. If you do not have that technical background, try these listed profitable SEO tips for entrepreneurs:
a)- Create a sitemap and submit it to Google: According to what tools you used to establish your website, there are plugins you can consider creating a sitemap. You can submit your sitemap to Google through Google Search Console, a free service Google assists you to manage your presence in Google Search Results.
b)- Prune old pages that don't perform: If your website has many pages that do not get traffic, your rankings will be badly affected.
c)- Fix broken and old links: The SERP robots will downgrade your content if you regularly send your reader outdated or say broken links. A recent survey represented that sending users to high-authority outbound links is looked upon mainly by Google's ranking algorithm.
d)- Optimize your images: Utilize appropriate images with great captions. You should also utilize the "alt text" section to add a description to the image.
5. Target Keywords
Make use of trending and relevant keywords in your content. This will definitely help your website content to reach more people and finally result in higher rank as well as ROI.
The keyword planner tool can be used to identify the trending as well as high visitor keywords. Keyword relevance plays a crucial role in being top of your competitor.
Analyze the keywords of the competitor and work according to that, which actual focus keyword is more beneficial and will reach more users.
6. Create Something Different or Better
Today, creating high-quality and engaging has become very important.
Especially in SEO content, you get two different options:
First is, you can create something unique
The second is, tat you can create something better than others.
Sometimes you want to create something that is better and more beneficial for readers compared to what others are creating.
This is where the effective Skyscraper technique comes in.
But sometimes it's better if you create something completely different.
Why?
Simply because it assists your content to stand out.
For example:
Some time ago, we decided to post content, optimized around: "Link Building Techniques".
But we noticed that on Google, there are many posts that are related to link building techniques, like Top 5 link building techniques.
Now:
So, we decided to create bigger posts like 17+ proven link building techniques

But we thought, that writing just that will not make much difference.
So we decided to create something different
With techniques, we also provided a guide that can be considered by everyone.

And because our content was offering a different information than others, we got a lot of shares and readers.
And most importantly, we got tons of backlinks.
So, what if you want to create something better than what's already ranking in a good position in SERPs?
In this situation, you need to publish content that is way better than what's already there on the web.
For example:
If you notice that most content on Google is about "reliable SEO tips" and only has 10-15 tips, another 15 tips will not work.
So include a lot more tips like 35+ SEO tips.
You will soon observe, that the post is ranking high in SERPs.
7. Video Content
It would not be a surprising fact that video is a useful form of SEO strategy as 62% of Google universal searches comprise video and offer about 41% higher CTR.
It is 50 times more likely to obtain organic page ranking than simple text results.
The importance of video content optimization is increasing because the 1-minute video speaks more than 1.8 million plain words. It is estimated that 78% of mobile data will be used for watching videos.
Sprint to about 500 subscribers marks to claim a vanity URL. Use YouTube-optimized keywords and descriptions for mobile and desktop users.
Go through an comprehensive YouTube SEO guide to get complete insights into how to rank at the top for videos.
8. Keyword Optimization
Keyword optimization is important for ranking well in SERPs. Without it, your content cannot rank for search terms niched to your business. Luckily, many keyword optimizations are common sense. When you write with the aim of assisting a reader, you will organically use the keywords that describe the topic.
Using keywords very naturally is important, though.
If you intentionally add keywords as many times as possible on a web page, even where do not make any sense, you will genuinely lose real SEO power with that page. This is known as keyword stuffing and Google penalizes it since it offers a really poor experience.
At the same time, you do not need to get sidetracked by another concept and avoid using your keyword altogether. This can also offer a poor user experience if you go off on a tangent instead of sticking to the matter at hand.
You can prevent both of these instances by carefully editing your web pages before you publish them on your website. We suggest editing once every piece of content.
That is just sufficient time to get any flaws in a piece without overthinking little details.
9. Create a Google My Business Account
Optimizing your Google listing is the most efficient method to rank higher on Google maps and acquire visibility in Google Search local results.
Also, professional link building for SEO is important this. To get access to your Business Profile to make these optimizations, however, you require a Google My Business account linked with that profile.
Once you offer all of the demanded information in your Google My Business account dashboard, all of that detail will be included in your Business Profile, which occurs in Google Search local results, the Google Search Knowledge Panel, as well as Google Maps.
To optimize your Business Profile on Google, make sure that you:
✓ Develop a Google My Business account as well as verify ownership of the business.
✓ Offer up-to-date and accurate information
✓ Involve your hours of operation, logo, the product or service you sell, acceptable payment options, and many images.
✓ Initiate reviews of the customers.
✓ Respond to their reviews
✓ Publish posts to your Business profile utilizing the Google My Business dashboard.
10. Website Design
The website for which SEO work is needed to be done must be appealing and fast in loading. If this is not happening, a visitor will not use it.
Here, you must read ultimate guide to website design.
No matter whether a website is having a great layout, content, or video stuff, if it is not loading fast, a visitor will simply shut it down and move to the next one.
Make sure the bounce rate is low for a website. Bounce rate means the time for which a visitor stays on a website. No visitor will stay for long on a website if it is not having interesting content to go through, video content, or infographic stuff.
If a visitor stays for a long on a website, higher ROI is definitely on the cards. A mobile-friendly website is the core of any marketing strategy, as a maximum number of users open a website on mobile these days. The website must be compatible with every OS and version of mobile.
Make backlinks to your website by getting them from a website having a higher rank on search engines. To do it perfectly, understand how do i create backlinks.
11. Add a Hook
If you want to focus on your ranking and improve it, you need to get backlinks.
Links are still the top-most thing that is correlated with the 1st page of Google rankings.

Which means it is the biggest ranking factor.
Now, a question arises: How can you do it?
Well, it needs some research. You need to find out why people link to certain content in your industry.
After that, make your content engaging and interesting for readers.
Here is an example:
If you notice some blog, you will find that when bloggers wrote about that they link to content that have stats and data.
If also do that same, your posts will bring you up to 5.7K backlinks
Facts and figures are just a type of hook that you can utilize to build links to website for your business.
Another thing that is working really better today is ultimate guides.
When you write content that is a guide to something, the word "Guide" itself is the hook.
12. Voice Search Strategy
Voice search is a dominating factor in SEO with about millions of Alexa products offered and sold in the market. 62% of customers said that they purchase products after searching for them through a voice-enabled speaker.
It is estimated that voice search will contribute to about 50% of searches done online. 53% of users make voice searches on a daily basis.
About 27% of people visit the local business site through worthwhile voice search. The voice recognition market is expected to reach $601 million by the end of this year. Thus, shift your focus to using long-tail keywords.
13. Evaluate Your Website
Developing an SEO strategy is about influencing people to visit your site, engage with your content, and boost conversions.
But before you begin planning that journey, think about what your site seems like. Try to look at it as an outsider and consider whether it is user-friendly as well as if it is convenient to navigate.
Have many people test out your site. Perform a pretend scavenger hunt to get different items on your site.
Do not forget that a huge percentage of your audience will be accessing your site through their mobile device.
Ensure you access the site via a smartphone and tablet to view what kind of user experience these audiences are having and here you can take the help of trustworthy SEO Link Building Company.
Think about how people of different ages will navigate your website. If a searcher finds you in SERPs for a keyword, they need to see your page instantly, and they want to know everything about your business in a few minutes.
If they cannot get that from your site, you can count them finding what they are searching for somewhere else- without any skip.
Your aim should be to lock in that site visitor and inspire them to stay on your webpage long enough to get what they are searching for.
These channels will also influence visitors to your websites, so go through the same test and try walking through the consumer experience with fresh eyes. This way you might now know why you need SEO for growth.
Do not forget the quality of your content. Is the content relevant as well as engaging enough?
If you need assistance thinking of content and formatting for your site, you can always prefer professionals.
14. Optimizing Your Website Design and User Experience
Having a simple design, which is convenient to understand, and easy to navigate is definitely the call of the hour, with your visitors or customers generally searching for the perfect user experience?
Even popular search engine such as Google and others look out for simple but also better audience journeys through your site and crawl on to them ranking them higher on SERPs in turn. Also, you would need high-quality backlinks for different types of SEO to grow your business more easily.
Knowing clearly what your visitors or customer require would assist you utilize the optimized and right content on your site, which would definitely assist in getting your SEO right.
15. Competitor Alert
Regularly update the competitor's work and apply that work strategy to your work. This will help, you to be top of your competitor.
Analyzing competitors is a crucial part of the SEO strategy, if you lack this approach chances to get a good rank, visibility or online occurrence of the brand are very low. Google Analytics is a great tool, to check the competitor's website, brand, or product.
Make a habit of regularly analyzing the competitor's work to get a good online occurrence.
16. Optimize For On-Page SEO
This step includes keyword-optimizing your content for SEO.
There is one of the top-most SEO techniques you should use is internal linking.
Yes, internal linking. It still works.
But it will only work, if you do it right.
Generally, if you want to link from authorized pages to pages that require more website authority.
For example,
Try publishing a definitive guide on a topic like Google Search Console.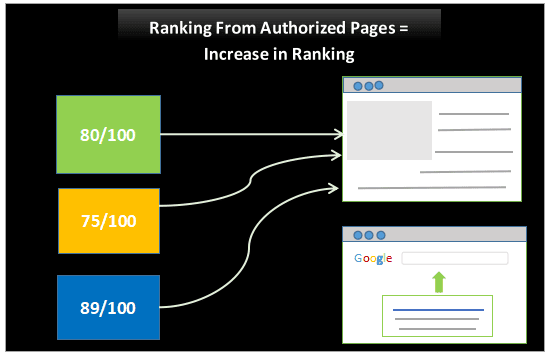 Search for pages on your website that has a lot of authority.
and linked those to your guide. It should be short, keyword-rich URLs.
An analysis of 11 million Google search results found something that surprised many:
When it's a matter of search engine optimization, short URLs surpass beat the long URLs.
Consider making the URLs either your specific semantic and long tail keywords or your target keyword + one word.
Both the way works.
Semantic SEO
Finally, try to optimize your content for semantic SEO.
In other words:
Find those words that are related to your target keyword.
After that use those terms in your content.
If you want to do this by yourself, type your target keyword into Google images.
And Google will suggest you some words as well as phrases that are related to your topic.
After this, type the same keyword into a normal Google search. And then go below the 1st page to see the "Searches related to" section.
Finally, choose some terms that will be relevant according to your content.
17. Evergreen Long Format Content
Long-form content results in higher search ranking. It is found that content of about 2500 words ranks best in 1st and 2nd position on the first page. Long-form content writing is more likely to generate quality backlinks.
Google generally recommends composing content that satisfies user's search intent by providing detailed information in a single place.
18. Understand Consumers' Needs
While this is not one of the traditional but powerful natural link building tactics. It is certainly an essential aspect. You cannot expect to expand your audience without first knowing the requirements of your target customers. You have to realize the actual value you bring to your existing customers and what other potential customers are searching for.
You should be able to be specific with your offerings.
The perfect way to do that is to get feedback from target customers. With this SEO tactic, you can enhance social media, Google, and the comment section on your posts.
19. Build Authority with Links
Having other websites link back to your website improves your position in search engines. This is because Google knows the quality and quantity of backlinks to be an indicator that your website is worth reading.
Research has represented that the number of websites linking to a webpage correlates with a high SERP ranking more than any other SEO plan. Saying that to have a good ranking, follow some valuable SEO tips for higher rankings.
To establish local links, you will require an outreach plan. This can be as simple as developing a spreadsheet that involves the emails, names, and numbers of your genuine contacts. It can involve bloggers, local newspapers, event pages, and businesses.
20. Marketing
Marketing a product is very crucial to getting good sales. The main goal of marketing a product is to make users aware of the product and get a higher ROI.
If your marketing lacks the basic activities, the chances of being on top of your competitor are very low. Use video, banner, SMS, and Wi-Fi advertising strategies to promote your website.
Use video content on your website to attract more and more users towards it. You can also choose to do credible video marketing.
Video and infographics are very appealing stuff that can attract a number of users in a few posts. Driving quality visitors is very important for higher ROI.
21. Focus On Content Design
The design might be the most effective thing in content marketing.
By focusing on content design, you can make the best content ever written.
But if it does not look great, it would be considered a bad website.
It will not give you many benefits.
This is the reason why you need to invest and focus on content design.
For example:
You might have seen some guides on the web.
Some guides are designed as well as coded from the beginning using WordPress.
Saying that a great content design does not have to affect your budget.
Listed below are 4 types of visual content that are super convenient to work on:
• Graphs and Charts
You should include at least one chart in all your post.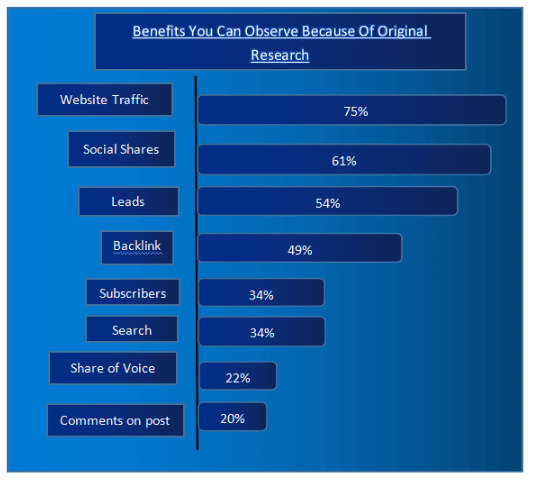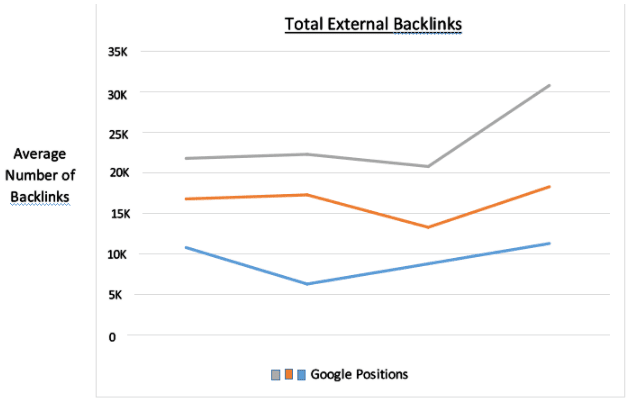 Why?
Because they make your content easy to understand.
For example, take this stat from one of our posts.

Your content will be as effective as you want to attract more audiences by including stats in it.
You can also include a chart in your premium blog writing that will bring your content in a more positive light.
• Screenshots and Pictures
You might have noticed that there are posts that have many screenshots in them.
There are even some posts that have more than 70 screenshots .
To be very clear:
Don't use screenshots just to add some screenshots to your content.
Use it only the time when you think that it will help someone implement a certain step.
For example:
Use screenshots that can make the guide easy to understand.
It makes it easy to follow steps.
That said:
Saying that screenshots only make sense when it describes something technical.
What if when you are in a non-technical industry like food?
Well, pictures do the same purpose.
For example, one of the posts on the internet about food uses pictures to show you how to prepare dishes the right way.
A picture can demonstrate a recipe.
• Blog Post Banners
Unlike screenshots as well as graphs, blog post banners serve no actual purpose or don't benefit you.
They just make the content or faultless SEO writing very interesting and engaging.
• Graphics and Visualizations
You can consider graphics and visualizations like charts.
Rather than visualizing data, they visualize concepts too.
For example, you can explain 4 different version of your website that redirects to the same URL:
Visualization redirect is not as complicated as it sounds.
But it is difficult to picture this thing in your mind.
So you can make a simple visual that makes the concept easy to understand.

22. Social Media
Connecting with people on social media is a great way to share your views. To promote a brand or product, big companies are taking the help of social media websites only.
The reason for that is that social media has billions of active users and its reach is quite massive. In order to drive more visitors to a brand, link it with these social media channels. You can also take advantage of quality social media writing for more benefits.
Post your website link on the social media websites like YouTube, Twitter, or Google+. This will surely help you to be top of your competitor.
From the above the conclusion that can be derived is that every person is doing SEO for its brand, but to be on top some different need to be done. The above-said strategies will definitely help you to be top of your competitor.
Wrapping it up:
After going through all these SEO strategies, you may think that expanding a business through search is convenient. But here is the truth, it is neither as convenient nor hard. It all relies on your power to implement a proven SEO strategy- and stick to it.
At LinkBuildingCorp, our team of industry-leading SEO professionals has gathered results for customers in different industries, and we know what it takes to boost revenue. With our professionals, you will get the results you require to grow.
Call us at +91-9205356986 or mail us at info@linkbuildingcorp.com