Link building was ignored by those people who failed to acquire the ever-changing rules and improved needs on skills, details, and perseverance for years. There has been some talking about links being a ranking factor. Many online marketers have only focused on the content and on-page SEO and ignored building links by saying " we know everything about links". But does they really know everything about links?.
Links can possess a risk now, and you should have complete knowledge of that risk. Did you know that in the current scenario, most people still prefer looking at the source page, the adverting page and call that the "backlink"? a link is a connection from A to B.
What is a hyperlink?
A hyperlink is a link from the mentioned page to the targeted page- always has been. SEO has always been obsessed by looking toward the page rank or whatever
State of the Art Link Development
At present, quality link building services are provided by professionals who know the correct strategy to build links. Why invest a heavy amount on the links that you already know would hurt you down on the road? Do you know that there are chances to invigorate the impact and the possibilities of a backlink relationship before you start building it? LRT users that take the good from the chaff are satisfied to invest 3x more resources on the 10% links that matter, in spite of going in bulk.
Don't let the Google Penguin algorithm affect your website.

Start building high-quality links today!
What is Backlink?
When you talk about the backlink to your site, it means a reference from other web pages to your own. This differs from the "outbound" or outgoing links from your page. Don't be confused about two of them. Sometimes, a backlink is known as an inbound link and these links are essential in analyzing the demand of your site for search engines such as Google.
Another question that arises many times, can a website rank without building backlinks? The answer is no. You can get 100% assurance that a website cannot rank without links.
Why is link building essential?
• Links are a prime ranking factor in Google
• Links are the Web
• Links gives value to great content
• Links distributes power
• Links grow trust
• Google said that it would be declared unnatural if any website found without links
• Through links, Google reach to your website
The list can go on increasing as there is no end of reasons for showcasing why is link building important?.
Ensure that the links you have to build are organic and that Google doesn't think that you are manipulating its search algorithms.
Basic SEO Link Building Methods
Though quality link building is not a hassle-free thing to do, there are still many white hat SEO tactics that you can begin following today, without thinking about efforts and expenses.
1. Ask for backlinks
There is a great way to start, peculiarly if you are a beginner in this field. Look out for your friends, colleagues, relatives, partners, and clients who published a blog or have a site. All you have to do is request them for a backlink. Ask for in-content links rather than the links in the footer or sidebar.
But be very careful and ensure that the backlink coming from another website is related to your niche. Otherwise, it will not be as effective as it needs to be and may even harm your website.
2. Build relationships
For quality link building, you need to form good relationships. There are many opportunities needed for building new contacts. You should begin with niche-related companies that offer result oriented SEO services as this will help you to gain quality inbound links.
Also, you can take the first step towards contribution with relevant comments and posts, offering contextual value to every discussion. Through such active participation, you will not only get some great links but will also access the newest industry news and get connected to some valuable people that share their knowledge and thoughts.
3. Give a testimonial
Testimonial link building is already a winning scenario. Most of the businesses provide you the opportunity to describe your experience of using their products in a few words.
On one hand, this is the best way for them to earn customer's trust. Whereas on the other hand, it's one of the great techniques to create quality links and genuine traffic from that site and it generally has way higher approval rate compare to that in standard link request e-mails. This way both gets the benefit, companies get another testimonial to put on their site, while you build a new link. There is a high chance that you can get a link in return of a testimonial.
4. Start a blog
It's suggested that don't create a blog with one link and one post to your website. If you do so, you will not only waste your time but you will probably create another risk for yourself. If you want to have your personal blog you must keep it alive.
Keep on posting some or the other thing on a regular basis. Concentrate on your client and industry's needs. In time, it likely to gain most of the authority. Ensure that your content is valuable, relevant, well-structured and worth linking to. That's how you build links for your business.
5. Register your site in reputed directories
There is a number of online directories that give no value to the Internet users and Google has removed them from its search results. You surely don't want your website to list on such pages. But not every online directory are harmful. A directory not only allows you to post a link to your website but also offers valuable information for your genuine customers.
Some reputed directories are:
(a) BOTW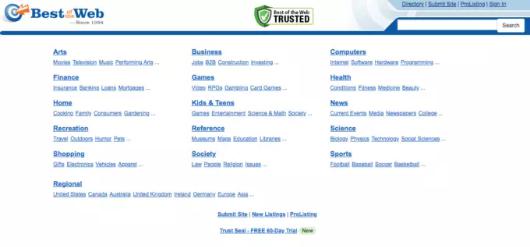 Best of the Web is a trusted directory till date. It is used by more than 16 million users.
(b) Spoke.com

Spoke is an online platform that aims to find and discuss with business people, news, companies and many more.
(c) About Us

Actually created as a business domain directory, About Us permits every kind of websites to be discussed and registered.
The list can extend as there are number of reputed directories for every kind of websites. Directories that are connected to informative websites for a particular industry are a great choice. According to thematic Link Building Experts, having your business mentioned in such directories gets your site indexed in search engines.
6. Take Advantage Of Guest Articles
Guest blogging is the most definite way to reach new audiences. By publishing your articles on another reputed website will showcase your content in front of new audiences. Many times it's not just about getting a backlink but it's about improving online reputation.
Guest blogging assists you to expand your audience and uplift your relationships. In case you have some queries about guest posting, consider that even Google welcomes guest contributors on its Google Analytics blog. Here is a tweet proving that

There is a number of techniques to analyze websites that accept guest articles. Here is the common one.
Utilize Google search queries to find the blogs that accept guest contributors:
• your keyword + inurl:guest-post-guidelines
• your keyword + submit an article
• your keyword + now accepting guest posts
• your keyword + want to write for
• your keyword + become an author
• your keyword + inurl:write-for-us
• your keyword + guest-posts
• your keyword + become a contributor
• your keyword + contribute
• your keyword + guest post by
• your keyword + bloggers wanted
When publishing a guest post always ensure that you are linking to your social media profiles. If your audience enjoys then they can easily follow you for the same articles.
7. Discover competitors' common backlinks
If you search for the backlinks of your competitors, you will probably end up knowing that they have some common backlinks that you don't have yet. Well, if they can get those backlinks, why can't you?
There are many ways to build links, to acquire most out of your competitor's backlink, you can execute a simple analysis and discover exactly which links are giving benefit to your competitors. And can make sure that you're getting high-quality backlinks according to Google algorithms. Otherwise, you could face a penalty from Google, that surely gonna hurt your SEO.
You might know about Google's PageRank. It's a method that Google uses to check the quality and authority of a site. Sites are allotted with PR rank from 0 to 10, with 10 being the perfect possible PR.
While PR scores are no longer important for people, but it still plays an essential role in building links. Google uses hundreds of things to evaluate the quality of the site. But before you go further for any analysis, first check to ensure that the website is actually indexed by Google. You can do this by a simple search on Google. If you see that the links are showing on SERP then they are indexed and if the site doesn't exist, it means they are on penalties.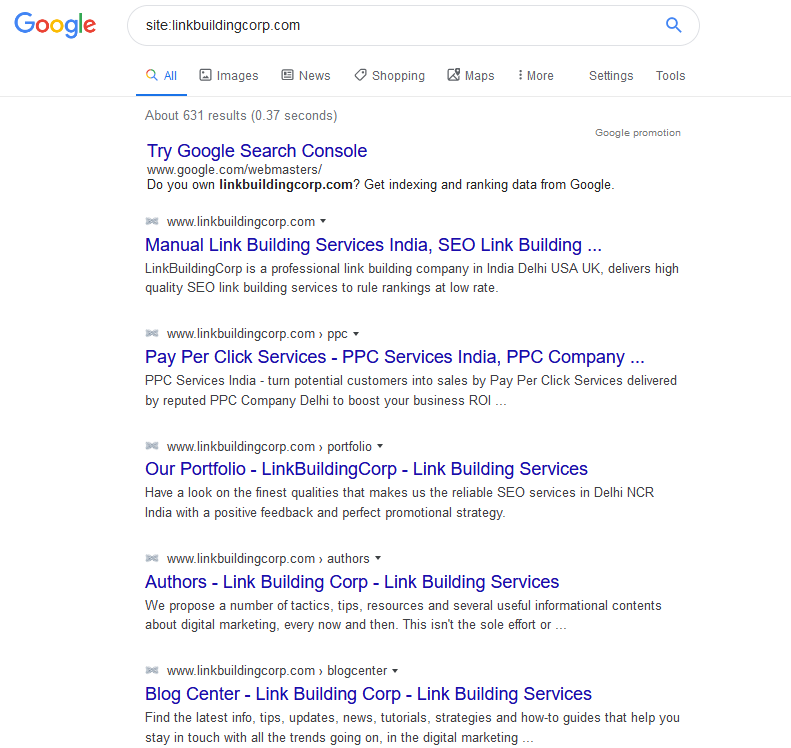 Therefore, if the link doesn't exist it means that it's not capable to consider for your link profile.
There is one more method to discover your competitor's backlinks is to perform a link building audit on your customer's site. You already know that it's important to link audits on your website on a daily basis so that you know you are know going wrong anywhere. But have you thought about auditing other people's sites?
It works the exact same way except you get a bunch of data regarding your competitors that you can use to surpass them in SERPs. But if you want to go extra, it's suggested SERrush's Backlink Audit tool. This way you will get to analyze the links that you should follow and one that you should not. Once you are done auditing, you will get an organic list of backlinks from your competitor's profile.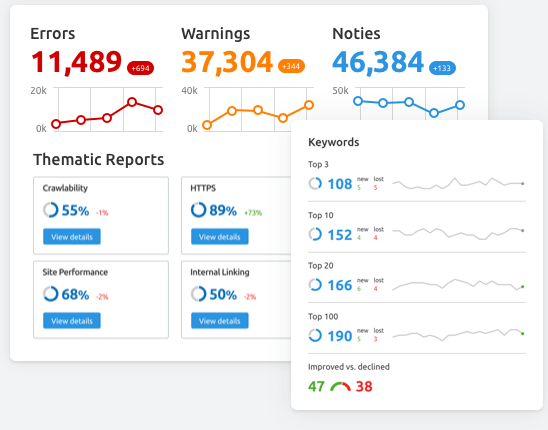 8. Go for Skyscraper Content
Skyscraping is a method of finding content in your community that's already awesome, and then out-awesome the content. It's a popular way to get valuable ideas that will earn links for your website. When it is the matter of getting content to the top of the search rankings there are several link earning tips that you can employ.
Even, after performing the process on an already-reputed post about Google's ranking factor, Dean graphically improved the page's backlink profile.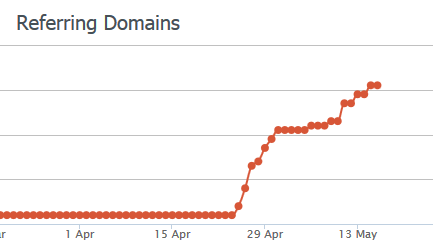 Now the question is how can you get similar results for your website? Instead of searching here and there, look for the content you are skyscraping and question yourself:
• Which questions go unanswered?
• Which instructions are Tough to follow?
• Who isn't getting catered here?
If you have a particular competitor in mind, you can begin skyscraping through Ahref's Site Explorer to search for pieces in your niche that are building their reputation well.
To make you understand how it works, here is an example that is shown by using Copyblogger.

Enter your specific or targeted domain and choose Site Explorer > Pages > Best by Links.
If you keep scrolling you will see various potential links willing to reach these pages, they will be willing to link to similar pages as well.
Now, you can analyze the page by dropping the URL into the site explorer and choosing a correct URL. Then, check out the search as well as backlink data. All these data will give you an idea of how valuable each page is according to its domain. This will give you an idea of what type of content you should publish to beat your competitors.
9. Utilize the Broken Link Building Method
This method involves contacting a webmaster to report broken links present on his/her website. At the same time, you can also suggest another website to replace that link. And here, you get a chance to mention your website. Because you are doing favor to webmasters by reporting the broken link, the possibility of getting a backlink increases.
Therefore, to utilize the power of the broken-link method, first, lookout for relevant sites in your niche that carries resources pages. You can find them by using the following search queries in Google:
• Your keywords + resources
• Keywords inurl: links
• Your keywords + links
For example, If you have a shopping website, you have to search for shopping + links. For finding broken links easily, install and download the Google Chrome plugin known as Check my Links. Using this plugin, you can quickly discover number of 404 links.
Now, coming back to the webmaster: when reaching out, first, introduce yourself. Tell the individual that he or she is linking to a website that doesn't exist. Ensure to mention the exact location of the broken link so that they can find it easily. Give some ideas and hints to replace that link, including your website. If you want backlink then try to be helpful. Mostly, this method works but in rare cases, webmaster refuses to link back to you.
10. Turn your mentions into backlinks
(a) Research:
Utilize the benefits of a tool named SEMrush to scan the web completely for unlinked mentions. Ensure to scan for all the genuine variations of your company. This way you can make sure that no mentions are ignored.
(b) Find Contact Information:
The ideal contact could be a site's webmaster, especially if there is any external link in the article. Keep in mind that this could result in many results and might prove frivolous. You can also utilize LinkedIn to zero in a related position. Find the author's article or website's editor contact information so as to reach them.
(c) The Pitch:
Word and request in a way that it not only benefits you or your website but benefits the brand as well.
(d) Follow-up:
Sometimes internal pages are convenient to link in comparison to your homepage. If the link has not been included and you haven't seen any update on that, ensure to follow up till you see any changes.
11. Find the most relevant link building opportunities
There is a number of most efficient link creation strategies for building links. There are many blogs, sites or forums where you can fix your backlink, but generally, it is not convenient to find them. Whether you want a strong site or blog where you can adjust a guest article or thematic forum with following links, the SERP search tool can help you. The best thing about it is that you get to know about the links that are relevant and has high authority in your industry.
12. Infographics
Infographics are a popular technique to get backlinks. They are also very useful because they are easy to share and understand. No one wishes to read boring things, everyone attracts to visual data, right? That's why the popularity of infographics increased massively. You can consider that valuable online publications like Mashable publish a variety of infographics on the internet.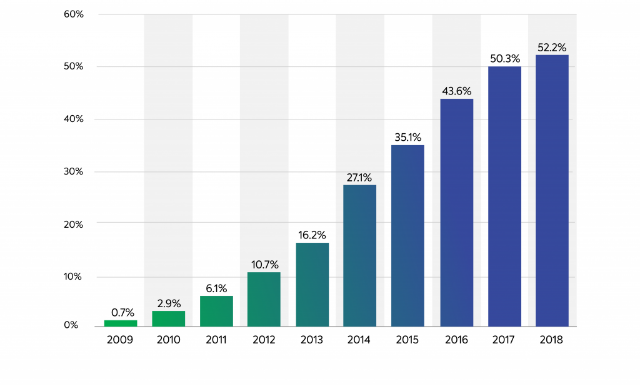 While choosing your infographics, be careful that each one should have a unique and involving story for your audience. To make your selection more appropriate, see what people are looking for, then begin creating your infographics through statistical data.
After creating an infographic, you need to make it convenient for others to share it. For executing this, create your own embed code by using Siege Media Generator.
Once you are done with it, it's time to share it. There are different infographic directories like Reddit Infographics, Visual.ly, Infographic Journal and so on. Lastly, do email outreach to people who have clicked to common infographics and ask them for feedback on your infographic. But never tell them to link directly.
13. Lists
It's a complete psychological theory, brains attract to lists. If you form some cool list, there is a great chance that people gonna influenced by it and click to share it. Just see an example of these two headlines:
"Apple is good for your health"
"5 incredible types of apple you have never seen before"
It seems to be interesting and people love to read such things.
14. Research reports and case studies
According to the advanced and effective link building guide, Your personal thoughts can be valuable and interesting, especially if you are in a particular industry for a long time. But, if you want to become an authority and gain more backlinks then you will have to showcase some facts. This is the reason why the most shared contents are:
• Research papers
• Case studies
• Research papers
• Comparison
• Reviews
Try to become the first person to write about a specific topic. Unique content is critical in an industry where your niche alters quickly. Your research consists of all test results, relevant data, charts and always links your resources.
15. Newsletter subscriptions
Generally, companies do not know how essential a newsletter could be. If it is utilized properly, the advantages are great. By publishing a newsletter, it will increase the attention and knowledge of your clients and readers. With quality and interesting content, you can grow the chances of sharing it, thereby grow traffic and the number of backlinks.
Attempt to add some efficient call-to-action button in your newsletter, for example, provide them to register in some webinar, download eBook or some white paper.
16. Extra material
You can also get more value as per the content you create by utilizing your content in various formats:
• Podcasts from research
• Transcripts
• Guides
• Webinar recording
• Videos
There are many opportunities for creativity when it comes to marketing.
These latest SEO techniques will boost more leads and convention rates. Additionally, you will release expertise and increase your authority.
17. Learn from others
Let's be very honest, it's a quiet and easy task to do.
There is nothing as boring as people who spend days and week to write about something and then ends up with nothing. All that enthusiasm and knowledge go for nothing. Good, and yet noticed blogs are sometimes that are written every day. The issues can be many. Generally, people make a mistake with the selection of the topic. It doesn't matter how valuable your body is if your topic is not interesting. The opposite can also happen, cool topic but weak content.
You can read many articles and watch dozen of videos for having good content, but there is always one common way: learn from others.
So, these were advanced tips that surely gonna help you in 2022. And will help you to reach high in search results beating all your competitors.
Call us at +91-9205356986 or mail us at info@linkbuildingcorp.com