When it comes to inbound marketing we are extremely focused on creating content that could attract and generates huge amounts of leads.
To the readers, it tells the value of your brand and further motivates them to purchase.
But to make this content successful one can't neglect the importance of on-page search engine optimization done by reliable seo specialist for better ranking and gaining traffic.
Today, we'll read:

1. Optimize Page Titles
2. Great Content Generate Presence
3. Optimizing Your URL's
4. Add Target Keywords Into Post title
5. Optimize Meta Descriptions
6. Headings and Content Formatting
7. Improve Site Load Time
8. Internal Linking
9. Mobile Friendliness
10. Add responsive design to your website
11. Search Intent
12. External Links
13. Optimize images
14. Comments
15. Protocols HTTP vs. HTTPS
16. Core Web Vitals
17. Publish High-Quality Content
On Page SEO Techniques:
So, let's begin with 15+ effective on-page SEO activities for higher ranking.
1. Optimize Page Titles
Every page on your site should have a new and descriptive title. The title of the page is included in the title tag, which is retreated under every page's head tag.
<head> <title>Example Title</title></head>
Google will decide how your title will occur in the search results, and it also presents in your web browsers. A title tag is a powerful tool when it comes to effective SEO  for attracting users to your site. It is the very first thing your visitors will see in the search results.

The more attractive your title tag, the more visitors will come to your site. To create a compelling title, here are some rules to follow:
a)- Keyword usage: Ensure the keyword you are targeting benefits both the user and the search engine. Write the keyword closer to the title tag, keeping in mind that users are more likely to read them, and it will be beneficial from a ranking factor.
b)- Length: The majority of search engines generally present only 50-60 characters. If your title goes beyond the character limit, it will show in the search engine like "proven SEO techniques"
c)- Branding: It is better to end the title tag with your brand name. It assists in improving brand awareness and boosts the click-through rate if people know your brand.
2. Great Content Generate Presence
There's a reason that most organizations look for professional writers for their unique content in their blogs. Blog content plays an important role in telling what your website, business, product, and service are all about.
Here are some important points that you need to focus on:
a)- Font and colors: Google suggests keeping this font size 17 and above to minimize the need for zooming for mobile users. The colors of the background and text should enhance the readability.
b)- Heading: Write a heading to add a flow to your engaging SEO writing. Plus, it would be more beneficial if you use anchor links to allow users to skip sections that they consider essential.
c)- Bullet Points: Putting content in points will help readers find the content they are looking for.
d)- Paragraph: Keep short paragraphs in your content to enhance readability.
e)- Supporting Media: Include images, videos, and other media content to make your content more attractive.
3. Optimizing Your URL's
The same principle goes you're your page and post URL also. This helps for better search results but make sure that you keep it short and sound reasonable.
In most cases, the user puts the same key phrase in all the posts which is not the right way to optimize. A combination of the right length and right SEO keywords is recommended.
Url optimization has three different components: URL naming, structure, and length.
a)- Clear Page Naming
Search engines need new URLs to present your webpage in the search engine. URL naming is important, especially when it's has the power to help users know what a specific page is about.
For example, which URL is easily readable?
example.com/women/tops
or
example.com/xyx/adf?ts-132-23
Users are more probably to click on a page that offers them context as well as clarity on what is contained on the webpage. URL is counted among a minor ranking signal when it comes to rankings by SERPs. Google, with its recent update, has aimed for low-quality exact match domains. This does not mean that you can't rank for a specific keyword searched by popular keyword research tools even if you have the exact match domain but the quality of content on your website is even more essential.
b)- URL Structure
If you are talking about various topics on your website it is better that you organize them under appropriate folders.
For example:
example.com/seo/on-page-seo
vs.
example.com/on-page-seo
Dated URLs sometimes develop the impression that the content is time effective. If your content is time constraining host it on a non-dated URL.
For example:
example.com/may/2020/what-is-seo
vs.
example.com/what-is-seo
Arranging the pages in the correct folders also assists search engines to understand the content on your website better.
c)- URL Length
There are many studies that showcase that users choose shorter URLs in comparison to longer ones. Longer URLs such as meta description and title will get truncated in SERPs. A descriptive URL is essential for profitable SEO link building, so decrease the length just to make it shorter.
example.com/what-is-seo
vs.
example.com/seo
Plus, some plugins and tools suggest removing stop keywords from your URL. But it is recommended to retain the top keywords, keeping in mind that sometimes the URL reads better with them. For example:
example.com/growing-up-with-hearing-loss
vs.
example.com/growing-hearing-loss
If in case your plugin removes stop keyword by default, it is suggested to disable it and do this based on cases.
4. Add Target Keywords Into Post title
It is extremely important to optimize content with specific targeted keywords as it helps in getting search engine ranking. Targeted keywords should be as per business theme and post category.
• Come Up With Concise Title
• Include Targeted Keywords At Beginning
• Every Post And Page Should Have a Unique Title
This might have made you understand why are keywords important.
✔ Integrate relevant keywords into your pages
Integrating relevant keywords into your pages is the top-most on-page SEO strategy.
If you want to rank at a good position in SERPs, you need to incorporate keywords into your website in the correct places. Keywords focus on your website appearing in appropriate searches, so you have to optimize your pages to appear in the correct search results.
To find the right keywords for better SEO, start doing keyword research. You can use keyword research tools, like KeywordsFX, to help you find relevant terms for your pages.
To find the correct keywords, begin by conducting credible local keyword research. You can use keyword research tools,
When doing a thorough keyword research, give most priority to long-tail keywords. Long-tail keywords contain three or more words, like Finance.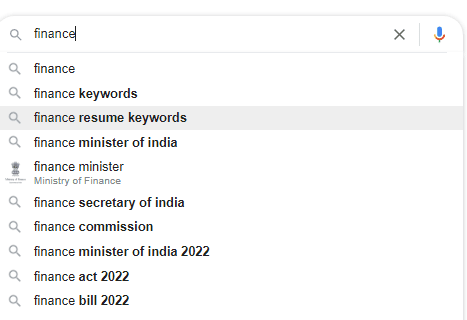 Long-tail keywords are best for your website because they assist to get more traffic to your page. When someone search a particular term, the search intent is more apt, and you know what they need to find.
For example, if someone searches "chocolate", it is difficult to know the intent behind that search.
Are they searching for chocolate cake recipes, chocolate bars, or chocolate ice cream? The keyword is too short for you to analyze the search intent behind it appropriately.
On the other hand, a keyword like chocolate pastry is understandable. You know someone is looking a chocolate pastry recipe- the search results are apparent.
Once you have selected your long-tail keywords, you need to add them to your website. With the help of professional local seo company, you can do it correctly.
Don't stuff them on your website because it will negatively impact your site and influence your ranking in a negative way. Therefore, only use keywords where they seem like flowing naturally.
5. Optimize Meta Descriptions
Alike title tags, meta descriptions describe the content of the page. They are also natural objects in the head tag.
<head> <meta name="description" content="Description of page here."/></head>
For example, if you search for backlinks, Google will suggest this meta description as it considers it more appropriate to the specific search.

If you see it properly, you will observe that the meta description published by LinkBuildingCorp differs from the one used by Google.

Search engines generally try to improve the meta descriptions for unique searches. This should not restrict you from writing a default meta description for your webpage as part of actual on page seo trends or techniques.
Meta descriptions are very essential when you want to boost your click-through rate.
However, Google still maintains that meta descriptions are not a ranking aspect. So how can you write an interesting meta description?
a)- Relevance: Your meta descriptions should be suitable according to the content on the webpage. Basically, it should be a brief of the content on the webpage.
b)- Length: Meta descriptions should be between 150-300 characters in length. Search engines like Google usually cut down meta descriptions that goe beyond 155 characters.
6. Headings and Content Formatting
A webpage needs to be formatted correctly with easy content writing tips. Think of it as a report which needs to have subheadings as well as headings.
The H1 Tag
Every page needs to have only one H1 page. If you are using WordPress then by default the title of a page lies in H1 tags.
You can either prefer to have the same <title> and <h> tag or provide an alternative title for the heading.
Keep in mind that search engines showcase the results that they find in the title tag and not the h1 tag.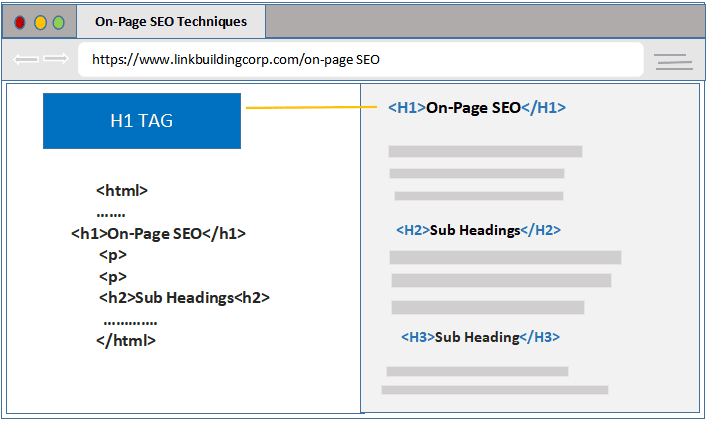 When it comes to headings, the things that you need to consider are as follows:
• Don't use a single word for a heading but make your headings engaging and useful for users that like to read an article.
• Use headings correctly, the first heading tag is the <h1> and then the <h2> and then <h3>, <h4> and so on.
• The subheadings are the best to use related keywords in your real influential content writing.
Content Formatting
Don't just throw text on a page but ensure that it is readable.
• Use underlines, bold, or italics to make important parts of a page highlighted.
• The font size should be good.
• Cut the texts into small paragraphs.
• Use sufficient space between the paragraphs to make the text convenient to read.
• Make use of CSS to develop sections that look interesting and break the text into smaller more manageable parts.
7. Improve Site Load Time
Improving website load time is very important in on-page SEO.
Users want your website to load in three seconds or less. If your website takes time to load, your audience will go back to the search results and visit your competitor's site instead.
When people bounce from your website, it tells SERPs that your website is not pertinent to the search results. Search engines then don't help to rank your website at a high position.
To avoid such a situation, you can use Google Page Speed Insights because it has the power to help you see your site's current load time and improve it.
It will suggest you:
• Reducing the file size of images
• Keeping the coding small
• Fewer redirects
If you don't know how to implement optimizations, you can hire professional SEO experts who can optimize your site for you.
8. Internal Linking
It is essential to have the best internal linking structure. When your page redirects to other pages of your site, search crawlers are able to find other pages on your website easily. Adding to that, internal linking helps in passing the link equity around other web pages. Here, you will observe the major responsibilities of SEO company.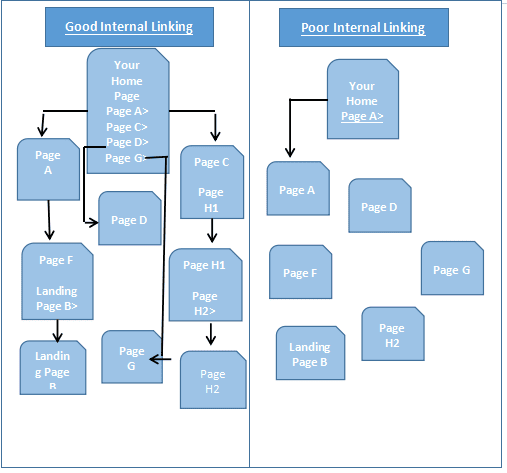 The structure of a website should look like a pyramid. This will make sure that link equity flows correctly through the entire website while improving your page ranking.
9. Mobile Friendliness
Do you know, that almost 65% of the searches on Google come from mobile devices?
This means that if you don't make your site mobile-friendly, you will probably lose many potential customers.
So, what should be done here?
Firstly, ensure that your site is mobile-friendly. Go through your site thoroughly by using the Google mobile-friendly tool and fix the issue wherever necessary.
Then jump to the next step and test your site on mobile, like how a user would do, and ensure that your design and loading time is on point.
Generally, websites with a responsive design don't need to think about mobile-friendliness. To know more about it, read ultimate guide to website design.
10. Add responsive design to your website
People will open your website from mobile devices, such as tablets and smartphones. If your website is not optimized properly for the devices, you will tend to deliver a poor mobile experience.
A poor mobile experience is harmful to SEO because Google runs on a mobile-first index. While ranking, Google considers your website's mobile-friendliness.
If in case you don't have a mobile-friendly website, you can't rank well in SERPs. Responsive design helps you deliver a mobile-friendly website for your visitors.
It supports your site to adapt to whatever device your audience uses to check your website.
11. Search Intent
Over the years, Google has become better at analyzing what the users are always searching for without completely depending on basic SEO Strategies. Search intent has become an influential factor, mostly outweighing classic factors such as links, headings, titles, and other SEO basics.
Search intent is basically divided into the below-mentioned categories:
a)- Navigational: The aim is to reach a specific location or site.
b)- Informational: The aim is to gather relevant information that is present on a specific website or page.
c)- Transactional Search Intent: The aim is to identify a product or service for future purchases.
But as time passed, search engines thought that this classification was way too much and was overlapping in nature.
To ensure that your site ranks in a good position for certain search terms, you and the search engine need to understand the intent.
Here, you will feel the need different types of SEO. Professionals have divided search intent into the following categories:
a)- Research Intent: This involves keywords and phrases that generate satisfactory results like knowledge graph, carousels, Wikipedia pages, and featured snippets.
b)- Answer Intent: They are a little different from the research query keeping in mind that here the user wants a quick answer.
For example, this is as simple as asking someone what is the weather today?
c)- Transactional Intent: This includes users searching to invest in a product. Such results mostly generate shopping boxes and various other purchase intent features.
d)- Local Intent: They are the phrases or keywords that aim information maps or provide localized research according to your IP. They include terms such as 'near me'.
e)- Visual Intent: This includes results that holds image packs and thumbnails. Image packs are a powerful indicator of visual search intent. Also, they also bring results from platforms such as Pinterest.
f)- Video Intent: The intent involves phrases and keywords which feature video thumbnails, video carousels, and even video featured snippets. Video has become very important for some types of queries. Therefore, premium video SEO is needed today.
Image name: Results for video content.
g)- Fresh/News Intent: News intent includes recent tweets, top stories, and stories that are covered by month, date, and year. Google generally features the latest updates associated with creating news stories or timelines for the news event.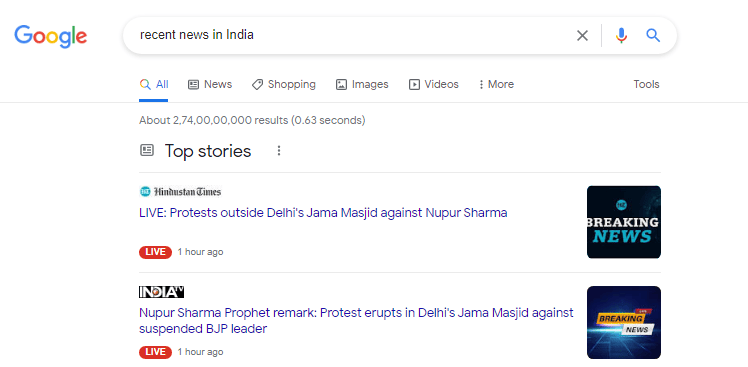 h)- Branded Content: Branded intent queries are generally influenced by brand home page results. A huge quantity of links to a common website is an indicator of branded intent.
i)- Split Intent: This is a meta intent type where the user could have various potent intents, which aims for a 'split intent' since Google finds it really complicated to analyze what the user is searching for.
Search intent gains further prominence as one of the important on-page SEO techniques for gaining specific advantages of SEO because a search engine evolves to satisfy the user's requirements.
12. External Links
An external link is a link highlighting a page outside your site i.e. on a different domain. For the website that links out, it is an external link and for the site that receives it, it is a backlink.
You might know that backlinks for SEO are important, but what about external links?
External links to related pages assist Google to identify your page's topic. Also, it updates Google that your page is full of quality information.
Plus, external links to your content will not help you in SEO directly, but they will definitely help you indirectly.
You can utilize external links to link out to other sites and then email them and make them aware of it. Webmasters will be really happy to know that you have linked to them and this is an effective way to begin a conversation. You can slowly build on this relationship and ultimately get authority backlinks for SEO to your site as many webmasters will be more probably to return the favor.
Here are some best practices to keep into account when adding external links to your content.
• Link out only when readers are getting value.
• Link only to trustworthy websites.
• Link only to the website that has original content.
• Use the nofollow tag for external links to site you don't trust.
13. Optimize images
Next is optimizing images.
Visuals are very important in offering a positive user experience on your website. They assist to improve your page and make them visually interesting for your audience. If your pages are not optimized properly, they can affect your SEO strategy.
Therefore, to make sure your photos work for your powerful SEO campaign, here are some practices to follow:
a)- Optimize your image file sizes: If your image file size is too big which slows down your site, it's better to make it smaller. To prevent this, you can use an image compression tool to compress image file sizes.
b)- Use image alt tags: Because Google can't read images, you need to add images to the content with alt tags as this will help search engines read them. These tags provide a short descriptive blurb regarding your image. These tags are also beneficial if your pictures don't load or if someone uses a screen reader.

14. Comments
The majority of people disable comments on the site, thinking everyone gets spam. However, there are some benefits of blog comments to enhance your SEO.
It assists in productive LSI keywords. These keywords are like the synonyms for the main keywords your blog post targets, which supports your blog posts to appear in a higher position in SERPs when search engine crawlers see a lot of text below your post, they utilize it as a signal to rank your content higher in search results.
15. Protocols HTTP vs. HTTPS
A protocol that is either "https" or "http" that concedes your domain name. Google suggests that all sites have a safe protocol. To make sure that your site is safe, you need an SSL certificate from the one who is providing you with hosting.
SSL encrypts your data and makes sure that the data passed between your browser of searcher and web server remains private. Also, HTTP helps to increase efficiency and boosts your loading time as well. Helping in increasing the loading time is one of the valuable benefits of hiring SEO company.
16. Core Web Vitals
In spite of Google's best efforts, Accelerated mobile pages have not been a powerful initiative. Around 2 billion websites use AMP, but that is just 0.1% of sites according to a survey. AMP ranks your website for the carousel display that you generally see for top stories on search engines.
With the help of Core Web Vitals, Google is trying to identify users' experience on the web ad is also going to optimize websites for popular stories that do not use AMP. It is believed that optimizing your website for Core Web Vitals will give many benefits in the coming years.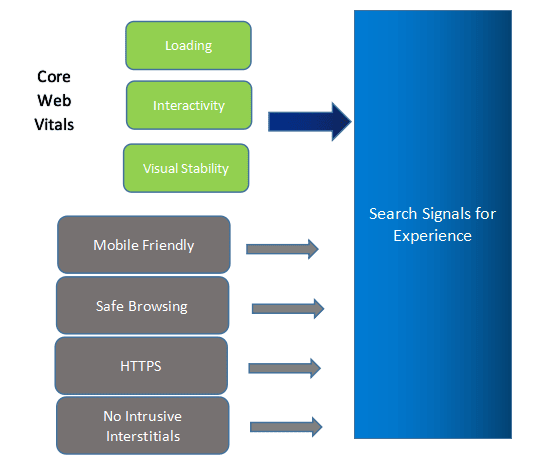 For doing this, they have created a new metric known as core web vitals. It measures the following things:
a)- Loading: Check how fast your website can load. Google expects a site to load in 2.5 seconds. Page load time is the top-most ranking signal that search engines use before they rank your website for a query. It is recommended to use VPS or CDN to speed up your site. If you are using plugins like Autoptimize or WP Rocker, you will be able to speed up your website effectively. Here, you will find the major need of SEO.
b)- Interactivity: Analyzes how responsive your website is when the user clicks a link, uses a custom, or taps on a button, JavaScript-powered control. Google says that a website that satisfies its standard should be able to do this in 100 milliseconds.
c)- Visual Stability: Identifies user experience and checks how your website behaves in production. It generally looks at the stability of the content as it loads.
17. Publish High-Quality Content
An impactful content creation helps you in many ways with or without SEO. A website that has good content can support your SEO strategies in various ways.
So, what is considered a good content? Here are some characteristics:
a)- Original content (articles, text, images, videos, presentations, infographics, comments, etc.): No copies or rewrites of old content.
b)- Content exclusive for your website: The content should be exclusive to your site. Even if it's your own content, if you have already published the content on other sites, it's not profitable for you.
c)- Content that includes text elements: Add text to support your non-text content. For example, if you post videos on your site try to incorporate a text description also. If you include images try to describe in words what the image is for. This clearly shows the exact importance of content writing.
d)- Content that is useful: Don't write content just for publishing it on your site consistently. Before publishing it, ensure that what goes live adds value to your website's reputation.
e)- Content that is well researched: Long content is considered to rank better than short content because user's generally don't want to read quickly prepared posts.
f)- Unbiased content: If you want to write about a specific topic or answer a question ensure that what you write is explainable and covers both websites of a story.
g)- Content that satisfies search intent: Apart from the above-mentioned characteristics, you need to ensure that your content stands upon the expectations of your searchers to get the standard benefits of content writing for website. Before writing any type of content, know what the users actually want to read and see for a specific search phrase.
Generally, the search intent is categorized into four different types:
• Informational
• Navigational
• Transactional
• Commercial
The most convenient way to check what type of content to develop is to take benefit of Google because they already did a fabulous job of understanding what users prefer for various searches.
Therefore, the very first step is to go to Google and find out your target keywords.
After that, carefully check the top 10 results. Consider things like:
• The level of detail
• How they use images and video
• The type of content
• Page design
Your aim should be to use the information to develop better content on trendy content writing topics. Better in the context means many other things like:
• More informative content
• Increase readability
• Possibly showcasing a different view of the subject that is not already covered by the already published content.
If you fail to create content that satisfies the search intent, your site will eventually lead to lower rankings. Even if you become successful in ranking high on Google, this will be only temporary because Google utilizes various signals to analyze whether or not users are happy with the sites shown on the top results.
Therefore, before you begin thinking about on-page SEO, ensure that the content you create is what a Google searcher wants.
Resources To Help You With Content Creation
a)- Website content: Effective methods to develop awesome website content.
b)- Content strategy: How to create a content strategy based on current content writing trends so that you can generate quality content for your site.
c)- Content marketing courses: The best courses to have proper knowledge of content marketing.
Getting more leads and sales for an online business becomes easier by implementing above mentioned strategy accurately on your website. One must consider these as an important digital marketing strategy as this had resulted in increase in organic traffic a lot.
Conclusion:
After knowing all these on-page SEO techniques, you might have gotten overwhelmed thinking you will need to do everything. Don't worry, LinkBuildingCorp is here to help you. We have a team of SEO experts who can help you optimize your site well for SERPs.
Our team is well aware of how to create a result-driven SEO campaign. So, ready to get started? Contact us today at +91-9205356986 or request a quick quote.