You have just received a bid for getting assistance with your SEO, and on the bid, you observe something called "keyword research for SEO."
You might be thinking:
" How to do keyword research for SEO?
Why do we require keyword research?
and why do we have to perform frequently?".
The answer to these questions is like in life the words you use matter, in powerful SEO, keywords matter more than you have thought of.
Keyword research is the foundation of your SEO as well as paid search marketing campaigns.
Without having any knowledge of the terms that your consumers use, you simply can't optimize your sales pages, content, social media posts or different digital marketing efforts.
Now the question arises: how to do keyword research for SEO?
We can sense this pain firsthand.
Today we'll learn:

1- How To Do Keyword Research For SEO?

a) Brainstorm 'Seed' Keywords
b) Make a List of Keywords
c) Discover Your Business
d) See What Keywords Your Competitors Rank For
e) User/Searcher Personas
f) Know the Effect of Intent on Keyword Research
g) Research Related Search Terms
h) Exiting Keyword Lists
We've created this how-to guide for our new SEO beginners and interested readers.
How To Do Keyword Research For SEO?
When it comes to SEO, keyword research has all the required variants of relevant keywords for SEO hat might seem relevant to your existing site, products, services, content and perfect consumers.
After you develop your list of keywords, narrow it down to terms that are actually relevant to your site as well as users. Lastly, sort, group, as well as prioritize every term.
1- Brainstorm 'Seed' Keywords
Seed keywords are the foundation of the keyword research method. They define your niche and assist you to analyze your competitors.
You can also plug seed keywords into keyword tools to find tons of keyword ideas.
If you already have a business or product that you want to present online, coming up with seed keywords is convenient. Many professionals can refine your effective local keyword search if you choose wisely.
Just think about what people type into Google to find what you provide.
For instance, if you sell beauty products, then seed keywords might be:
➥ Face mask
➥ Face wash
➥ Cleanser
➥ Makeup products
If you are finding it difficult to come up with seed keywords, check the search results report in Google Search Console. This presents around 1,000 keywords that you already rank for.
If you don't have Google Search Console you can also use Ahref's Site Explorer. Just plug in your website and check the organic keyword report.
2- Make a List of Keywords
Getting clients, team members, your proficient content team, and others present in the keyword research process can produce a lot more relevant keywords.
If you know why are keywords important, you also need to know what keywords are good for ranking your website.
In different words: the greater the brainpower, the better.
Having these parties in the entire process will boost stakeholder approval of the keyword research process.
Keep small brainstorming sessions with stakeholders to find out what they contemplate might be useful on the basis of their understanding of their website.
So, the very first step of your SEO keyword research is just making your initial list.
For example:
we'll use the Keyword Overview tool to take a look at "Best SEO Company".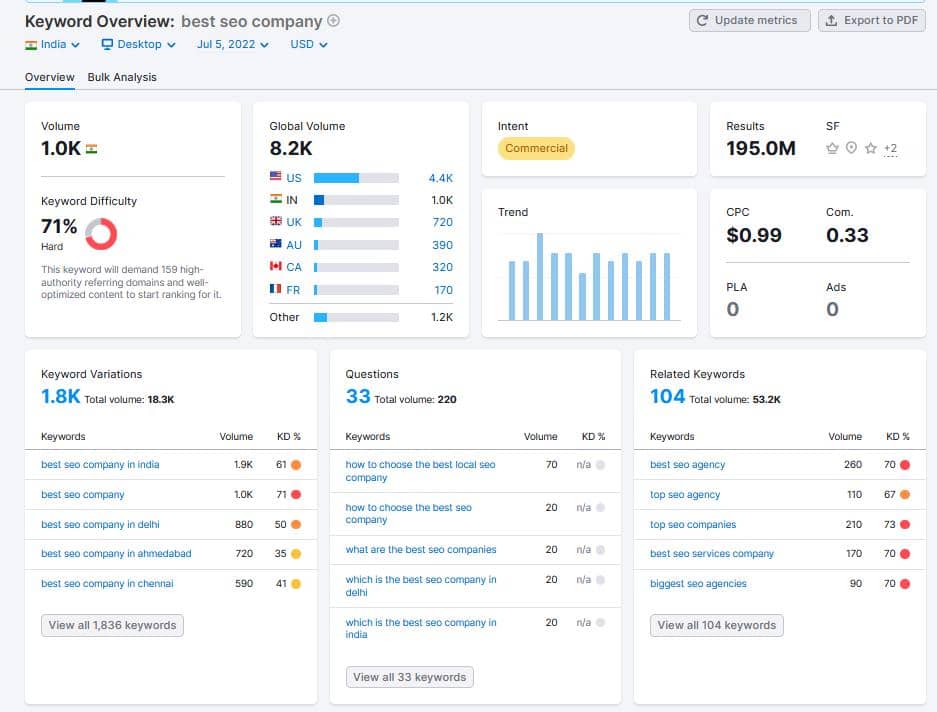 In order to get the SERP rankings, we just need to scroll down the page a bit.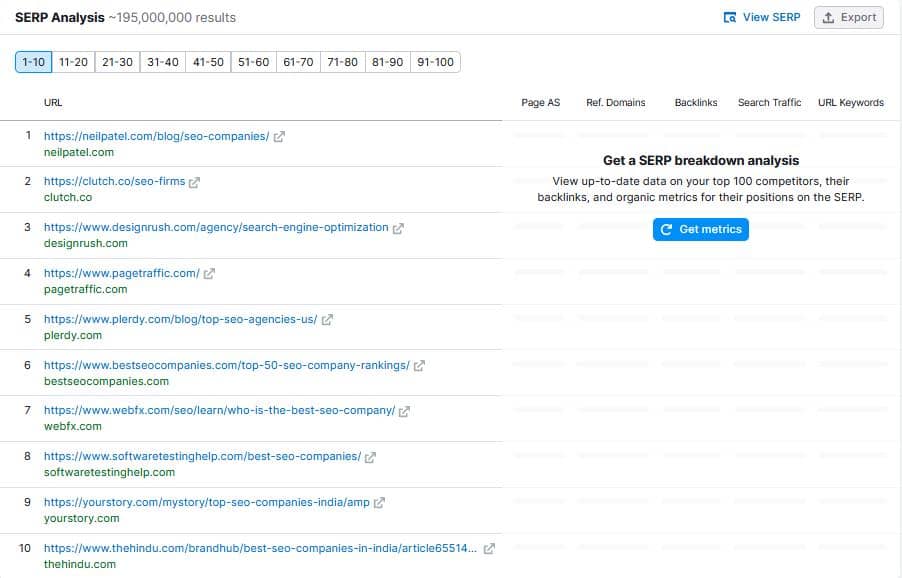 With the Keyword Overview tool, you can also check the relevant SEO keywords, questions formed by searchers related to your preferred keyword and more insights.
PRO TIP:
While creating the initial list, it is vital to capture the following information for every keyword:
✓ The exact keyword
✓ Keyword difficulty
✓ Monthly search volume
✓ CPC
✓ Search intent
✓ Competitiveness
✓ Top 10+ ranking results for this keyword
3- Discover Your Business
The initial step in starting any new keyword research project should be to know everything about what the business has to offer.
This step is important if you are either an agency or consultant because you probably never know the business or its consumers like those who connect with them daily.
For instance:
You are an SEO professional expert at productive link building for SEO keyword research for a new business you haven't worked with earlier.
In that case, you need to understand the products or services provided and, more significantly, the pain points and needs of existing stakeholders, both internal stakeholders and users/customers.
Without this understanding, you might not have the ability to generate a complete list of keywords nor assess whether those keywords are essential and relevant.
Here are a few ideas for initial keyword discovery:
a)- Spend some time exploring and utilizing the website and make proper notes of keywords that may be crucial.
b)- Quickly send "SEO keyword discovery questionnaire" to the respective client or stakeholder asking for information like:
1. Make a list of business objectives.
2. Do service/product offerings, or does the website content change seasonally?
3. List the most important keywords that you think are valuable for your business goals.
4. Are you releasing or discontinuing the latest categories of services, products, or content soon?
5. List your main competitors.
6. List your target audiences.
7. What are your working locations?
c)- If possible, interview product specialists, marketing managers, salespeople, or potential customers to know their preferences.
This is mainly what SEO company do to bring the right set of keywords to the table.
4- See What Keywords Your Competitors Rank For
Looking at which keywords send traffic to your competitors is generally the perfect way to begin keyword research.
But first, you have to analyze those competitors. That is where your brainstormed list of keywords comes into play. Just search Google for one of your seed keywords and look at who ranks on the first page.
From here, you can plug these sites into Ahref's Site Explorer one by one, then check the top pages report.
This represents their most popular pages by analyzing monthly search traffic. It also represents every page's "Top keyword".
That is the one delivering the most organic traffic. If you want to understand it completely you need to understand how to create a SEO campaign.
With this approach, one competitor will mostly deliver you sufficient keyword ideas to keep you busy for a long time. But if you are hungry for more, go to the competing domains report to find more websites such as your competitor. Then repeat the method above over and over for near-unlimited keyword ideas.
Plug some competing websites into the content gap tool, then paste your website URL into the bottom field. Hit "show keywords" to view those that one or more competitors rank for, but you don't.
5- User/Searcher Personas 
Is your user personas ready? We believe that you might not have built it. That's fine! There are plenty of tools available to create such profiles.
Here we've used a tool known as Semrush Persona that helps you create a custom persona profile for every one of your potential consumers/clients.
With this tool, you can build custom persona profiles for all of your possible prospective customers/clients. 
This tool asks plenty of questions that allow you to consider what kind of person you want to target with your rigorous keyword research.
Getting an idea of keywords by understanding the user's persona can give a boost to essential off page SEO activities.
You can fill out plenty of informational columns in the profile you build.
But, the maximum information you have, the more likely you are going to attract customers with your research.
You can either save or share these profiles with your professional team to make sure that everyone knows your clientele as well as their needs.
6- Know the Effect of Intent on Keyword Research
User intent, nowadays, become the most pivotal factors to help any business rank on search engines like Google.
Today, it's more crucial that your web page addresses the issue a searcher intended to solve than just carries the keyword the searcher utilized.
So, how does this hugely affect the keyword research you do?
Taking keywords for face value is easy, but they can have several different meanings below the surface.
As the intent behind a search is quite crucial to your ranking potential, you have to be very careful about how you explain the keywords you target.
For example, you're doing research on the keyword "how to do creative article writing?"
"Article" can imply an article post, and that's where the searcher's intent behind that keyword will affect the direction of the blog you are going to write.
Does the searcher need to know the step-by-step guide to write an article? Or do they want to know the elements to consider while writing an article?
In case, your content strategy is just targeting people interested in getting a guide, you'll have to be sure about the keyword's intent prior to committing to it.
In order to find out user's intent is in a keyword, you can enter the keyword in the search engine yourself or use the tool to get the desirable results.
Ensure that the sort of content Google is quite closely related to what you intend to craft for the specific keyword.
7- Research Related Search Terms
This is the most effective and creative step suggested by an eminent SEO Link Building Company that we may think you should follow for doing keyword research. Because it's actually a great way to make a big list of keywords
This is helpful when you are not able to think of keywords users might be searching about a particular top. All you need to do is just have a look at the related search terms that can be seen when you enter the keyword into Google.
When you enter the keyword and just scroll down to the bottom of Google's results, you'll surely find a few suggestions for searches based on your original input.
These keywords can ignite ideas for different keywords you may need to take into consideration.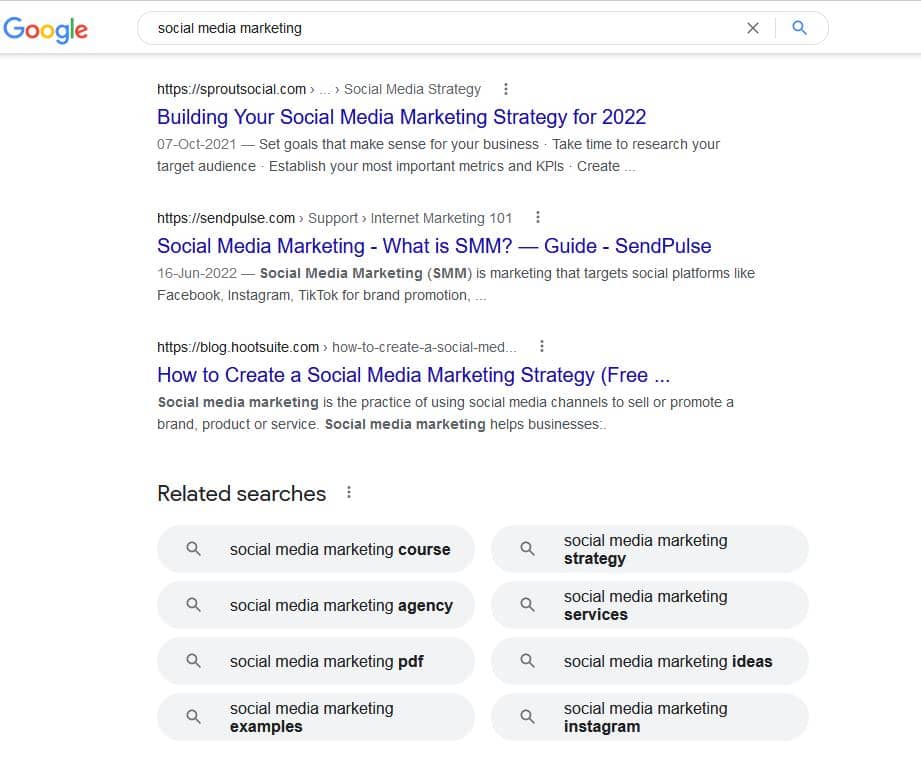 8- Exiting Keyword Lists
When you've brainstormed a big list of keywords you'll need to keep them in a place that is well-organized and easily accessible.
Utilize an Excel sheet, any tool or other tracking system for grouping keywords in one place and keeping proper track of their volume as well as difficulty. Taking this step can make the task of building content clusters much easier than ever.
Furthermore, this may help the SEO professionals to take out useful keywords based on business or niche so that clients could enjoy major advantages of SEO.
Why Is Keyword Research Important?
Keyword research is the only method to figure out what people are typing in the search engine. You need to know this to ignore developing content about topics that nobody is looking for.
Many website owners make that mistake, and it is probably a big part of the reason why 90.63% of pages get no traffic from Google.
There are many reasons why keyword research should be at the front of a digital marketing method. Listed below are some of the most vital reasons why:
✓ Knowing your keywords assist you to know your brand as well as your business. What are you selling? What are your services? If you do not know this, analyzing your keywords can assist you to know who you are.
✓ Keyword research can tell you important information, like where you rank for keywords, which keywords are convenient to rank for, and which keywords your competitors are ranking for. You can follow the right SEO strategy to search SEO keywords by industry.
✓ Keyword research can tell you what the users are looking for.
✓ Search engines can only rank your site if they know what your business is all about. Aiming keywords on various pages of your site means Google can then rank you for those specific keywords.
✓ Analyzing keywords to utilize in blogs and outreach can increase traffic to your site.
Keyword research is the beginning point for any digital marketing campaign but it should be an ongoing method.
You should randomly analyze your keywords and find out how you are ranking in comparison to your competitors.
After your keyword research, develop content and pages aimed at those keywords. Combined with different SEO techniques, this can assist you to rank and get people to find your site.
Wrapping It Up:
Keywords are the strength of SEO. You cannot create content or optimize unless or until you know what people want or what they are looking for. You have to do keyword research and to do that you need professionals who have years of experience in this industry.
With 100% genuine and spam-free keyword research, LinkBuildingCorp has gained the trust of every client and has served the need with affordable services.
If you are looking for result oriented SEO services, contact us today at +91-9205356986 or request a quick quote.