Do you want to rank higher in Google search results? Struggling to build links and attract traffic to your site? If yes, then off-page SEO might be the solution.
Here, in this article, you will get some deep information about off-page SEO. Let's know what all this post have covered:
– What is off-page SEO
– Why does off-page SEO matter
– What is off-page SEO vs on-page SEO
– Link-related off-page factors
– Non-link-related off-page factors
– Off-page SEO strategies
What is Off-Page SEO?
Off-page search engine optimization, also known as off-site SEO, refers to actions taken outside your site to boost search result rankings, site traffic, brand awareness, revenue, and sales.
This is because off-page SEO is all about increasing credibility (which impacts ranking), and you cannot force people to call you credible without coming off as scammy. So, how can you utilize off-page SEO techniques to boost your credibility naturally?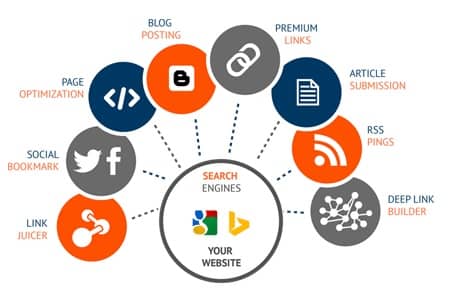 Image: source
Read on further to know more about off-page SEO.
Why Does Off-Page SEO Matter?
Off-page SEO actions impact your website's rankings.
For example, if you look at two wedding sites with the same content, which website would rank higher?
If the websites utilize the same on-page SEO strategies, off-page SEO signals can assist identify which website ranks higher in search engine results.
Search engines like Google measure off-page SEO factors, like the quality as well as the number of backlinks to websites.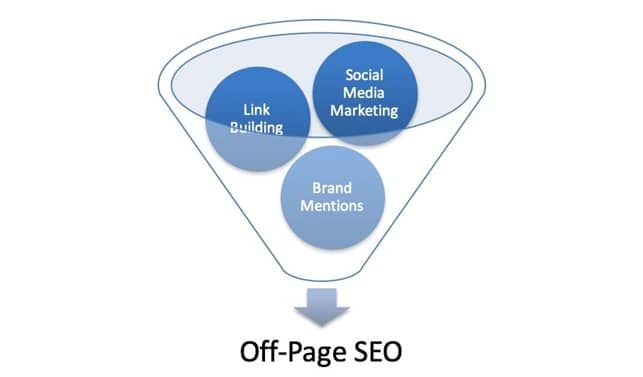 Image: source
If one of the wedding sites has more backlinks from trustworthy sources, while the other website has achieved zero online mentions, the website with more backlinks (and better online reputation) will probably rank higher.
Using essential Off-Page SEO Techniques and factors, search engines identify how valuable pages are to searchers' queries and return suitable results accordingly.
Just keep in mind- a web page without off-site optimization is like a wedding without invitation. It will become a no-show.
Off-Page SEO vs. On-Page SEO
Off-page SEO is when your site is mentioned anywhere on the internet, and on-page SEO is the optimization of your site.
Off-page SEO is an effort (such as via influencer marketing or social media marketing) to generate ratings and links, so your website rises in rank and credibility. The off-page SEO is totally out of your control. But you have control over building backlinks. So make sure that you know how to build backlinks today.
On-page SEO is the optimization of items on your site (such as internal linking and keyword optimization), so you go higher for the keywords you aim. On-page SEO is in your control. The most important difference between off-page and on-page is that Google uses your on-page SEO to calculate your page's relevancy and your off-page SEO to identify your page's credibility.
Ensure that you are implementing both on-page as well as off-page strategies. Your on-page SEO is the one that makes your off-page SEO strategy successful.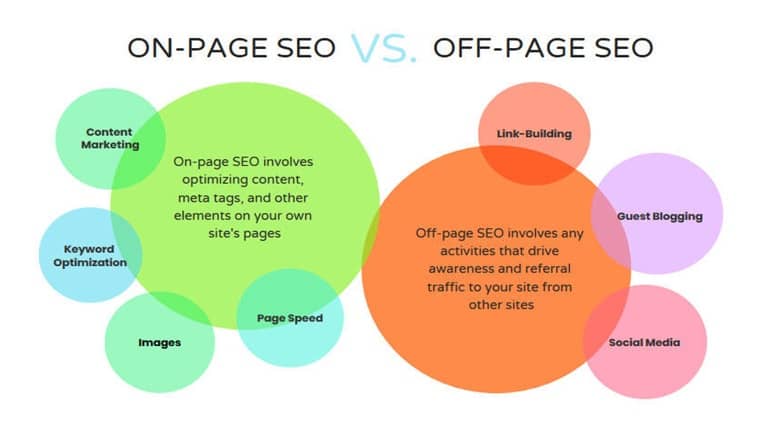 Image: source
Link-Related Off-Page Factors
Backlinks are perhaps one of the most critical parts of off-page SEO.
Why? Because Google search is developed on something known as PageRank: an algorithm that looks at the quality and quantity of backlinks aiming to a web page. Some SEO experts see PageRank as an outdated concept, but Google confirmed that it is still a ranking factor only last year.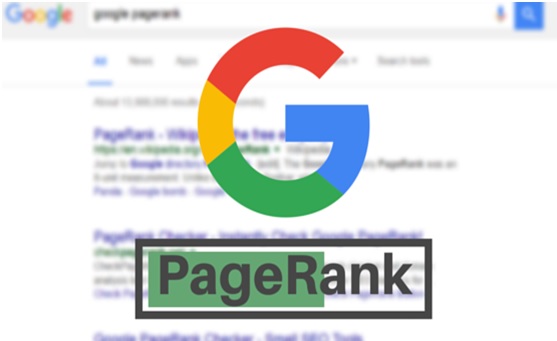 Image: source
That's probably why you see such a crystal clear correlation between the rankings and the number of referring domains pointing to a web page.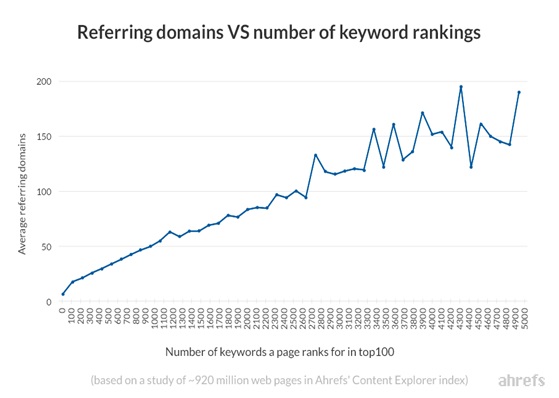 Image: source
This brings us neatly onto our list of link-related off-page factors:
1. Number of referring domains
Not only does having more links from popular and trustworthy websites take you to higher rankings, but also more organic search traffic.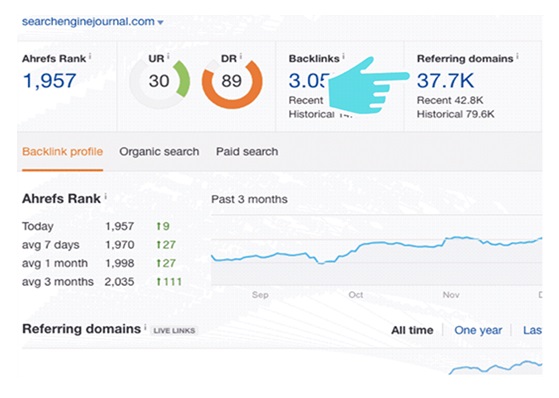 Image: source
To analyze how many backlinks your site has, paste your domain into backlink checker.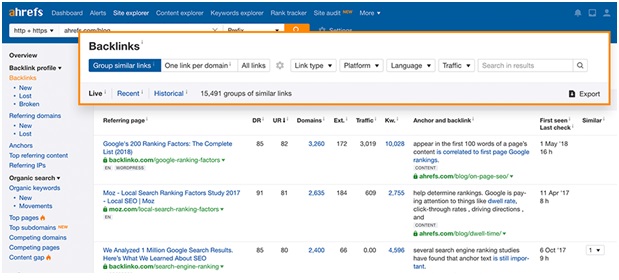 Image: source
The aim is not just to generate more backlinks to your site overall, but rather to built them directly to the pages you want to rank high in SERPs.
2. Link authority
Not every link is created equally. Quality does matters.
This fact comes from the way PageRank works. The higher the "authority" of the linking page, the more authority it transfers onto the pages to which the site links. In other words, a link from a high-authority page is very powerful more than one from a low-authority page.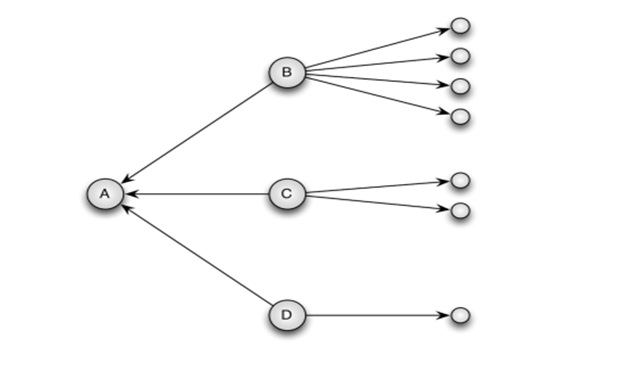 Image: source
Now, the question arises, how do you analyze the "authority" of a web page?
Google used to have public PageRank scores, but they stopped it in 2016. While, no exact replica of PageRank exists, there are some similar metrics all around, one of which is Url rating.
UR represents the strength of a target URLs backlink profile on a scale from 0 to 100.
3. "Dofollow" vs. Nofollow
Google does not matter PageRank all around nofollowed links, so it pays to prioritize the building of followed links.
The majority of links on the web are followed, but some websites such as Forbes "nofollow" almost all outbound links. Therefore, if you are actively pursuing or building links from a specific website, it pays to ensure that their outbound links are followed.
For doing this, download nofollow chrome extension, which highlights nofollow links on the page.
You can also find out many of the reports in sites like Ahrefs Site Explorer to see only "dofollow" links. Once again, this is very advantageous when researching and prioritizing opportunities.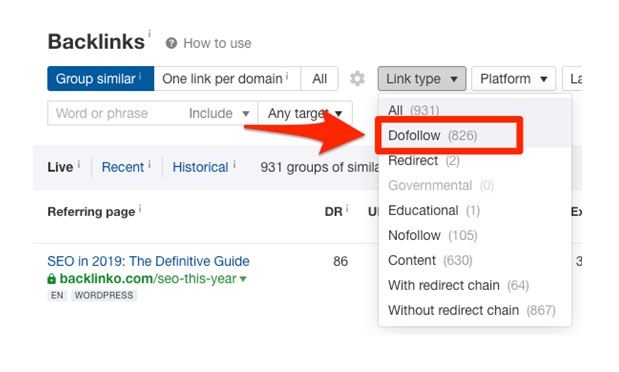 Image: source
Search the backlinks report in Ahrefs Site Explorer for dofollow links only.
Obviously, there is still value in nofollowed links. They can boost referral traffic, which can have a positive impact on SEO. But if you are investing a lot of time and effort into building links, it pays to prioritize your efforts.
4. Anchor text
Anchor text means the clickable words used to link one page to another.

Image: source
In simple words, it is probably that backlinks with anchor text relating to the complete topic of your web page have some impact on rankings.
This is something you might have studied, and we did find a correlation between phrase, exact, and partial match anchors.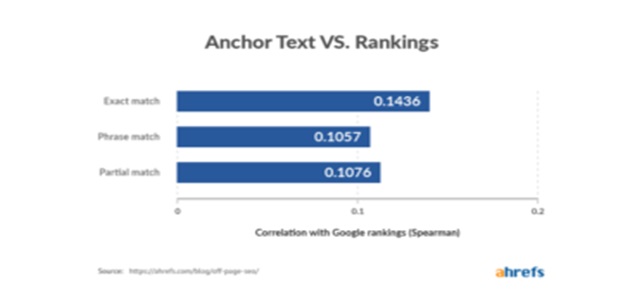 Image: source
Unluckily, if you are generating links through white-hat methods, you won't have much control over the anchors of the links you are building.
But even if you did have control over the anchor text, it is possible to have too much of a good thing. Penguin- which is now known as a part of Google's core algorithm- penalizes websites that attempt to influence rankings by building links with keyword-rich anchors.
Luckily, the majority of people naturally link in relevant and natural ways. If your article is about A, then the possibilities of someone linking with anchor text related to A is little high.
5. Relevance
If a website links to you, they are vouching for the quality of your business or content. But not all of these votes are developed equal. The relevance of the linking site and web page also matters.
Let's understand it with an analogy.
Say that you are searching to hire a catering company for your wedding. Two of your friends suggest two different companies. You like both of your friends equally, but one of them is a chef, and other one is an accountant. Who are you going to trust? There is no doubt- the chef.
Things work much the same way in an online platform. If you are a catering company and you have a link from a food blog, then that will probably hold more weight than a link from finance blog.
Now let's come to non-link related off-page factors.
Non-link-related off-page factors
Off-page SEO refers to anything done outside to your site with the ability to affect the search engine rankings. Creating links is the most obvious example of that, but there are many off-page factors besides links.
1. NAP citations*
NAP citations are some online mentions of your business, which also showcases your business address, name and phone number- collectively named as NAP (Name, Address, Phone).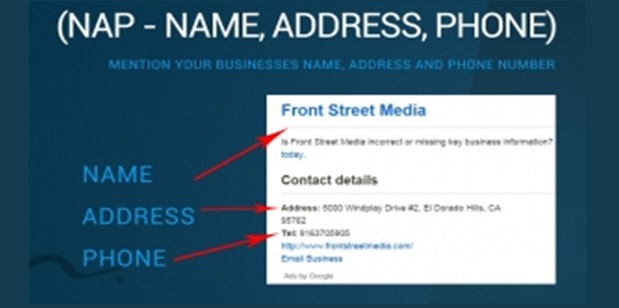 Image: source
As per a popular website, citation signals are the top local off-page ranking factors.
That means of you are a local business and want to rank higher in SERPs locally- whether in Google's results or the regular organic search results- then citations are important.
You can get many of the citations you already have by searching something like this on the internet: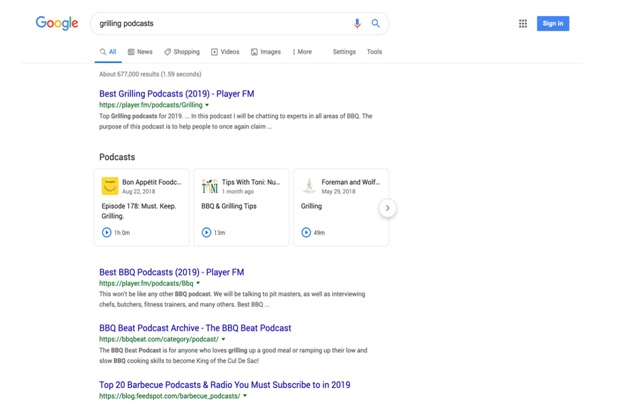 Image: source
If you do the same for your rivals, then cross- reference the sites that appear in the search results, you can conveniently find more websites on which to build citations. However, this is little hassle, and it is also complicated to analyze which citations are likely to move the needle as far as ranking matters.
2. Brand mentions
Brand mentions can be either unlinked or linked.
Linked mentions have more SEO value for obvious reasons, but have you thought about unlinked brand mentions?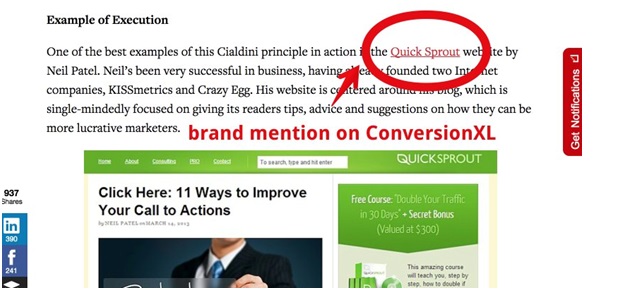 Image: source
So, if brand mentions are probably an off-page ranking factor, how can you get more of them?
Listed below are some ways:

● Go viral
● Be a guest on podcasts
● Write guest posts
● Do blogger outreach
You can also utilize tools such as Ahrefs or Google alerts to track new rival mentions, then jump in on the conversion where suitable.
3. Google My Business
Google My Business (GMB) is somewhat like a free business profile from Google.
It is the profiles that rank in Google's results that you see at the top of the SERP for queries with local search intent.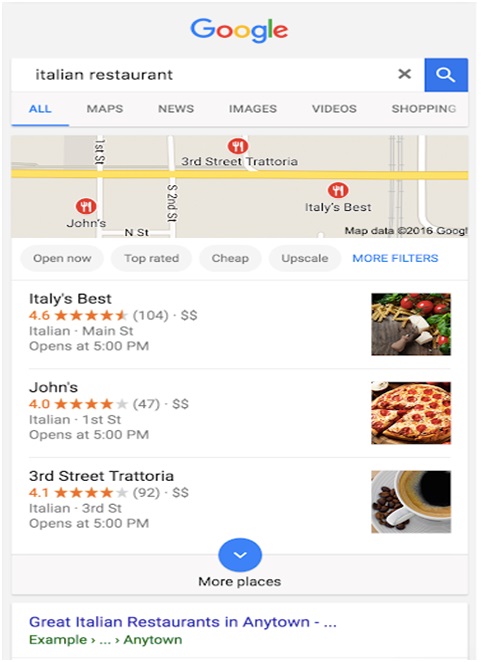 Image: source
However, solely claiming your GMB profile is not sufficient.
An optimized Google My Business profile is the top most essential ranking factor for ranking in results, and the fourth most essential factor for regular local organic search.
In whole, if you want to rank for queries with local intent, then optimizing and claiming your GMB profile is the most complicated component of your off-page SEO efforts.
4. Reviews
The review signal are the third most essential factor for ranking in Google's results, and the fifth most essential factor for ranking in regular local organic search.
The more genuine and positive reviews you have on your Google My Business profile and on trusted third-party websites, the higher you are probably to rank in the result. Negative reviews have some opposite effect.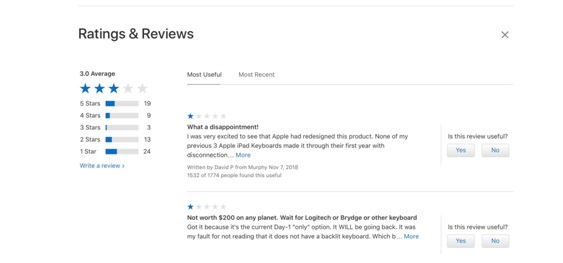 Image: source
5. Social signals
Google's official stance is that social signal are not a strong ranking factor.
But some people do not believe this, likely because of outdated studies like this one that represents a correlation between social shares and rankings.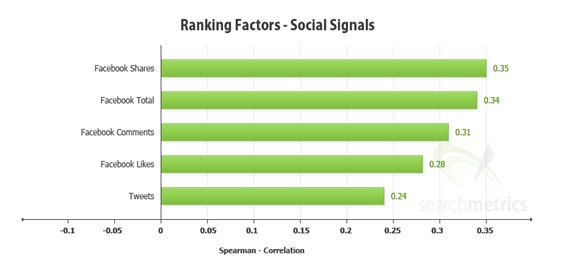 Image: source
So, what is right? One verdict: Google.
The major reason is that it is convenient to influence social signals. You can buy many social shares for a few dollars on websites. Generally speaking, things that are this convenient to influence do not make for suitable ranking factors.
Saying that, there is no doubt that potential social shares do have a positive influence on rankings. Why? Because genuine social shares lead attract more traffic to your content, and more traffic lead to more mentions, links, and all those other off-page SEO factors that you know to have a direct impact on rankings.
Off-Page SEO Strategies
1. Link building
The most common technique of off-page SEO is backlinking, which targets to make natural links to your page. Therefore, to generate natural links, you should know trendy link building techniques.
You can make natural links by promoting and creating content, interacting with your genuine audience on social media and in your community, gaining mentions from influencers, and gathering reviews.
Achieving trustworthy sites to link back to your website has two main advantages: helping analyze your rank and driving traffic to your website.
These benefits occur because links are the main factor to navigate the internet. Links enhance your user's experience. With links, your users can easily navigate to other information they find reliable.
Links are also the easiest way to measure the authority, expertise, and trust of a website. That's why Google considers links as a part of search engine factors.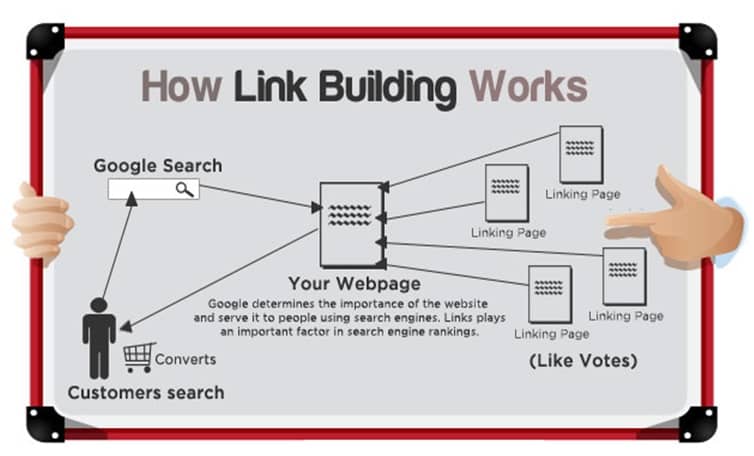 Image: source
Many links have more weight than others. For example, links from influencers in your audience's community have much more authority than links from spam websites.
Those high-quality links will tell Google that you have achieved the recognition- that your website knows its material- and Google will rank your website higher.
To ensure that your strategy is performing up to par, regularly go through your backlinks or use the latest SEO techniques. You can utilize tools to identify your and your competitor's backlink profiles. Some of the favorite tools are:
● Moz Link Explorer
● Ahrefs
● SEMrush
● Ubersuggest
● Buzzsumo
When implementing your SEO strategy, do not just know how to build links, understand why you are generating them. You are building them so you can have a more important presence and reach the people that you think your products and services could assist.
How content is linked with off-page SEO?
You might have all the fabulous off-page techniques in the world, but they won't do a thing if you do not have high-quality content. Content is something that keeps users on the page, and if it is not valuable to your visitors, they won't approach you.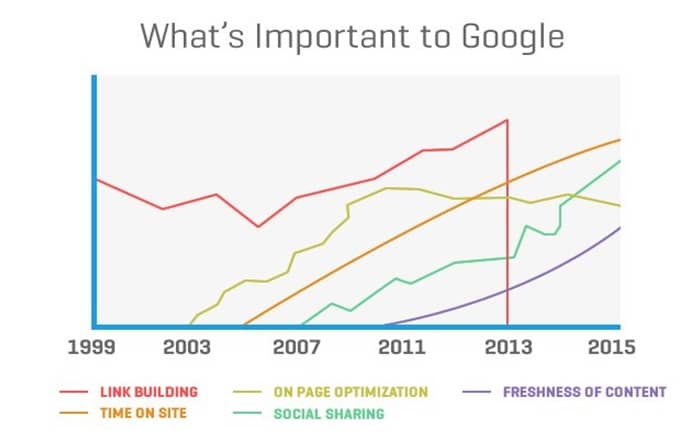 Image: source
With a bunch of links by knowing how many quality backlinks do i need, you might be generating tons of traffic, but that traffic will never convert into conversion rate if there is nothing worth admiring at your page. Your content is where you convince your visitors that you have all the answers.
If you continue with the wedding analogy, your content is just like the food at the wedding. It is something that will keep your guests around till the end.
So, an important part of any off-page SEO strategy to have relevant and informative content to assist catch users when they visit your page.
2. Blogging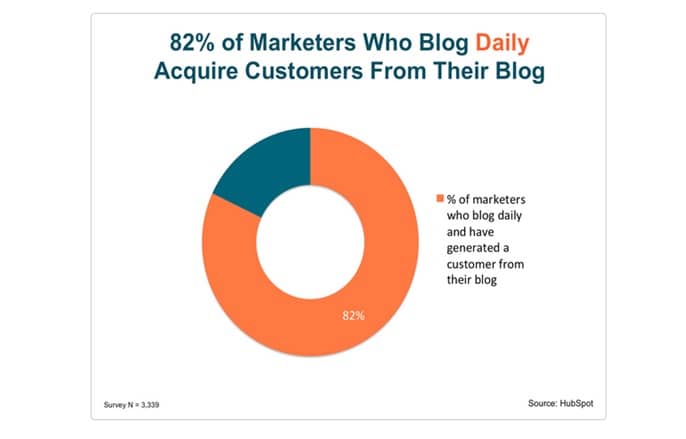 Image: source
Blogging is a fabulous way to begin generating linkable content of your brand. Guest Blogging is also an essential aspect for building links. But do you know what is guest blogging.
Guest blogging, also known as "guest posting" is the act of writing content for any other organization's website. Usually, guest bloggers write for similar blogs considering their industry to:
☞ Grasp traffic back to their site

☞ Increase their domain authority utilizing external links to high-authority domains

☞ Boost its brand awareness and credibility, and

☞ Build relationships with peers in their industry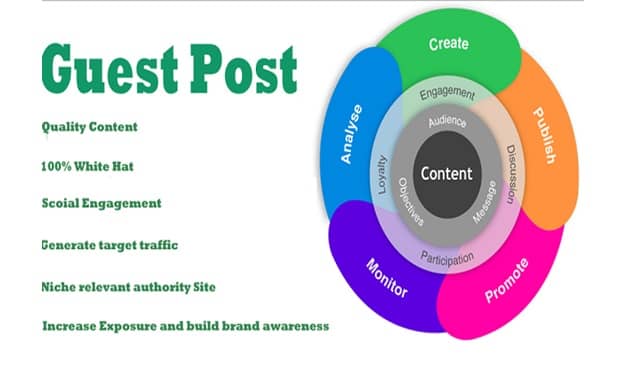 Image: source
Almost always, guest blogging delivers mutual advantages for both the guest blogger and the site hosting the guest content. In other words, guest blogging is a two-way street- so when you plan to use the guest blogging, you should consider featuring posts by guest blogging on your own site, too. Nowadays, even after knowing the advantages of SEO provides a business, many people still assume why SEO is still relevant in 2020. If you are confused about that then go read the articles about this topic that are published on the internet.
There is no other place on the internet with a constant stream of long-form content than blogs.
On your blog, your audience can share and comment on your content, making it convenient to get noticed and start creating natural links and brand mentions.
And with the constant posts, you will become a knowledgeable and demanding leader in your industry. Your audience will look to your website first for the information about recent trends and updates as well as how-to guides and informational articles.
3. Social media marketing
While social media links do not impact rank, social media websites are still some of the best places on the internet to increase awareness for your brand.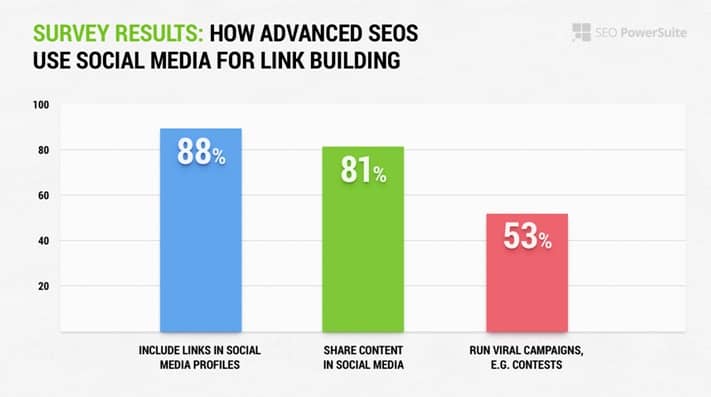 Image: source
Brands with a strong presence on social media feel approachable and open, which is something that is becoming increasingly essential today for businesses. Nowadays being on social media is as important as hiring affordable Off Page SEO.
If a brand is not conveniently approachable, not only does it come off as abrasive, its trustworthiness comes into question when users cannot access information easily about it.
Besides appearing as some aloof entity, let your brand come across like a friendly, neighborhood corner store.
You can do that by staying active on social media sites and by beginning a blog where you can let your audience get a feel for your brand's flair.
Also, create content that is easy to read and relevant, and respond sincerely and positively to comments on both your social media and blog pages. Doing this will assist your brand feel like a group of people rather than a robot.
4. Influencer marketing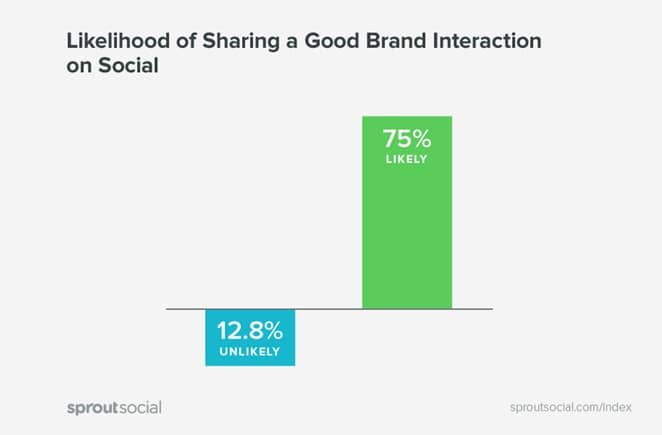 Image: source
How Can Off-Page SEO Influence Online Suggestions?
Because of the emphasis on links as a method of achieving off-page SEO, many people tend to assume boosting links is the goal of off-page SEO.
.
The real goal of off-page SEO, however, is to generate ranking so that people can contact, find, and purchase from you. Off-page SEO will develop positive engagement with your brand, whether that be through reviews, links, brand mentions, or social media.
Off-page SEO can be complicated, though, because those methods are one you can not control, not without being considered black-hat, and surely no one wants to wear a black hat.
There is no perfect way to increase your brand's credibility- or your rank- than with black-hat SEO techniques like paying employees to give positive reviews or buying links to your website. This way you can also avoid on-page SEO mistakes.
And since you cannot control off-page SEO in the same manner as you can control the on-page things of your website, it can turn into a really frustrating waiting game where all you can do is wish for a positive response from your audience.
If it is negative, modify your SEO strategy. Analyze what's wrong, tweak what's not.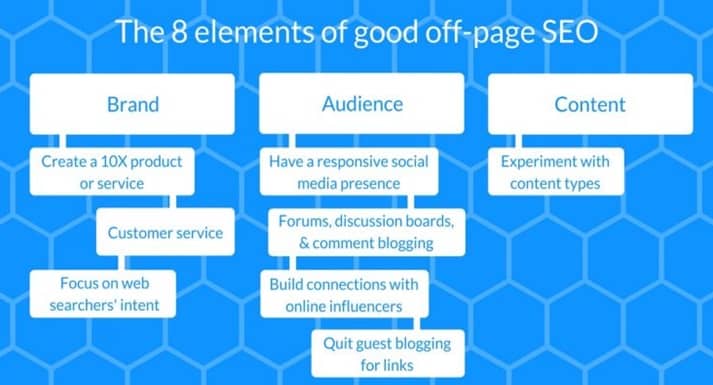 Image: source
Conclusion:
One of the best ways you can ignore negative reviews is by:
Executing changes that will solve the valid considerations of those negative reviews. Reaching out to your customers, requesting them for a review after purchase by doing these two different things, you will improve your products & services and boost more reviews.
Approach online influencers also. By having someone popular endorse your brand, you will achieve your audience's trust like no other.
So, ready to boost results with an effective off-page SEO strategy? If yes then reach one of the most trustworthy companies- LinkBuildingCorp, that can deliver you 100% genuine and guaranteed spam-free off-page SEO service. With their profitable SEO services in Australia, you will be able to compete with your online rivals and establish your position on the first page of SERP.
Want to talk to an SEO specialist? If yes then contact us now or call us at +91-9205356986. We will deliver you our best off-page SEO service that will satisfy all your needs.