How many email lists, RSS feeds, or blog alerts are you subscribed to?
How many do you read? Three? Two? None?Based on my experiences sending out email newsletters, it's likely that you're missing a lot of the articles these blogs are publishing.
For your site, it's likely your readers are missing content as well. This, in addition to the fact that information may change over time, is why it's to your benefit to republish your old content.
Not only is republishing your content a great way to get it in front of readers who may have missed it, you can also fill up your content calendar more easily during busy times since you don't need to write entirely new articles.
In this article, we'll go over the details of how to do this correctly. Here's what we'll cover:
● Common myths about republishing content and why it's totally fine.
● How to choose content to republish.
● How to republish your content – with examples.
---
Common Myths About Republishing Your Content – Busted
Before we get too deep into exactly how to republish your content, let's go over some common misconceptions.
Myth 1: If you republish content, you'll lose your search engine rankings
This might be true temporarily, but if you republish your content correctly, you'll actually improve your position in the SERPs.
In fact, if you used to have a page 1 spot and don't anymore, it's likely that your competitors have published content that's superior to yours.
By updating your content, you can ensure that your content maintains its place as the best on the internet. If you already have some high quality backlinks pointing to it, this is even better, as it will strengthen your ability to regain that page 1 spot.
Myth 2: If you republish your content, Google will hit you with a duplicate content penalty
Not necessarily. People often mistake duplicate content as a penalty because of how Google handles it.
Google isn't actually penalizing entire sites with duplicate content, just filtering the pages in the search results.
If you add "&filter=0" to the end of a Google URL, you can see this for yourself.
Myth 3: If you republish content on another platform, that platform will steal the search traffic
There is some truth to this. If you republic content on another platform like LinkedIn or Medium, Google may rank the content from these sites instead of yours.
To combat this, you want to make sure that the content that's being republished on LinkedIn or Medium links back to your own. This can show Google that it comes from a different original source (being your site).
Additionally, if you want to republish content on Medium or LinkedIn, wait to do so until after Google indexes the content on your site so that they're more likely to know which is the original.
If you plan to republish content on these platforms, do so with referral traffic in mind. Make sure your content has lots of internal links that can bring people to your site.
---
How To Choose What Content To Republish
The best way to choose what articles to republish depends on what you're trying to accomplish.
If you're republishing something again on your own blog as a way to update the content, you want to look at email conversion data and social media performance. These are good indicators of content that is of interest to your readers and is likely to be shared by them.
You also want to look for content on your site that has lots of internal link clicks. This way, when you do publish this content elsewhere, it will drive referral traffic to your site.
To look at your email conversion data, simply look through the analytics on the website of your chosen email marketing tool. This will give you tons of insight about which of your articles are performing best on your email list.
Next, you want to see which content is performing best on social. You can do this with Google Analytics by going to Acquisition -> Social -> Overview.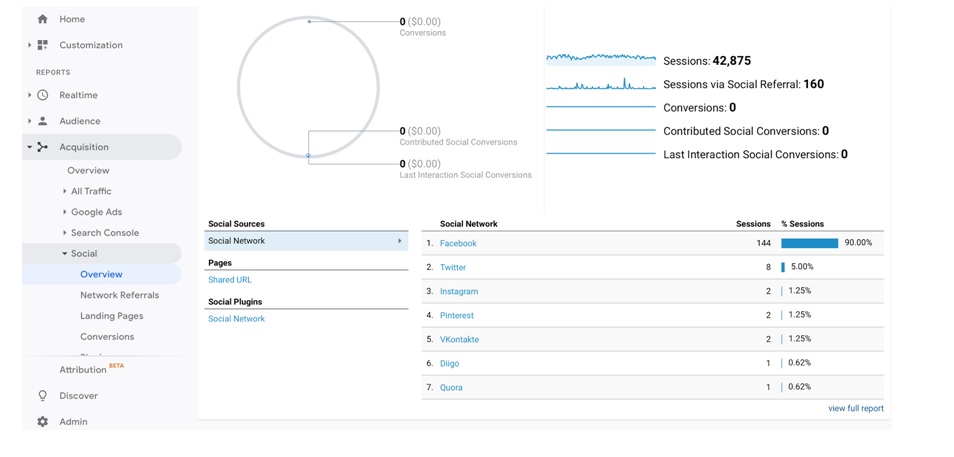 Finally, to see which content is getting the most internal link clicks, you can go to Audience -> User Flow. This will show you how users are clicking around your site.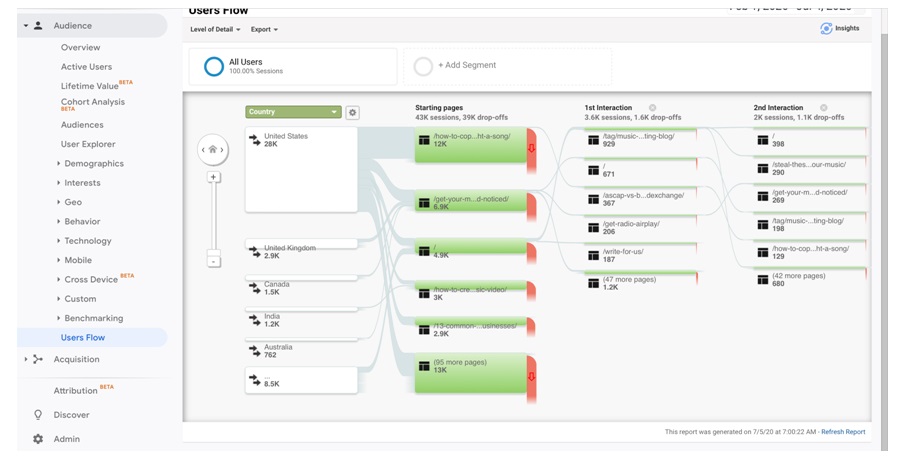 Use these data points to make informed decisions about which content is performing best. Usually, it's best to filter your options for over a year ago.
When you've found some content that you think would be good to republish, add the following information to your editorial calendar to schedule the republishing of it.
● Name: The headline of the original post.

● Author: Get permission from the author to republish this post if it was a guest post.

● Original publication date: You typically want to wait at least a year before republishing a post, but this depends on how quickly the data of the post is likely to change.

● Notes: Any details on the changes that you know need to be made.
---
How To Republish Your Content – With Examples
Now that we know how to find content to republish, let's get into the details of actually republishing it.
1- Determine how much of the content you need to change
In some cases, this may be none, but make sure that the content is still fully up to date.
Look at what competitors have written on this topic since you've published your content, and look for ways to improve on it. If you can dramatically improve the content, you can go after more backlinks by getting the email addresses of people who link to competing content and sending them an email about yours. This is known as the Skyscraper Technique.
In some cases, updating your content to be better than your competitors may involve adding more media, such as graphics or videos.
The quickest way to determine exactly what's needed is to look at what keywords the article ranks for, then read the top 5 results for those keywords. At the very least, review the pages ranking above you for keywords that your content ranks on the first page for.
2- Get the technical stuff right
When republishing your content, the most important thing to get right is the URL. You want to make sure Google doesn't drop your rankings because backlinks are no longer pointing to your content.
This is why it's best practice not to include things like dates or numbers in your URLs. If you include the date, you'll have to republish the post on a new URL. If you include a number in the URL, such as website.com/10-ways-to-republish-content, then you're either going to have to stick with 10 things in your new content, or republish it on a new URL.
The reason you need to republish your content on a new URL in these cases is because the numbers and dates in your URL can show up in the SERPs and influence the click thru rate.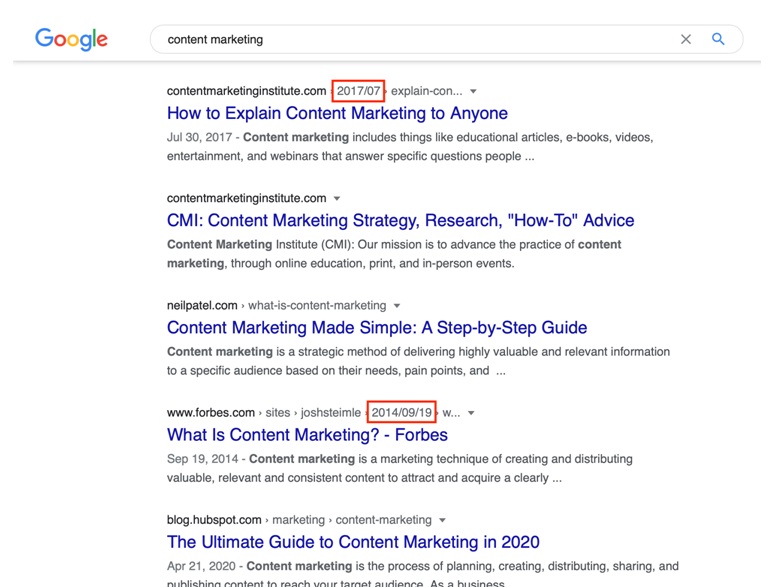 Which are you more likely to click on, the post from 2017, or the one from 2014?
Click thru rates are a powerful ranking factor, so this is an important thing to consider.
If you do include numbers in your URL and need to republish your content on a new, updated URL, it's not the end of the world. There's just the extra step involved of 301 redirecting the old URL to the new one. This will maintain the link juice acquired from backlinks pointing to the old post.
Now that you understand the basics of republishing content, let's run through a few scenarios that show you how to do it.
Content republish scenario 1: The original post gets little search traffic
When a post gets little search traffic, it can still be worth updating if you have a large email list that showed a high level of engagement with the content in the past.
If this is the case, you want to do the following:
● Research competing articles for ways to update the content.
● Review keywords that you chose to target for this content and make sure they're a perfect fit. If your site has increased in authority over time, you may be able to choose more competitive keywords to go after.
● Update the title if you're going after new keywords.
● 301 redirect the old post to the new one (if applicable).
● Add an editor's note that says the post has been republished.
Content republishing scenario 2: The original post gets lots of search traffic
If you have a post that gets tons of search traffic, the checklist is a little different for republishing the content. You'll likely want to limit the amount that you update the post, or make no updates at all.
● If you need to republish it on a new URL, redirect the old one to the new one.
● Don't update the content too much, or at all.
● Don't update the title.
Content republishing scenario 3: A new post on the theme of a popular original post
Though this isn't exactly republishing, it's a similar concept. This is basically a way to steal ideas from yourself and put new spins on them, and reminds you of content ideas that your audience has loved in the past.
This scenario involves less things that have to do with republishing content and more to do with making sure it's unique in content and keyword selection.
● Make sure you choose keywords to target that other articles aren't ranking highly for. This will expand your search presence.
● Make sure the content you write is completely original from the post it's based off of.
● Reference the original post in this one for strong internal linking.
Content republishing scenario 4: Republishing your content on another platform (like LinkedIn or Medium)
This scenario is a little different because it's the only one that doesn't involve republishing your content again on your own domain.
In this situation, I'd tread carefully. If you republish your content on high authority sites like LinkedIn or Medium, they could outrank you.
However, if your domain isn't strong enough for a particular keyword, republishing on these platforms can increase the exposure of your content. This is why these platforms are best for republishing content that gets lots of internal link clicks – because they can drive referral traffic to your site.
---
For this one, I have 2 checklists. One with do's, and one with don'ts.
Do:
● Consider the audience – if your content appeals to an audience of executives and young professionals, LinkedIn and Medium might be perfect fits for republishing your content. If you're republishing on Medium, the decision of whether to use your personal or company account depends on the topic. If it's tactical or educational, use your company account. If it's opinionated or personal, use your personal account.
● Identify your website as the original source – If you are concerned about the content on this site outranking yours, use a rel=canonical link — this is a piece of code that tells Google and other search engines which website should be given credit or priority for the content on the page.
● Adjust the content – Rather than simply republishing as is, you may need to make some small edits to appeal to the audience of the platform you're republishing the content on. Change the title and description to draw clicks from the audiences of these platforms.
Don't:
● Don't automatically republish content on the platforms – Doing so won't allow you to accomplish the above and make the content unique and optimized for the chosen platform.
● Don't republish the entire article – The whole point of republishing your content on platforms like LinkedIn and Medium is to get referral traffic, so make sure you only publish some of the content and link back to your site as the original source for those who want to read more.
● Don't republish every article – The content you republish on Medium or LinkedIn should depend on how much it appeals to the audience of the platform.
What's your take?
I'd love to hear what you have to say about republishing content. What's your opinion on it? How do you do it? How have you seen it done effectively? Let me know in the comments!
Call us at +91-9205356986 or mail us at info@linkbuildingcorp.com