Nowadays, consumers are becoming highly dependent on Internet access to get better solutions. After seeing consumer behavior, businesses have started prioritizing SEO strategies to connect with them. To connect to a local audience, you need local SEO that can help to connect with more users and brings in a lot of traffic, and boost sales. Local SEO is essential to focus more on growing business in the target area. Can you believe local SEO can help to prioritize your website appearing on SERPs?
Majority of people use Google to get information for a service needed, or when planning to buy. Local SEO is known as one of the best ways to grow a business. By choosing the best Local SEO, the owners can easily kick-start their business and can lead to a very large scale. The professional reliable SEO solutions can immediately help to compete with businesses that are there in the market for years. Professional Local SEO can help you to step up and target the audience according to the region.
Since, in local SEO people from the same locations will be using targeting keywords and it will be easier to get more traffic.
Below You'll Read:
☛ What Is Local SEO?
☛ Why It Is Important To Use Local SEO For Your Business?
☛ How Local SEO Strategy Can Help Your Business
☛ Role Of Local SEO Strategies
What Is Local SEO?
Local SEO is the process of making your website visible in a region by enhancing the ranking on the search engines. Mostly, local SEO is done by monitoring the search trends and implementing the keywords that people most often while they are searching online. Local SEO includes the process of ranking highly for the relevant searches. It's more effective than a general SEO strategy as you only need to compete with the firms that are serving locally in the target area. From various options, pick professional local SEO solutions, that can help you to approach more audiences by getting a better rank for the local searches.
A local search result includes two parts for a local business:

➢ To get into organic Search Results by making the website.
➢ By making a presence on Google My Business (GMB)
By making use of local SEO, you can see the users able to search for results from various different locations.
Example: If the person is searching for "link building services in delhi" then with the help of Local SEO you can bring the customers to your agency in the delhi.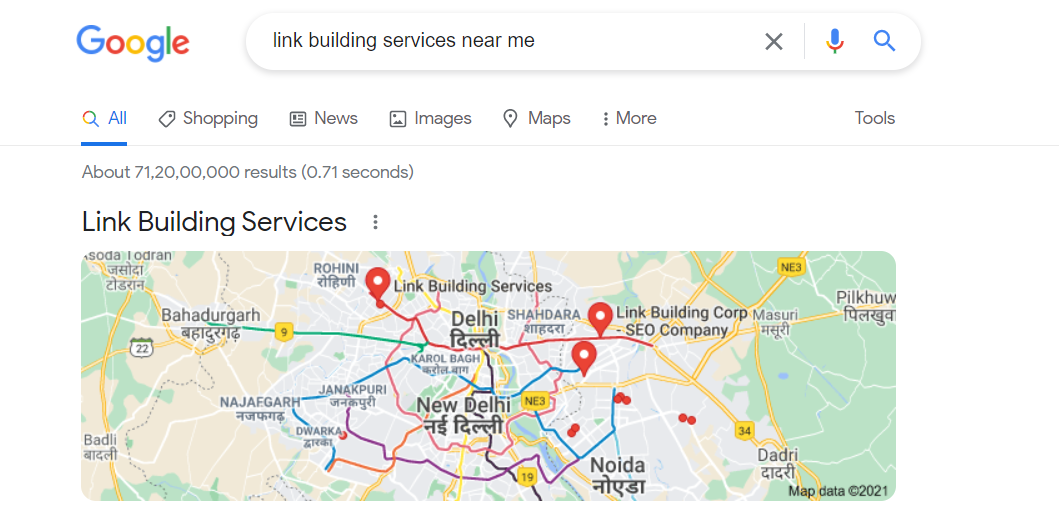 Why It Is Important To Use Local SEO For Your Business?
Local SEO importance is increasing day by day. This has great importance for the people that are searching for solutions present near them. With more and more people using their phones, it is better to search make your businesses available online while providing information and getting top position in the search engines. Local SEO is something that is really important and you need to think about it as you plan to move forward in the industry.
Local SEO can help any business to:
◆ Increase the visitors to the site and convert them into customers. This helps the businesses to create and provide the best experience for those specific users.
◆ Make businesses get rank on search engines for relevant terms that also fits the location. This means whenever a search is made online, your website will get listed at the top.
◆ It makes it easy to set up and doesn't take a lot of time to grow.
◆ Local SEO provides the best exposure in search results which makes it best to connect with customers that are looking for better solutions.
◆ When there are more local searches available online, this provides a better opportunity for your business to connect with potential customers.
◆ Local SEO has the great power to make your website rank organically. This means that you will be able to reach people without paying much money for advertisements.
◆ Local SEO is best known to make the business look trustworthy so that you are able to attract customers that are willing to spend more time on your website.
◆ Helps to include your business in the local search listings which make it best appear in a wide range of formats. This makes your business visible on the maps, directory pages, and search engine results pages.
◆ Local SEO provides the great power to make your website rank and get qualified traffic from different keywords.
◆ Make you visible in Google Maps that result in an increase in click-through rate (CTR) and more conversions.
◆ It is one of the most cost-effective digital marketing strategies that attract new customers.
◆ Local SEO helps to make your website get ranked in the local market. This provides a great sense for businesses and organizations.
Local SEO is a very important part of your online marketing strategy. To grow your business fast, it is highly recommended to include it in your web marketing campaign. This can highly help to make your business get visible in the local search. Also, this will bring in more visitors and you'll see a rise in the conversion rate.
How Local SEO Strategy Can Help Your Business
Local SEO is known as the most important way that can make your website best optimized that can improve the visibility of the business. But why it is important to use Local SEO strategies over general SEO strategies? The Local SEO helps to focus and provide the business to appear on top of the search results when the user looks for solutions "near me".
Example: The customer has made an online query to search for a service in the local area. The search query made such as "Italian restaurants near me", "dentist in the USA", or "shopping malls near me" clearly helps the business to get visible with the best local SEO strategies.
When you are searching how to increase website authority, then using local SEO strategies can improve the chances of your businesses appearing in local search results.
Here are some of the ways on how SEO can help your business:
1. Optimize for Google My Business
The best-known way to make your business grow is by making a presence with Google My Business. It has become an important element in the local search and with this Google can easily know more about the business and share the content with the customers. Google My Business is the best-known tool to help your business meet Google's needs. If you are able to make your business verified by Google, then your business will be authentic and the search engine will reward you a place with a coveted sidebar space in Google local search.
To get optimized for Google My Business, you'll want to:

➢ Create a Google My Business page
➢ Make use of Google Posts and encourage customers to share reviews
➢ Respond authentically to reviews
In this, it is important to provide your contact information and operate it for hours up-to-date. Also, keep open the review section where more customers are able to interact. Finding current information is important to consumers and this helps the consumer in making their decision.
2. Perform a local SEO audit
A good and effective SEO strategy takes the needs and requirements of the businesses into consideration. In this, it is important to look for the users that are looking for relevant solutions. By conducting a competitive analysis, you'll enable you to gain an in-depth understanding of the competition. Generally, by implementing expert off-page SEO solutions, you can see a better competitive analysis.
This will help you to determine the keywords that need to be taken into consideration. A local SEO audit may include the following:
• Website Audit – This helps to know how well your website is performing.
• Google My Business Audit – This helps to make you see how your business appears in Google My Business.
• On-Page SEO Audit – This helps to make your site accommodate all the on-page SEO elements that help in the ranking.
• Competitor Analysis – This helps to make your site match up with your competitions. This helps to match up in terms of inbound links, content, design, and positioning.
Once you are very clear with the fundamentals, you'll easily get backlinks for SEO. SEO is an ongoing process and you need to perform a comprehensive audit to check your website. With the implementation of correct strategies and regular audit, you can see your business achieve its goals.
3. Make your website is mobile-friendly
It is always said that Local search and mobile search always go hand in hand. There are about 61% of the Google searches performed on mobile. By using trustworthy SEO link building, you can easily make your site perform better so that it gets better reviews.
The reviews can also be based on the information you provide such as directions to your location, and contact information. You need to implement all the best strategies to make your website mobile-friendly.
4. Keyword research
Keyword Research is very important when it comes to provide increase traffic through backlinks. The right keywords and phrases help to grow your local SEO campaign and get you discovered. Keyword research helps you to find better keywords and phrases that can potentially drive traffic to your Google My Business Page.
To make your website get rank high in Google search results for relevant local queries, you will need to create a blog that can optimize the website for relevant keywords. The posts must be relevant and of high quality that provides valuable information and brings backlinks.
5. Improve your internal linking structure
Before implementing external links, it is important to understand what is Link Building. The links help to point back to your site that provide a better structure which will also boost your SEO rankings.
Let's know how internal linking matters:

• Assist with information architecture and create website hierarchy
• Support website navigation
• Provide page authority and ranking
When you know what are the link building techniques, then you will go for the strong link-building campaign. Writing better articles provide links that can be effective and essential.
6. Optimize title tags, URL, headers, meta description, and content
When it comes to creating content, it should be made in order to get your website indexed page. When you create a website with a specific geographic search phrase then you can see a better business opportunity to get found in the search engine results pages. Every time you write up a piece of content, you definitely need to optimize the content for search engines by using high-volume keywords in the URL.
7. Add location pages to your website
To make the business grow in a better way, you need to mention location on the pages. This helps to provide readers with names, addresses, phone numbers, promotions, and testimonials from happy customers. This helps to avoid duplicating content that can make you come across multiple location pages.
Example: To tell about the location of the business it is really important to create a locally descriptive About Us page.
If you have a business in the travel niche, then on your website you can provide the content mentioning things to do and places to eat in the neighborhood. This might help the people and it is considered as one of the best tricks how to build links to websites that are searching for better quality content.
8. Create local content
Google and other search engines are getting smarter each day. This plays an important role in understanding what are the link building techniques and how it can help to get ranked in the search engines. While writing on general topics you'll easily attract a wide crowd that will help you to focus on providing content to attract a local audience.
Example: If you're a local bakery shop and trying to attract people of your area, you can take the help of content to create a helpful resource. To get the businesses well-acquainted with your city, you need to provide an overview of your solutions and about your shop.
With this, you can see a great rise in the local industry by providing content of gatherings, events, and other educational content.
9. Get inbound links and authority
There are various types of link building strategy and inbound link strategy is incredibly powerful. It provides the best opportunity to boost your local SEO as a single inbound link tells you're a legitimate company.
These inbound links help the business to raise your domain authority and here are some of the ways they can help your business:

➢ Partnerships
➢ Guest Blog Posting
➢ Scholarships
To build your link profile, you'll need to focus on providing better content. This helps your business to see increased traffic through backlinks. Surely, you can get backlinks as many as you want. But unless you get quality links, it is very difficult to grow.
You need to focus on finding the best high-authority websites that have good domain authority and provide guest posting. This will make you reach out to different guest posts.
10. Local SEO practices for link building
There are various links from third-party websites that are also considered as one of the most important ranking factors for local SEO. Many times businesses follow right broken link building guide that helps the local business website get listed on the top of results.
To know more, here are some ways how local websites can build links:

◆ Helps to build relationships with local bloggers and make publishers reach out with newsworthy content.

◆Include a new way of what is happening at a broader level. This includes using Skyscraper technique that helps to provide creative information.

◆ To provide more knowledge about the local community and events.

◆ Write up the best leadership articles and reach a more local audience.
This is part of the local SEO to make your business stay in the long game. With the best strategies, you can attract high-quality links to your site which helps in establishing credibility. This also lends authority to your business and makes it connect to more local influencers. When to you know how to build links to a website, then you can establish a mutually beneficial relationship that allows making your business to grow as an authority.
Role Of Local SEO Strategies
In search results, you'll see the people are most likely to click on the results presented at the top of the list. If you own a business owner, with local SEO you can make your website get ranked to the top in the search engine. The best use of local SEO helps to boost awareness and increase the likelihood of getting a conversion. If you want to succeed in life, you need to make use of local SEO strategies. The goal of local SEO helps to achieve top rankings. Some businesses are now eager to the understand role of mobile SEO Vs desktop SEO in the search engine results pages. Local SEO allows you to attract new customers according to the location.
Given are some proven facts of using Local SEO strategies:

➢ 66% of all Google searches are made to find solutions locally.

➢ 76% of the people that make searches are more likely to purchase offline

➢ 76% of consumers do a local search within the range of five miles.

➢ Google has seen 54% of searches come from mobile devices.
Local SEO also works best to increase customer loyalty, conversion rates, leads, and provide more social media engagement. For any kind of business, it is important to consider effective tips to choose a local SEO company that can provide a great significant impact on making customers.
Referring to the various on-site and off-site factors, the algorithms can help you to attract more customers to your website with every relevant search query.
Conclusion
The method of Local SEO can be a bit complicated, but if you use the right strategies then it will be easier for you to improve your SEO rankings. To get the best-assured place online, it is important to choose professional SEO solutions. There are a lot of companies that can provide the service that you need but you need to choose the best professional SEO. LinkBuildingCorp. provides the best SEO solutions that help you to get a better rank online.
The professional has the great ability to deliver the right solutions which can bring more people to your website. To avail our local SEO solutions, contact us at +91-9205356986 or request a free instant quote.
Never miss a story..!!
Grab the Latest link building, seo, content News, Tips, Updates & Trends..!!
---
Want to read some trendy and fruitful resource? Learn Advanced SEO Marketing Hub 2.0
---