Have you designed a responsive website for your business and gotten quality links for your new website?
Have you started with an effective link-building campaign, but still do not receive the links your competitors are having?
You have searched a lot about the best advanced link building tips and tricks, but getting more confused about deciding which one works perfectly for you?
Well, there is no one way to get authority links, but in this post, you'll find some proven tips that surely work.
Today, we'll learn:

☛ 11 Best Ideas To Get Natural Links For Your New Website

a)- Check Your Content Quality First
b)- Publish "Skyscraper" Content
c)- Link Your Social Media Channels To Your Site
d)- Examine Competitor's Link Sources & Find Authority Resource Pages
e)- Online Communities & Forums
f)- Proper Indexing
g)- Guest Blogging And Publish Ultimate Guides
h)- HARO – Help A Reporter Out
i)- Produce Multi-Format Content
j)- Interview Top Influencers
k)- Broken Link Building Opportunities
Let's dive into the deep sea of ideas to get quality links…..
11 Best Ideas To Get Quality Links For Your New Website
Let's know the result-oriented link-building tips as mentioned below to make your new site link-worthy.
1- Check Your Content Quality First
Always keep one point in your mind that online visitors prefer just unique, concise, and clear content that addresses their queries. Thus, examine what is already present there on the web and what you can compose to appear different and better than others.
Evergreen content is one of the top content marketing strategy and trends that never go out of style. This is a type of valuable content that will reward you with good links.
2- Publish "Skyscraper" Content
The Skyscraper technique is an effective link-building technique that involves finding out high-ranking content with lots of backlinks, using its flaws, and creating a much better piece.
Here a question arises:
How can we do this thing?
Don't worry, here we have given a step-by-step process for better understanding:
First, find content that is performing well in SERPs.
The most convenient way to do that is through a simple Google search.
Search the actual focus keyword you want to the right content on

And go through the results on the 1st page: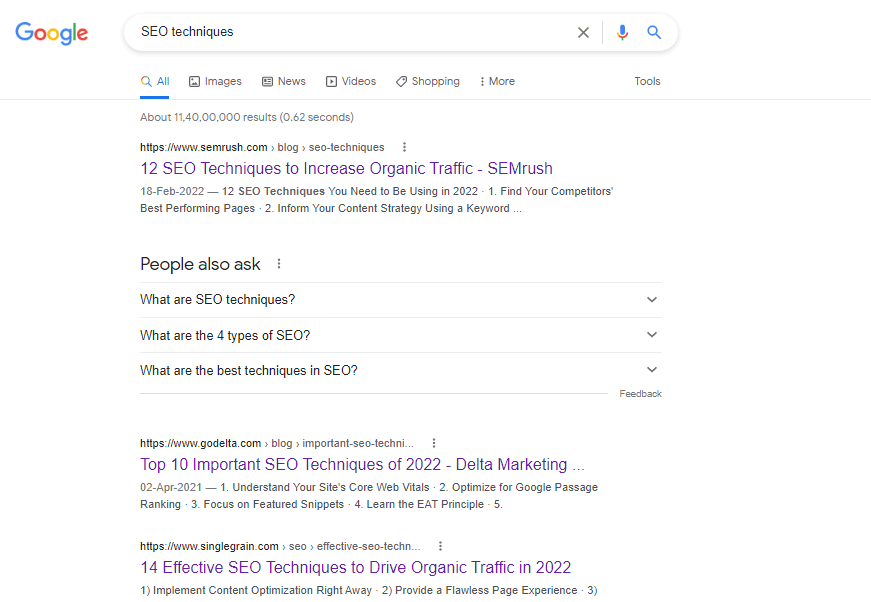 As more backlinks you will get, the better ranking you will achieve.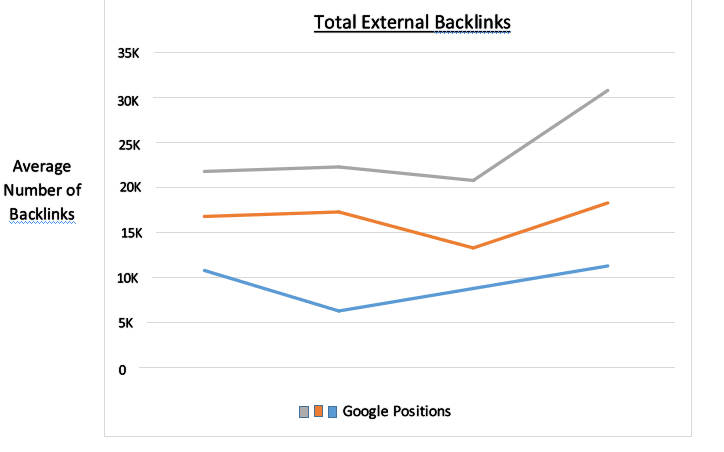 So if a page stands on the 1st page of Google, people have probably checked have checked that page out.
That is the very first step.
After that, create a content that is way better than what ranks in the top position.
For example, we have noticed that most of the content regarding proven SEO techniques, doesn't have tips for different subtopics.
So, we decided to make our content different and 10x better than theirs.
Unlike other content, our post contained important tips too that can make the process easy.

Creating such a piece needs a little bit of research.
But when you will get positive results, everything will look worth it.
Once you are done creating such a piece, promote your skyscraper content.
This is a very important step.
Although fruitful skyscraper technique already gives you many benefits but to get the most out of your content, you should promote it well.
3- Link Your Social Media Channels To Your Site
Since you're a beginner, it requires time to draw the attention of the myriads of visitors. But, you can speed up this process by promoting your articles, blog posts, or other pieces of content on social media channels.
So, add links to your social media accounts to this content.
4- Examine Competitor's Link Sources & Find Authority Resource Pages
It is good to leverage your competitor's efforts, but never ever copy them. This is because it may be possible that they might have some poor-quality links.
Hence, do a comprehensive competitive analysis through their website URL. Find out how many backlinks they have, how good they are, and their organic ways to build links. If there is any link that could benefit you, then go for it to get a backlink from the same authoritative website.
Now coming to resource pages. It is known to be a dream of many link builders.
You ask, why?
Because they are the pages that exist just to link out to other websites.
For better understanding, here is an example:

Now you might be thinking that everything looks great.
But
How can I get links from such resource pages?
Here is a step-by-step process for that too:
First, find out the resource pages.
It could be tricky to find out. Only a few people refer to their resource page as a "resource page".
Rather, people tend to present their pages with terms such as:
"beneficial resources"
"helpful resources"
"further reading"
"extra resources"
To find such pages, you just need to search for your industry-relevant terms, plus a keyword.
Let's say, you just need to publish an article regarding powerful SEO.
Search on Google with a keyword like the below:

And within a few seconds, you will get a list of SEO resources: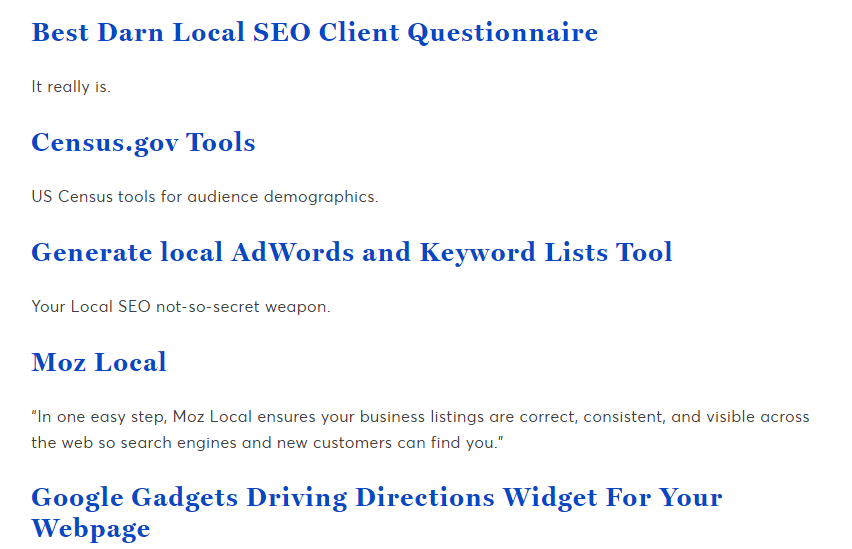 After that, you can reach out and ask for a link.
5- Online Communities & Forums
Your target audience is already present on different platforms of the internet world.
So, get found everywhere they are hanging if you don't want your competitor to reach them before you could. Participate in group discussions, question & answer sessions, forums, or online communities to get some new content ideas.
These are the ultimate ways to choose trending topics for influential blog post writing, that will be great for ranking and traffic.
Quora is the best place to start finding what is in the discussion these days and developing your authority.
6- Proper Indexing
Despite creating the most impressive website designs, you would not be able to bring your web pages to the search engine results.
It may be due to indexing issues. There are some cases when a page is blocked by robots.txt not for some days or weeks even months, but years.
Thus, let your site be indexed and crawled completely.
7- Guest Blogging And Publish Ultimate Guides
A marketing strategy that increases search engine ranking and online traffic is guest blogging and posting.
Today, most marketers and influential bloggers are using guest posting to generate inbound and authority links, build a loyal audience and improve brand visibility.
But, it is recommended to do a maximum of 2 guest posts, not more than this as it will take you overboard. Up to 2 guest posts are enough to get traffic and increased numbers of clicks.
Till now, you might know that the best way to rank your website on the 1st page is by building high-quality backlinks.
But how?
How can you convince other authorized websites to link back to you?
The answer is Ultimate Guides.
Yes, you have read right.
For example, we have published this Ultimate Guide to SEO a while back:

Now, you might think why the Ultimate guide is important and works so well?
Make sure your content is long enough so that you can cover all the trendy content writing topics.
According to a lot of studies, long content is more likely to perform better in Google when compared to short content: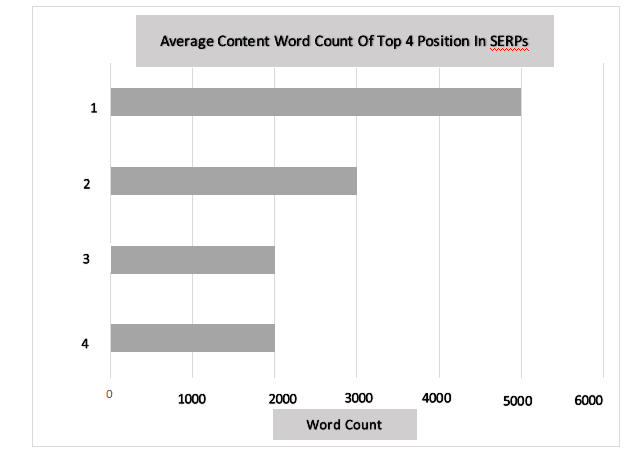 And because your guide will have every topic, people will link to it whenever they will write content related to your topic.
Listed below is a step-by-step process to writing effective ultimate guides.
● First find a topic for your guide
This is an important step that can't be skipped.
Don't choose a topic that already has a lot of guides on search engines.
For example, when we wrote an SEO guide, we noticed that there is not much content on Google that is related to guides on SEO where you can find everything from what is SEO to various types of SEO.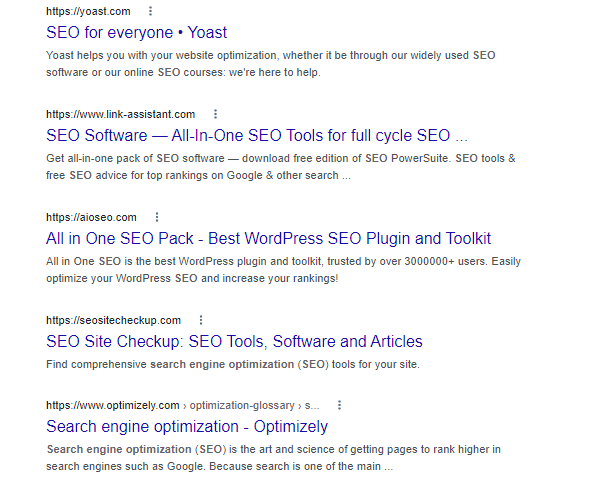 Therefore we went with SEO.
● Next, outline your ultimate guide.
This is a convenient manner.
List subtopics that are mentioned in the guide, to make your content look clean.
For example, for my SEO, we have listed the topics that are explained in the guide: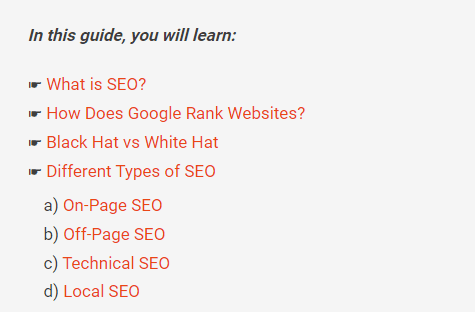 ✔ What is SEO?
✔ How Does Google Rank Websites?
✔ Black Hat vs effective White Hat SEO
✔ Different Types of SEO
And most of these subtopics has separate sections in our guide:
● Lastly, write your Ultimate Guide.
When writing a guide, don't get afraid to cover everything that the reader needs to know about a topic.
This way, you will make your guide a definitive resource to choose when searching for in-depth information on a topic.
8- HARO – Help A Reporter Out
Online journalists always hunt for the most useful sources to provide the best information in their articles. Therefore, by reaching these reporters and offering them what they're looking for, you can receive some quality links.
Look, if you want to rank on the 1st page of SERPs, you have to build quality backlinks for SEO from new websites and blogs that are authorized.
(Only White Hat links from authorized sites and blogs can benefit)
It might sound very difficult but in reality, it is not that difficult.
Just use HARO (Help a Reporter Out).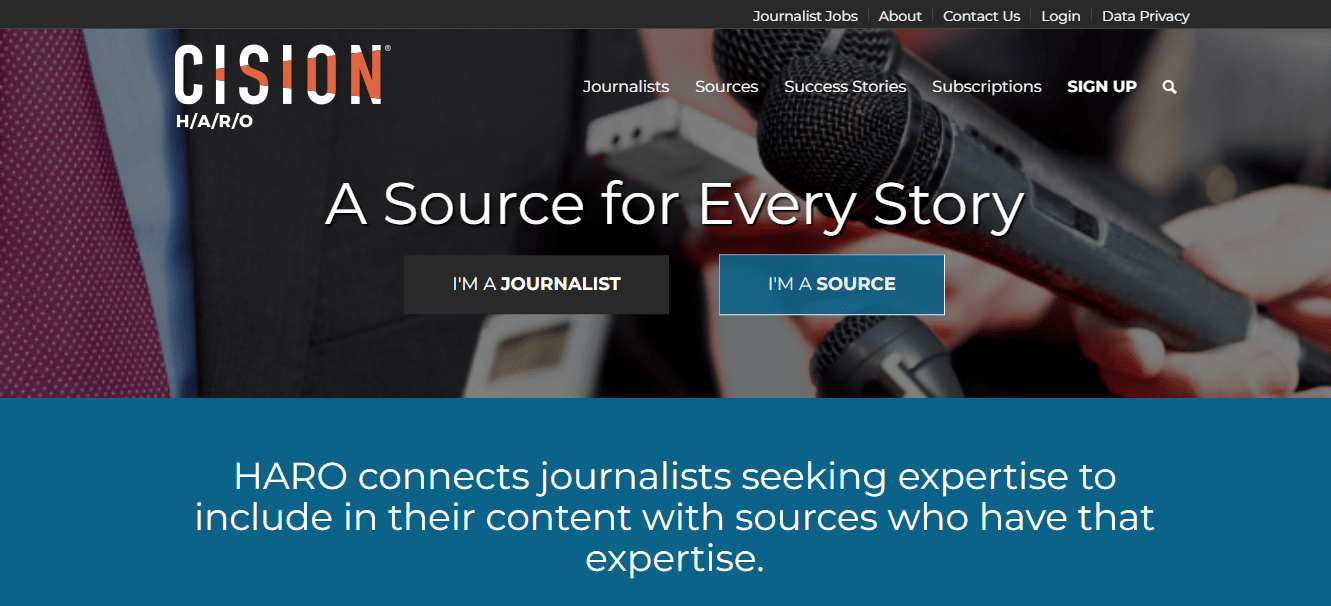 HARO connects people who need sources to people that want links as well as exposure.
It can be used to build white hat backlinks from authoritative new websites.
This strategy needs consistency and a lot of work. It is not always easy.
But, even after all the difficulties, it is still one of the best ways to build quality backlinks.
Saying that, let's see the step-by-step process.
First thing first, register as a source.

After that, choose a free or paid plan.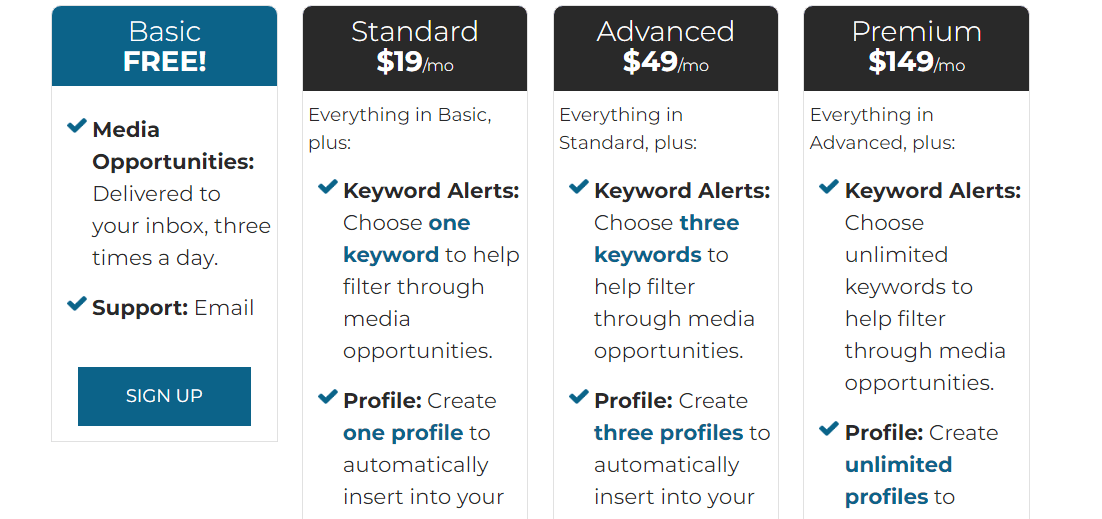 Fill out the form:

Frequently check the requests that you can contribute to.
After a few selections, send journalists a brief and valuable pitch.
9- Produce Multi-Format Content
SEO content writing is not limited to article, blog, or productive press release writing, but there are different types of content formats with their unique potential.
Do you know that 90% of the information that reaches the human brain is visual in nature?
More than 40% of the audience gives more preference to visual content than plain text.
So, use other types of content formats as well such as infographics, case studies, videos, images, webinars, podcasts, etc.
● Use Content Formats Proven To Generate Links
If you see on the internet, you will find most of the contents are sometimes completely ignored.
Ou won't believe that 90% of the content available online gets ZERO links.
That doesn't seem good, right?
But there is something good too, it has been found that some valuable content creation helps to perform better than others.
Specifically, the below-mentioned format in the image tends to generate more backlinks: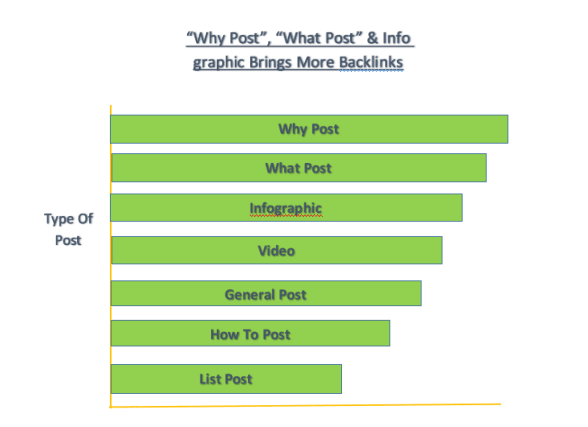 Therefore, if you want to get a good number of backlinks, consider writing content in these formats:
● "Why" Posts
● "What" posts
● Infographics
● Videos
But this doesn't mean just publishing some content on why posts and infographics.
If you want to generate backlinks, then you need to focus on the quality of the content too.
Here, you can take help from content writing experts who can write the content with precision and effectiveness.
10- Interview Top Influencers
Take an interview of some interesting personalities on your site and ask them questions that were never asked before.
It would benefit you with the opportunity to get even hundreds of links.
After interviewing any influencer, compose a readable and high-quality article that people will link to, and can improve the standing of your personal brand more quickly.
11- Broken Link Building Opportunities
Much like a dead fish that spoils the entire environment of an aquarium, any broken links on your site can affect its online presence, performance, brand visibility, and credibility.
Look for worthwhile broken link building strategies such as using secondary link-building tactics, keeping a track of the URLs, etc. It will help you identify and remove the broken link from your site.
The list of ways you can use in order to get quality links does not end there, in fact, you'll receive so many exclusive links earning and building methods.
For example, go local to gain much exposure to several networking opportunities, give stuff away, do some offline branding, sponsor local groups or teams, break lengthy content into small digestible parts, and lots more.
Conclusion:
As now you understand the ways that offer quality links for your new business website, start implementing these tips and track a record of its results to examine the effectiveness.
One thing you should never forget is that quality links cannot be earned and built overnight, but it takes some time. So, keep using these tactics with the assistance of a reputed company.
LinkBuildingCorp is a trustworthy link-building company that offers SEO solutions at a very competitive price. Hire us today, by calling at +91-9205356986 or request a quick quote.