What does Google Maps Marketing mean? Why do you need it? All your answers related Google Maps Marketing will be answered in this guide.
Estimated 81% of the shoppers rely on doing online research before buying any product. And 50% of the shoppers who make a local search on their mobile phones generally visit their nearby store within a day whereas 34% of the consumers who make a search on computers or tablets do the same.
This shows that businesses which people find easier to search using Google Maps help in increasing sales exponentially.
If you want your website to appear in the top 3 list in Google searches, you need to get your Google Maps Marketing done efficiently.
What Does Google Maps Marketing Mean?
As the name suggests, Google Maps Marketing is the marketing of your business using Google Maps. It can also be defined as a strategy of employing Google Maps' functionality to help the business in finding when the potential customers search about your products or services.
It acts as a requisite tool by which you can target your local customers.
Need of Google Maps Marketing:
It is understood, the primary aim of this type of marketing is to make your business appear in the top 3 local listings on the Google Maps results whenever someone searches with the relevant keywords.
There are two types of listings on Google Maps that online searchers get:
1. Local Google Map Results (Proximity)
This type of Google Map Results is the most common. Use of Engaging headlines attracts more customers. If you search for "lunch providers in Noida Sector 16", you will get the following results on Google Maps Results: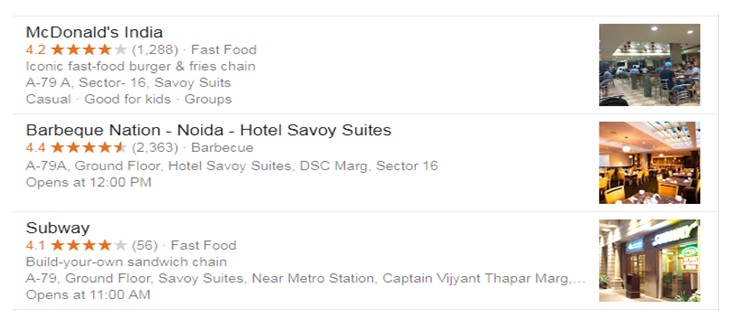 2. Ranked Google Maps Results
Though, Local Google Maps results are the most common but not everyone has Google Location activated on their mobiles or any other devices.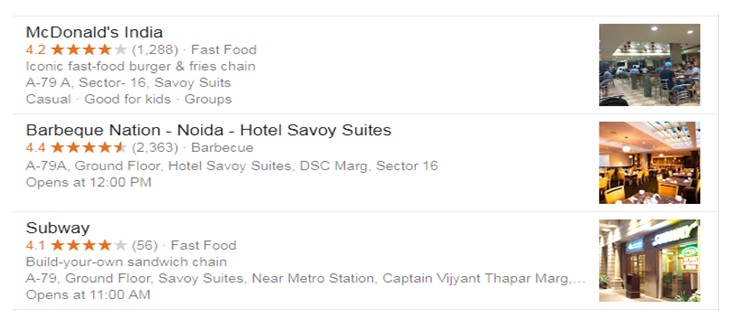 When you have Google location data turned off in your device, you might get slightly different results. These results are purely based on the business listing's optimization.
As a businessman you should optimize your Google business listings to get your business rank for both the types of results.
Why Google Maps Marketing Is Needed For Your Business?
When your potential customers find you in the top 3 results on Google maps, the chances of them contacting you becomes higher.
Here is the list of benefits it provides to the businesses:
i. Able To Attract The Potential Local Customers
Those days are gone when people used to visit the stores directly to purchase anything.
Now they first search online for the product specification, comparing the prices, and search for the deals or offers.
This type of marketing will help you in ranking among top 3 lists of Google maps results and thereby you will able to catch the target audience.
ii. Improve The Visibility Of Your Brand
This has been mentioned earlier also that before going to make any shopping decision, consumers make an online search.
Suppose people find you in the top 3 results on Google maps by searching for relevant keyword.
Don't you think it will increase the visibility of your brand?
Yes, it definitely will!
It is an excellent tool to increase the visibility of your brand and to create a brand image if used effectively.
iii. Helps In Building Trust
Buyers turn to Google and search when they want to buy something new. If your business is in the top 3 list on Google Maps results, it leaves a good impression on customers that you are a reliable company.
iv. Cost Effective Method
It is an economical way of advertising for your business. The best thing about it is that you can promote the products or services in which you deal in to those who are searching for it.
v. Boost The Conversion Rate
All the factors including trust building, cost effectiveness, etc. mentioned above contributes to increasing the conversion rate.
What Is Google My Business?
Google My Business is a tool which is completely free and helps businesses in managing their online presence over Google including Maps and searches.
With the help of it, you can stand out from the crowd when people are searching you on Google Maps and Google search.
Here is the list of things to improve and optimize the listing of Google maps to gain the maximum visibility:
1. Address Information Should Be Accurate And USPS-Approved
Now you might be thinking how one can go wrong while entering the address information. But many businesses make errors while doing it.
You should make sure that your address is USPS-Approved or any other postal service in your place where you are doing business.
Also in the Google my business account, it is recommended to display your address where you have an option to display or not to display it.
2. Add Your Service Area
In Google my business profile, it is vital to add your service area for high rankings in Google.
If you don't operate from your physical location or you are a phone only company, then you should mention it clearly.
Otherwise, people will turn up to your physical location in a hope of being served. Then they will write negative reviews that might affect your ranking on Google Maps.
3. Verify Your Google My Business Listing

After adding the approved address, next comes the verification of your Google My Business Listing.
The whole process of verification takes up to a few weeks. Google normally sends a postcard having a unique PIN to your physical address in order to confirm the verification.
For some specific businesses, Google also uses email or phone verification.
4. Optimize The Images In Google My Business Listing

As we all know, Google Maps are a visual platform so it is more than just a map. Therefore you should also focus on optimization of images by choosing more relevant and eye pleasing images as they attract more attention than those without images.
This will help your business to stand out!
5. Add All The Categories Relevant To Your Business
Many businesses only fill the primary category of their business at the time of creating their business listing. This shouldn't be done!
You are required to make sure that you have checked all the additional categories relevant to your business also. Else your competitors will get an edge over you.
However, adding a category or each of your products should not be done.
6. Post Frequently On The Social Media
Yes, it works! You should post on Facebook, LinkedIn, and Google+ etc. as they support your Google Maps Marketing efforts.
Try to make it a habit if you want your business to rank higher on Google Maps Results and increase the traffic
7. Ask Your Customers For Review
Though it cannot be said clearly about how effective is customer review in high Google Maps Ranking but a Google My Business listing without any review of customer will face a tough competition with those businesses having lots of reviews.
Online reviews of customers are a must for your business to be considered as credible. You should always try to encourage or motivate the customers to write a review.
There are chances of getting negative reviews as well and you cannot do much about them except reading and replying to them. However, you can distance yourself from the negative mentions online. You can monitor what people are saying about your business and the business of your competitor by using some third-party tools.
8. Improve The Introduction Part Of Google My Business Listing
Many businessmen just explain the basic information related to their business. It is not a good strategy to be used.
You should include all the information that your potential customers might want to know and include all the relevant keywords.
Pay more focus on writing crisp, compelling and catch introduction keeping in mind the searchers of your business.
9. Use High Quality Local Citation And Backlinks
The more is better in case of having high quality backlinks and local citation.
High quality of link building creates an authority of your website and will support the Google Maps Ranking.
Do not miss any opportunity of having local citation from the renowned bodies such as local chamber of commerce, or any other relevant business association that matters to you.
You can search for the local citations from some other places such as:
✓ Locally focused directories
✓ Directories specific to industries
✓ Local blogs
Do You Need Help From Experts For Google Maps Marketing?
Just like any other strategy of digital marketing, getting higher ranks on Google Search Results requires time.
You will be required to take care of each and every small detail while setting up the profile of Google My Business.
Therefore, it is always better to take the help of experts in this matter.
Conclusion:
It helps in building trust, drawing the attention of locals, improving the brand visibility and boosting the conversion rate if your business appears in the top 3 list on Google Maps Results.
Google Maps Marketing is a cost-effective way if you want to increase the sales and promote your business. Follow the techniques mentioned above and rank high on the Google Maps Results.
Call us at +91-9205356986 or mail us at info@linkbuildingcorp.com