You've heard about the term "Search Engine Optimization", but is Google SEO really new to you?
When you're exploring the new SEO Trends, there are several new terms to keep in mind while optimizing your website in order to help it rank at the top of search results.
Google SEO is a crucial concept that can help generate more visibility as well as brand awareness.
Besides, site optimization for Google's search engine algorithm can even prove to be advantageous for your bottom line.
What is Google SEO?
Google SEO is referred to as the sequence of steps you take to make your site achieve higher rankings in Google SERPs.
When anyone searches for a phrase or keyword on Google, they obtain a big list of results that Google find the perfect solution to their specific needs.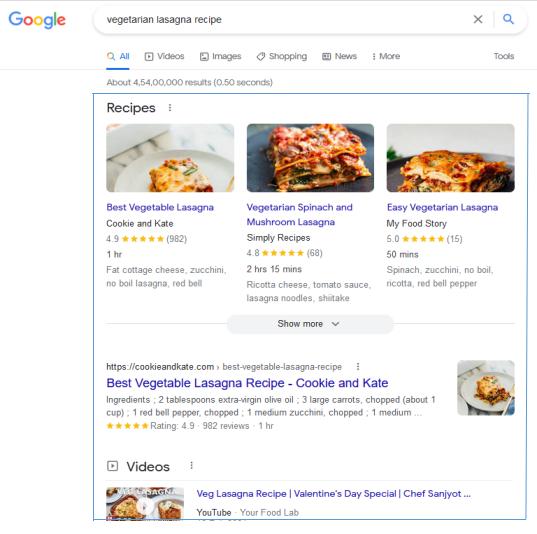 The first page of Google SERP comprises authority, relevance, and other details that Google prefers.
You know traditional SEO is a technique of optimizing web page details to meet the search engines' ranking factors. Marketers follow major SEO tips for higher rankings.
Whereas, Google SEO is all about meeting Google's specific criteria and algorithms.
Thus, Google SEO and traditional SEO go hand-in-hand. Do you want to know why? Because the entire world depends on Google to get the answers to their queries, to search other sites, and simply shop online.
To convince you, here we've collected some stats for you:
✓ Over 3.7 billion Google searches are conducted on daily basis.
✓ The size of the Google index is around 30 to 50 billion pages
✓ Google Search Index has over 100,000,000 GB.
✓ 76% of every global search is mostly conducted on Google.
✓ Over 60% of Google searches are done on mobile devices.
When people say "effective SEO", from strategies to consideration, everything stems from Google.
But, you can still match the standards of various search engines when you implement fundamental SEO practices.
Google SEO implies you're targeting only one search engine with the hope of making a profit by grabbing the good ranking positions to boost traffic, maximize leads and more conversions for your business.
Do you know how Google's search algorithm works?
It's not just you, this is many people's common question "What does Google do?"
Many of them are even not aware of the practices that make Google stand out in the search engine market.
Google's work process for collecting and indexing pages online is somewhat unique. The common aspects of Google are discovering, sorting and delivering.
Suppose, if you are new to doing reasonable SEO for plumbing companies, it's crucial for you to know that Not every search engine connects easily with every website on the Internet. Like various search engines, Google has to observe — and index — every site.
Google comprises a crawler which is called Googlebot. It follows links from one page to another page. Googlebot includes two crawlers, one for mobile and one for desktop.
As Google saves a website in its index, it also captures information regarding credibility, purpose, and relevance. Then, Google shows its findings while users look for words that refer to content available on pages in its index.
Numerous ranking factors are considered to find out which site comes at the top of the search results.
8 Crucial Elements of Google SEO
Google SEO cannot be explained in a single sentence definition. Also, you require a complete overview of the ins as well as outs of Google optimization, which further stretches from various ranking factors to ideal practices.
There are multiple steps to rank higher in Google search. Let's have a look at the vital elements of Google SEO and know why they are good for your site.
1- Be sure Google can find and crawl your site
As Google traverse from links to more pages, your website can't be seen unless it's easily accessible from another one.
It's feasible your page is concealed from Google because either it's a new brand or just isolated from a general network of pages.
Submit a URL request: Strictly speaking, you just don't need to get a link from someone else to immediately get counted in the index.
Also, Google permits you to submit a URL request via its URL inspection tool. This request decreases the chance of crawlers having to go to find your material.
Implement a sitemap: Apart from submitting a URL for consideration, you can even ask Google to quickly scour your collection of pages by rightly submitting a sitemap via Google Search Console before starting an important SEO campaign.
A sitemap holds the responsibility of laying out the content on your domain, besides the importance as well as details about the images, pages, and videos.
Even though alerting Google to your web pages is an easy action, you can't begin the actual Google SEO tactics without getting visible.
2- Help Google navigate your content
Helping crawlers go through your pages and spot fresh content fortifies your Google SEO strategy. You can publish signposts in order to drive visitors to your compelling and highly relevant content.
Internal links likewise show which blogs, articles, and pages you value the most, and you can shower "link juice" from high-ranking pages to different people through strategic internal linking.
Not each page on your website is user-friendly. Anything unnecessary or sensitive for visitors doesn't have to display on Google.
For example, you will never want Google to show up "Thank You!" page to users for form submissions. You can easily improve website online presence and manage traffic with robots.txt or just keep back pages from Google through noindex tags.
Use robots.txt: The right way to keep Googlebot from quickly directing unwanted traffic into some areas is to label it with "robots.txt."
In that case, resource files and block media can get blocked, but it doesn't assure that the page remains out of sight from Google.
Noindex Tags: Meta tags or directives are some segments of code that rightly guide crawlers as they get indexed. The noindex tag is a particular directive that stops Google from showing up a page in search results.
In case, you have any pages to keep away from the search engine results pages (SERPs), then just apply the noindex tag.
This is one of the crucial parts of a successful SEO Audit Checklist.
3- Make your Pages Easy-to-Understand
Google has to understand your pages before it can determine if they address a topic completely and meet searcher intent. To make your content communicable to Google and its users, you can do some on-page modifications.
JavaScript and CSS: Primarily, crawlers need to see the entire picture of your website, such as CSS and Javascript, so just make these elements reachable.
Remove intentional or accidental blocks so Google can use the elements of your websites. The Googlebot Fetch tool can give you a list of pages that have a barriers. The file, robots.txt, can stop Google from completely rendering your page, which can also hurt your ranking.
You might utilize it to stay away from duplicate content or keep your site search pages secured from popping up on SERPs. While it's difficult to predict what a bot views, you can move to the URL Inspection tool again to find a better idea.
This is one of the vital responsibilities of SEO company where SEO professionals work by implementing the right strategies.
HTML Tags: HTML Tags: This is useful in sorting out the central topic of a page and Google depends on them to get the content structure as well.
Title tags can be viewed in search results. They help rope in potential searchers. So, it's important to make them descriptive as well as different.
Remember: Unclear, irrelevant title tags fail to meet Google's expectations, so simply focus on keeping them complete and accurate.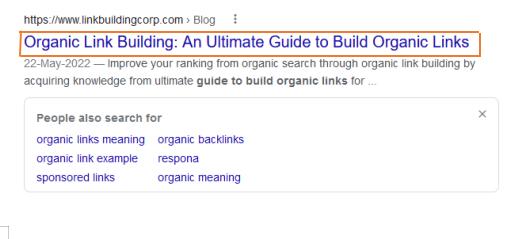 Meta descriptions: A small summary that can be seen below the URL in Google SERPs – additionally provide Google users with a content sample. If they find a catchy meta description, there's a great chance for them to click on your result, which increases your CTR.
Even reliable link building company follow similar rules as title tags and fill up them with a snippet of what they'll see on your page.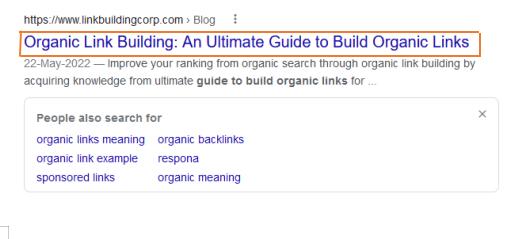 Make sure your content has heading tags (H1 and H2) that are right for outlining sections as well as making Googlebot (and readers) walk through the article or blog flow.
Also, this signifies the key points of your information and ensures that the heading must always show better structure over proper aesthetic design.
Keywords: This is a great way to denote your content topic as well as relevance.
Same as standard SEO, keywords for Google SEO, strive to match search queries as well as searcher intent. For Google to select keywords, naturally place them in meta descriptions, titles, content and headings.
Here is to remind you that Google hates keyword stuffing. So, just avoid overloading content with repeated content.
For instance, if your keyword was "dental clinic in Noida", it's not helpful for Google or other users to fill a meta description with: "Finding a dental clinic in Noida?"
Here's the best dental clinic in Noida so just visit us for treatment around Noida!"
With the right context as well as conversational copy, you can stay ahead of your competition on Google.
If you need a Google-specific tool to conduct keyword research, go ahead with Google Trends to look for popular topics, keywords and questions. And if you are unable to do that, immediately hire dedicated SEO experts.
4- Focus on URL organization
URLs may appear to be meaningless, but what approach you follow to set them up improves your performance on Google SERPs.
The seamless organization of your website as well as URL structure can just simplify navigation as well as appeal to visitors on your website.
Site security for Google SEO: Either you have "http://" or "https://" at the starting of your URL. If you want more boosts for safety, "https://" is recommended. This requires an SSL certificate, which keeps the sensitive information secure. And Google values a good security level.
Covering various URL bases: Google specifically categorizes URLs with various prefixes. In case, your selected domain is "www.xyz.com" but Google doesn't know about that, they can likewise list "xyz.com" in the search results.
Including every version of the domain that you have for Google's review can actually clarify this.
You can get confidence and better conversions when your Google SERP presence is actually unified and you have used suitable keywords for SEO.
Site architecture and URLs: When branching off from the website's main page, the couple of URLs should hold a structured hierarchy.
If you don't own designated folders or even sections for services or topics, crawlers and visitors have to go through your content prior to finding something better.
Group topical pages and articles and keep them safe under a purposeful section. For instance, if you're an eCommerce store, you can also look at the about us section, different product areas, and even a blog section.
Your URL for a particular well-liked blog topic might appear like this:
"https://summersonlineboutique.com/blog/fashionadvice."
The URLs can even show this hierarchy and boost your Google SEO status. While people can simply retrace their steps to reach the home page, your navigational efforts as well as site architecture are quite effective.
That's the reason, your website design must have the feature of breadcrumb navigation.
5- Practice helpful linking for Google SEO
As you tried different ways to build links to internal pages as well as outward to different sites, remember that your link can affect your Google ranking.
You can promote Google-friendly links in two ways in order to secure a cost-effective framework.
Site linking reputation and nofollow: Google often witnesses linking to different sites as a hugely positive review, which can be truly advantageous for improving your rankings as well as strengthening a fellow site's ranking.
If you link to industry professionals, their credibility also rubs off on you.
However, a few websites that you mention might have questionable reputations. To simply preserve your users' trust as well as Google's favour, you can utilize the nofollow tag to easily break the association.
Anchor text: The anchor text of your link is clearly noticeable to Google, and enhancing its attractiveness implies developing a clear, descriptive string of words.
Google finds the anchor text to meet the linked page purpose, so summarize the concentration of the page for readers. Anchor text plays a great role to help SEO people understand basics of one way link building.
Visible anchor text is likewise better for SEO, so users don't unintentionally click on covert links and then rapidly backtrack.
6- Provide interesting, concise content
Website content, no matter its blogs, how-to instructions, guides, or news, is considered top-notch by Google when it increases user knowledge about the topic and meets curiosity.
Refined writing: Google avoids complex writing with grammatical errors, misspellings, and computer-generated text. Even formidable blocks of copy without required breaks can take you back in the ranking.
Original work: Several people strive to trick Google with unsafe SEO tactics. They publish the content from the top industries as their work. They also might alter the small part to cover their copying shortcut.
However, Google penalizes such sites, and it needs unique content writing that the Internet has never viewed before.
Choose the most interesting topic and a valuable keyword, then produce new, practical writing to rank better on Google. It's vital to craft writing that's readable, interesting, and original.
In-depth content: Google's algorithms as well as the quality testing team reward in-depth, complete content that allows visitors to go through the subject.
But clear answers can likewise win better rankings, based on the intent. Nearing 1500- to 2000- word posts is an ideal rule of thumb when you want to rank informational articles on Google.
7- Make website mobile-friendly
When Google adopted mobile-first indexing, it worked more actively. Google cares about providing the best results to several users, which means you should, too.
If your site isn't mobile-friendly, your text as well as images can seem tiny on handheld and smartphone gadgets. Also, it can sink your page on the first SERP.
Even, responsive design allows your page to morph into the correct proportions as well as dimensions for the mobile device. A mobile-friendly website boost off-page SEO activities to bring preferred results.
Google suggests responsive design as it reduces the great distance that generally happens when you make a desktop-based site visible on a small screen.
You can even utilize Google's Mobile-Friendly Test to see how your website measures up when it comes to the analysis. With just a URL input, you can quickly diagnose your site.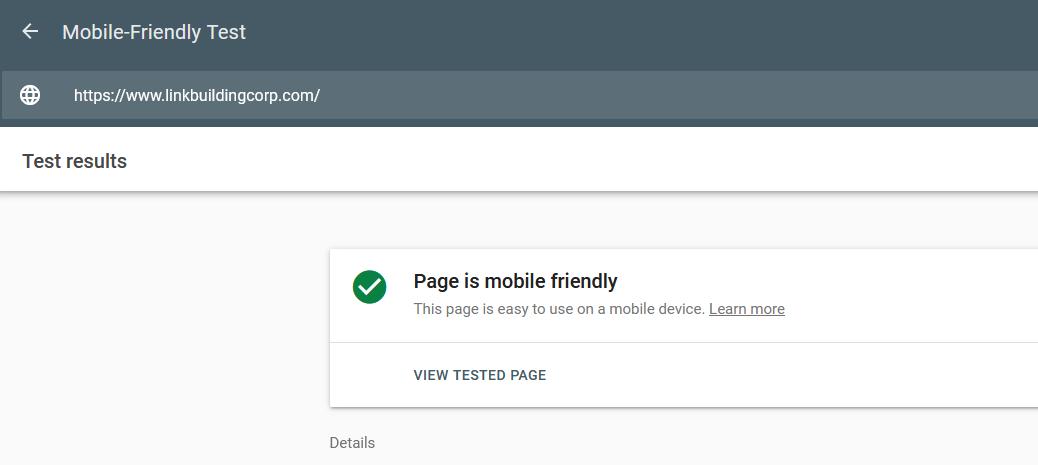 8- Ensure image format and description optimization
Although written content like informative guest posting is helpful in Google SEO strategies, images can be the cherry on the cake in order to improve your ranking on SERPs.
Engaging media is ideal for an affluent user experience, and Google expects your images must have descriptions, helpful titles, and formats.
Alt text:  Alt text is something that displays when the image doesn't load properly or isn't even supported, so it allows Google and users to know the picture no matter what. Give description of photos so Google can easily weigh such examples as well as supports in your rankings.
Filenames: Also, the file's name is convenient when you change it from a generic "IMG_5531.png" to "2018-google-trends.png." Putting your key keyword into the file name is convenient too.
Quality and format for Google SEO: For Google SEO, high-resolution, crisp photos amplify your website. Therefore, adhere to commonly accepted file formats such as PNG and JPEG for
Google's indexing.
Achieve Better Revenue with Google SEO
Google SEO is the right step in the direction of attracting various visitors, ensuring proper organic link building and improving your bottom line.
It's a great way to target a large number of Google users as well as channel the power of the popular search engine giant.
If you can't implement Google SEO by yourself, consider looking for a proficient SEO company and get the assistance of experts.
Want to better your Google ranking? Call us at +91-9205356986 to speak to our expert about our SEO services. quick quote.