What are the keywords? Why keywords are so important for SEO? These are some questions, people still ask. However, people who are in an online business very well know how keywords can bring success to them. But entrepreneurs who are new to the business don't really know how keywords work and why it is important for their business.
If you are unaware of keywords and their importance, then this article is for you. Here, you will learn:
● What are keywords
● Why keywords are important
● How to find keywords
● How to show up in Google for keywords
● How to optimize for keywords
● How to choose keywords
● What long-tail keywords are
So, without any further delay, let's roll into the article.
What are Keywords?
Keywords are the topics and ideas that refer to what your content is about. In terms of SEO, they are the phrases and words that searchers enter into a search engine, also known as "search queries". If you boil everything on your page through actionable link building techniques – all the copy, images, video, etc., – down to casual phrases and words those are your primary keywords.
As a content creator and site owner, you want the keywords on your page to be related to what people are searching on the web so that they have a better opportunity of finding your content among the results.
Why Keywords Are Important?
Keywords are important because they are the backbone between what people are searching on the web and the content you are delivering to satisfy that need. Your aim in ranking on search engines is to boost organic traffic to your website from SERPs, and the keywords you select to target will decide what type of content you get.
If you own a golf shop, for example, you might wish to rank high, but if you are not careful, then you might end up attracting traffic that's not interested in your products and services.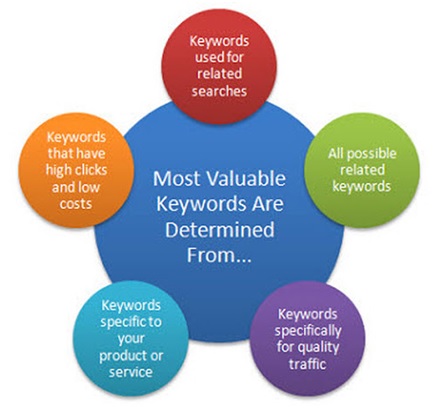 Keywords are as much about your consumers as they are about your content because you might showcase what you provide in a little different manner than some people ask for it. To develop content like engaging blog writing that ranks very organically and drives visitors to your website, you have to understand the requirements of those visitors- the language they utilize and the type of content they search. You can do this by talking to your consumers, frequenting community groups and forums, and doing your keywords research with a tool such as a keyword explorer.
How To Show Up In Google For Keywords?
Ranking at the top of the search engine for a relevant keyword might send a huge amount of traffic your way, but how do you do that?
There are two different ways of doing that:

● SEO (Search Engine Optimization)
● PPC (Pay Per Click) advertising
1. Pay-per-click (PPC)
PPC is where you pay Google to represent your web page in the search engine results for particular keywords. For example, if you sell email marketing software, you could offer on those terms and get to the top of Google's search results when people search for it.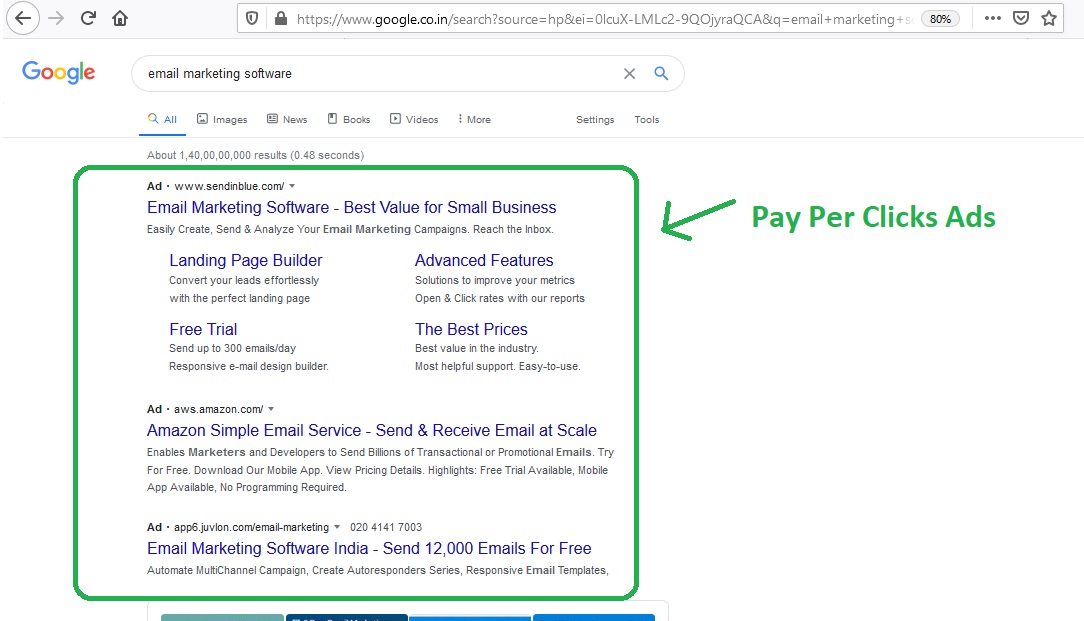 This is called PPC advertising. Google has a platform where you can select keywords to offer on. Google then shows your ad in the search results. Every time a user clicks that ad and reaches your website, Google charges you money.
You can tell paid results apart from organic one as they are marked as ads.
2. Search Engine Optimization (SEO)
SEO is the technique of optimizing your web pages to rank high in Google's organic results. And Google's job is to rank the best, more related results for every search query.
If Google considers your page the "best" result for the right keywords, you will get a constant stream of free visits to your site. For doing this task, focused SEO services are very important.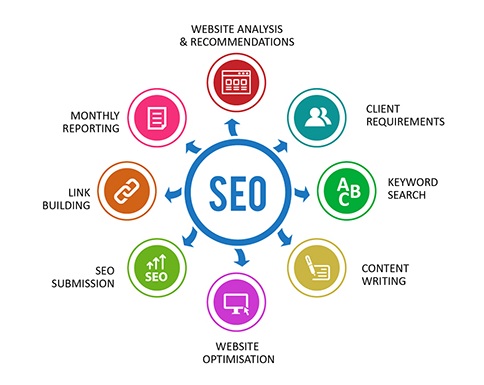 Image: source
How To Find Keywords?
The majority of people have some idea of keywords they want to rank high in Google. But it is impossible to know everything people search for on the internet. This is the reason why it pays to do some research to get more keywords ideas.
There are numerous ways to do this, but the most convenient method is to utilize a keyword research tool.
The majority of these tools work in the same manner. You enter a few broad keywords relevant called seed keywords, and the tool gives back some related keywords ideas.
The below image shows some keyword ideas reports.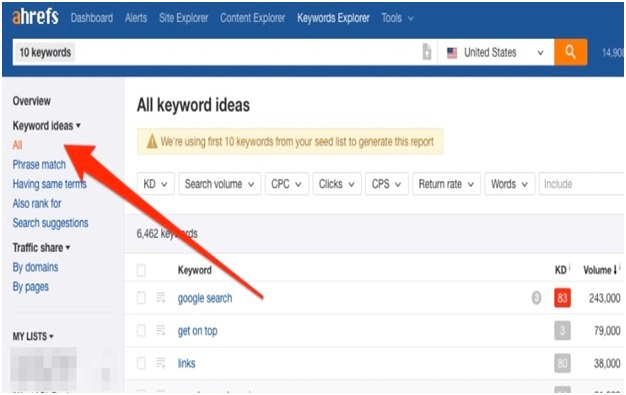 Image: source
Instantly, you will see many keyword ideas complete with monthly search volumes, the average cost per click for many paid ads, and lots of other SEO metrics.
How To Choose Keywords?
Nobody can rank high for every keyword, and nobody can bid on each and every keyword. For such reason, it is vital to select your battles wisely. Let's read out some keyword metrics and attributes to assist you to select the best ones.
● Search volume
● Keyword Difficulty
● 'Value'
● Search intent
1. Search Volume
For example, there are approximately 35,000 monthly searches for "how to post on Instagram". But only 1,200 monthly searches for "how to get backlinks".

Does this mean it is better to rank for "how to post on Instagram" in comparison to "how to get backlinks?", not always. There is no point ranking for that first keyword if you provide SEO software. It might attract many visitors, but none of them will probably buy what you sell. This also one of the ways to earn backlinks.
You have to find keywords that hold some relevance to what your business does, then analyze them relatively.
Say, for example, there are an estimated 2,200 searches for "SEO tips" every month than 350 for "image SEO".

As it might make sense for you to show up in Google for both of these keywords, you should likely initiate the first one. Why? It has more searches. You would probably get more traffic from top ranking for that keyword than the other one.
You can surely find out the search volumes for almost any keyword in Ahrefs' Keyword Explorer. Just type your keyword, select a country, and you will see global volumes and country-specific. You can also refine your keyword search.
2. Search Intent
Just imagine that you sell electronic products online. Looking at the search volume for "electronic product". It looks like a decent keyword to try to rank a product page for.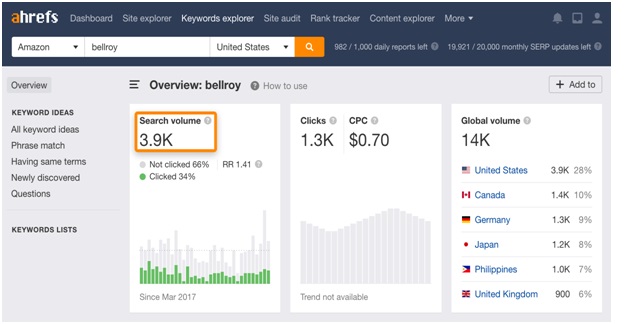 Image: source
After all, people looking for "electronic products" are mostly looking to buy one, and you sell them. So here, what's the issue?
The issue is that the majority of people searching for this keyword are not ready to buy. They are just searching for insights and reviews into the best models available.
You will find an accurate list of the electronic products by consumers review sites. That matters as Google's job is to provide relevant search results to users. If most of those are lists of the best electronic products, then you can assume that is what searchers want to see.
In SEO, this is called as search intent.
If you want to stand out of the crowd in Google, you have to develop content that aligns that internet. In simple words, do not try to rank your homepage for a keyword where searchers are searching for blog posts, and vice versa. You can also search hidden keywords for extra benefit.
3. 'Value'
People often get stuck on search volume and intent without stopping to think about the keyword's value. That is a mistake.
Let's assume that you sell cake online. You might see a keyword like " stranger things" with its 34,000 monthly searches and this that trying to rank higher for it is a no-brainer.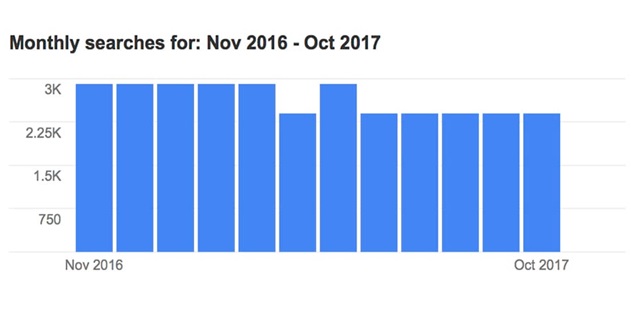 Image: source
But you have to ask firstly yourself how many of those people really want to buy a cake? The organic answer is likely none. Most are of them are just searching for a quick recipe. It is unlikely that they will drop some amount on a pizza over anytime soon.
So how do you judge the value of a keyword
If you are judging keywords in bulk in a keyword research tool such as keyword explorer, you can see CPC for a sense of 'value'. This represents how much advertisers want to invest in a click from the keyword.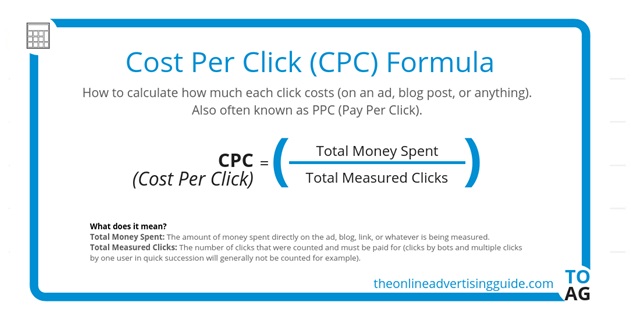 Image: source
The concept here is that if people want to invest a good amount for clicks, there must be some value in the traffic from that keyword.
However, things are not this simple. Just because a keyword has value for an individual it does not essentially mean that it has value for you.
Take effective link building services, for example:
It has a high cost per click, and it is convenient to know why. There is a huge amount of money to be made selling link building service, and the organizations that do so want to invest a good amount for this traffic.
However, those who don't provide link building solutions, it does not hold much value for them.
4. Keyword Difficulty
Let's assume that you have found the perfect keyword for your business. There are many people searching for it, your page matches the search intent, and it looks valuable. You should consider that keyword, right?
Not essentially. It relies on how complicated it will be to rank for.
Take the below-mentioned example: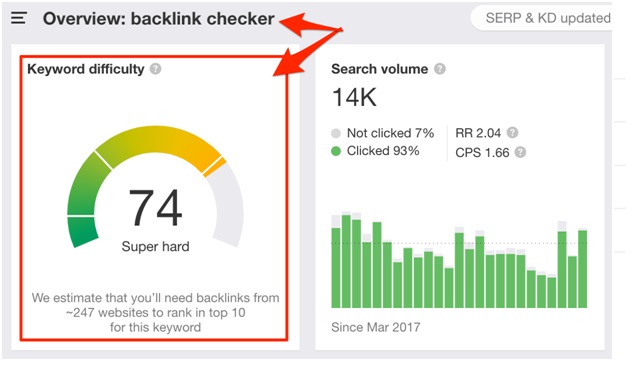 Image: source
It has a keyword difficulty score of 74. Given that your scale runs from 0-100, that is a little high. It means that the majority of the top-ranking pages have numerous links from other sites. Because backlinks are an essential ranking factor, it would be difficult to outrank the pages without getting many high-quality links. And for getting high-quality links, you have to first know how search engine operates.
That being said, there is more to ranking in the search engine in comparison to getting backlinks. So while keyword difficulty is beneficial for achieving a rough sense of ranking difficulty, there are many other things you should consider.
How To Optimize For Keywords
The majority of guides say that you need to do these types of things to optimize for keywords:
● Mention your keyword throughout your page
● Include the keyword in the URL
● Include the keyword in the title tag
● Include long-tail keywords in your copy
However it does genuinely make sense to do many of those things, they are not the foremost way you optimize for a keyword.
The major way to optimize for a keyword is to match search intent.
Earlier, we have talked about this, but it is essential to stress just how vital this is. If you are trying to rank high for any keyword with a blog post, it is likely not going to happen. Google understands searchers want to buy, not learn. This is the reason why you need to know about keyword research for local business.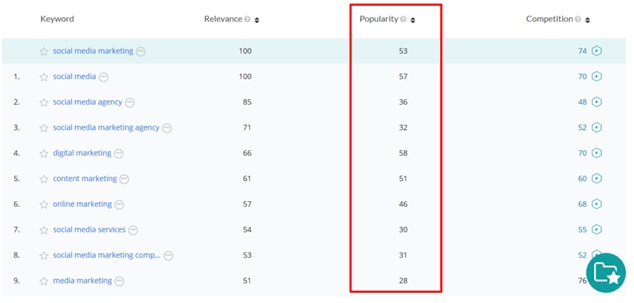 Image: source
But matching search intent is not just about developing the right kind of content. You also require to talk about the things that searchers want to see.
For example, let's assume you want to rank for backlinks.
You can analyze from current top-ranking pages that users want a blog post, so you understand which type of content you need to create. But what actually should you write about? What should the concept of your content be? However, if you hire concise content writing services, you will be carefree from everything.
Furthermore, you can get an idea of how to write content by looking at the top-ranking pages.
In such a case, almost all of the content has the same concept: "What are backlinks?"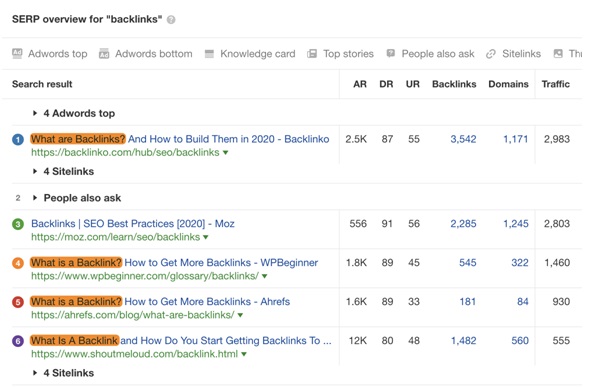 Image: source
To stand the best opportunity of ranking for this query, you would want to follow suit.
But don't stop right there. You should also identify what all the top-ranking pages cover. For example, nearly every page that ranks for the keyword "backlinks" covers all these subtopics mentioned below:
● What are backlinks?
● What types of backlinks are there?
● Why are backlinks important?
This tells you that the majority of searchers want to know the answers to these above-mentioned questions, so you should include them in your post.
What Are Long-Tail Keywords?
If you have read something about keyword search earlier, you might have come around the term long-tail keywords. The majority of guides define these as keywords that hold many words, but that is not completely accurate. People get search SEO keywords by industry so that they can get traffic as much as possible.
Long-tail keywords are search queries with very low separate search volume. While it is true that longer keywords tend to have very low search volumes, one or more than one (two) word phrases can be long-tail keywords.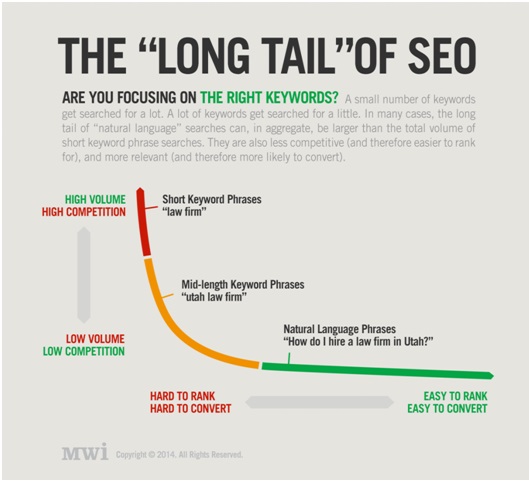 Image: source
People also believe that long-tail keywords are convenient to rank for. That can be real, but not every time. It is more accurate for what people like to refer to as "topical long-tail keywords" in comparison to that "supporting long-tail keywords".
Confused? Let's take a brief look at these two different groups.
What Are Supporting Long-Tail Keywords?
Initiating long-tail keywords are not so popular way of searching for a popular topic.
For example, look at these keywords: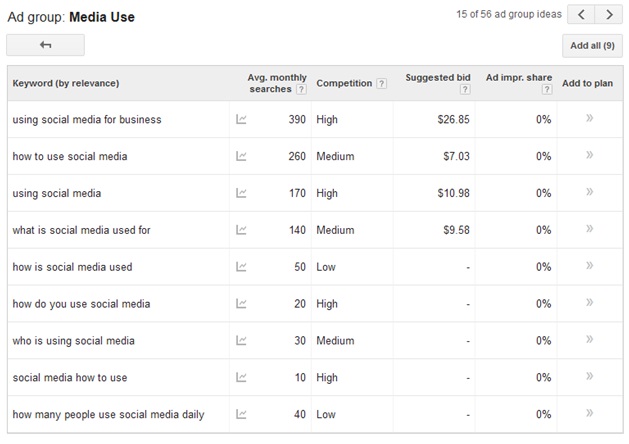 Image: source
Each one of them has low monthly searches because they all are not so popular ways of searching for "social media".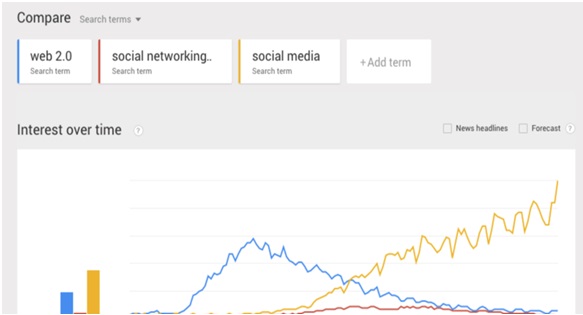 Image: source
Google knows this, which is why the interest of the users on the same page is very high.

Image: source
This is not rare. A survey presents that the average top-ranking page also ranks for about a thousand other keywords in the top 10: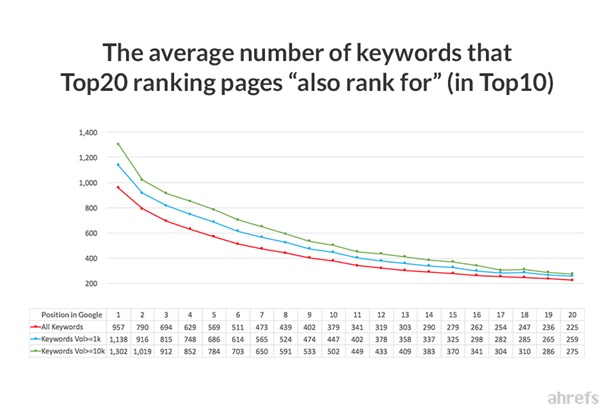 Image: source
There are two different lessons you can learn from this:
The first one is that ranking for encouraging long-tail keywords is generally no easier than ranking for the most demanding way of searching for some specific topic. You can analyze proof of that if you compare the keyword difficulty score to the long-tail variations. If you don't want to go deep then just know about how to dominate Google first page.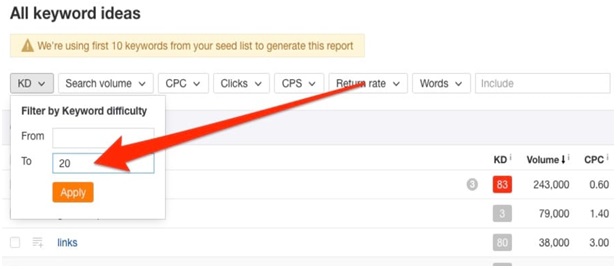 Image: source
The second one is that you should not enhance your page for a supporting long-tail keyword. You should enhance it for the most used way of searching for the topic.
What Are Topical Long-Tail Keywords?
Topical long-tail keywords are those which have very low individual search volumes that show the most demanding way of searching for a topic.
A perfect example of a topical long-tail keyword is obviously the query, "what's the best protein powder".

Image: source
It only gets 70 searches a month, but that is not something because there is a more popular way of searching for the topic. It is only because some people care about the topic that it only gets very few monthly searches. Here the most convenient thing you can do is target only one keyword and for that, you need to know what is focus keyword.
Here also, there are two lessons to learn:
The first is that topical long-tail keywords are most convenient to rank for as they are less competitive. People are not wishing to invest a lot of effort and time into ranking for topics with low traffic potential.
The second one is that topical long-tail keywords can deliver a huge amount of traffic to your website.
You can get topical long-tail keywords in sites like keywords explorer by searching for a topic, filtering it for low-difficulty keywords, and low volume. If the parent topic matches the keyword, it will generally be a topical long-tail keyword.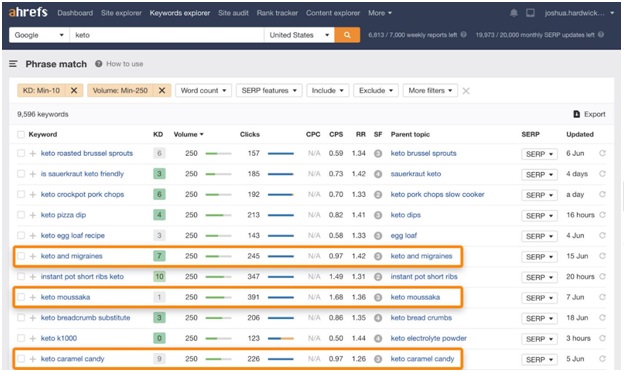 Image: source
For example, if the parent topic is the same as the keyword.
If you look at the search results, you will see many pages getting a few hundred visits every month while having few backlinks.
It would be easy to rank for such a keyword even with a new site, as long as your content is well-educated. For this, you can also consider niche specific guest posting solutions for effective content.
Final Thoughts
Keywords are the backbone of SEO. You cannot optimize or create content for search engines unless or until you know what people want or what they are searching for.
And to implement your keyword strategy accurately you need professionals, who have a deeper knowledge of SEO. Being a business owner, you surely want best in the field and there is no one better than LinkBuildingCorp. With 100% genuine and spam-free SEO services, LinkBuildingCorp have gained the trust of all clients over the years and has become one of the most trustworthy SEO company. With their trustworthy SEO services, you will be able to boost revenues and attract traffic to your website.
Looking for some SEO professionals? Want keyword research tips? If so then contact us today. We will be very grateful to help you!