For growing better on the search engines, the main focus is on the SEO strategy. In SEO solutions, the keywords matter a lot. These keywords range from single words to complex phrases and this is used to inform website content. The usage of keywords is crucial then it can increase relevant organic search traffic to the website. Do you know a researched and optimized keywords can play important role in the SEO strategy?
SEO keywords are the terms that are used in the online content which improve search engine rankings. Generally, in the professional link building strategies, the usage of keywords is always focused. During the keyword research process, very few of them are chosen based on a combination of competition and search volume intent.
Ranking higher in search engines helps to drive more traffic to your website but can be impossible without keywords.

Below You'll Read:

☛ What Are SEO Keywords?
☛ Commonly Used SEO Keyword Types
☛ Why Keywords Are Crucial For SEO?
☛ Using Keywords In Content
☛ Using SEO Keywords In Your Content
☛ How To Use Keywords on a Webpage
☛ Keyword Integration Tips
What Are SEO Keywords?
When you want to grow online, it is important to optimize your content. The content stays around words and phrases that people search for and by using the right keywords your website can rank higher for the relevant searches. When you choose the topic for your content that is believed to stay long in the post many times. This can act as a great resource where you can get started and make your website best scalable on your needs. It can take plenty of hours, and if you are unable to do it then might spend dollars on the company.
Commonly Used SEO Keyword Types
Keywords are categorized in various ways for a variety of reasons. If you have to work with the keywords then here are some of the most common types and examples of SEO keywords.
1. Branded vs. Unbranded Keywords
Branded keywords are terms that contain the brand in the query. This can include the brand names, branded campaign names or taglines, or anything else obvious related to the brand. When you are using branded or non-branded content, keywords are considered.
Unbranded terms are considered those where customer uses non-distinct names. This makes the search more difficult. Among these, branded terms bring in the highest converting traffic as the searcher has familiarity with the brand.
Example:

• Branded: Pepsi
• Unbranded: the best cold drink available
2. Seed vs. Page-Specific Keywords
Seed words are known as the initial list of words where you start for the keyword research process. This will act just like the plant seeds to grow your list where they are relevant to most of your website. Page-specific keywords are generally found in the keyword research process where it is applicable to only a single set of pages.
Example:

• Seed: home improvement store
• Page-specific: shelf building supplies
3. Head vs. Long-Tail Keywords
Among all the types of keywords, you can see the highest search demand which relatively low demand are considered long-tail. When you search out terms then tail terms will fall quickly in terms of the total number of searched keywords, whereas. With searches being done to Google, it is not surprising that most search queries are generally long-tail. If you have an individual long-tail query then it gets searched very few times.
a) Head Keywords Characteristics
• Best for top-level pages
• High search volume
• High ranking competition
• Low converting traffic
b) Long-tail Keywords Characteristics
• Low search volume
• Low ranking competition
• High converting traffic
• Singular search intent
4. Primary vs. Secondary Keywords
The primary keywords are used to describe the most important keywords. These terms are used in the context of your entire site or page. On the other hand, secondary keywords include all other keywords where you are targeting incorporating some contexts. The secondary terms are considered to be loosely optimized and this is why they are not considered as a high priority. When you know the top importance of website guest posting you'll see secondary keywords act as the semantic support to help you get the best along with the primary keyword targeting.
Examples

• Primary: Makeup kit subscription
• Secondary: creams, lotions, lipsticks, etc
Why Keywords Are Crucial For SEO?
The search engine crawls your website's pages to understand it. By using particular keywords you can make your pages appear for relevant queries. Keywords help to match your website to customers' relevant searches and this offers them exactly what they are looking for. SEO keywords not only help to rank your website but also help you to attract new visitors that lead to better brand awareness and a boost in sales. Search engine algorithms work pretty smartly and they can auto-detect keywords that rank pages automatically on their keyword optimization. The more keywords you use, they are more likely make the people reach your site via search engines.
Keywords help website owners in their following SEO strategies:
• Identify the communicating way of the target market.
• Creating better and useful content for the target audience.
• Placing content in front of the people looking for similar services.
• Helps to communicate to Google to get marched for a certain query.
• Increase search engine rankings
• Bring in more qualified traffic
• Direct more qualified traffic to web pages.
• Increase conversion rate and stay ahead of your competitors.
To make keyword works better way, the research and optimization improve your chances of showing up on top results. This can begin to drive more visits to your website, engage more people to make secure conversions, and increase revenue. More importantly, this improves your rankings and the opportunities to reach more and better audiences.
Website owners select keywords and use them to guide content creation and optimize their web pages as part of their SEO strategy. Even though the keyword may have a lot of search traffic but you need to ensure that the keyword brings in more quality traffic. With regular keyword maintenance, you will stay ahead of your competitors and continue to attract traffic.
Using Keywords In Content
To get the best keywords, you can see yourself researching and experimenting with the topic which can get you the best keywords:
1. Don't mess up with keywords
When you put your efforts into implementing local SEO and other marketing strategies, first think like a human. It is important to learn about your customers and what you need from your customers. Before diving into other tools gain a better understanding of the customers and serving and the perspectives they hold.
2. Make a ready keyword list
When you have understood the customer's perspective, the next step is to prepare the keyword list that is according to the need of your customers. When you brainstorm you'll find several words and phrases that effectively describe your core offerings.
3. Gather current keyword data
Generate a better list that helps you to currently generate traffic to your site. Here are some keyword ranking tools that can assist you in this:
• SEMrush
• Google Search Console
• Moz Keyword Explorer
4. Consider Group terms
It is important to categorize your keywords in the best way that will be simple and useful. This can be done by focusing on audience-type, phase that you think fits best.
5. Putting keywords to content
Choose primary keywords that help to target each page. In this, it is important to be careful to balance keyword difficulty, search volume, and relevancy. Once you have determined, you can use long-tail terms and primary keywords in the content.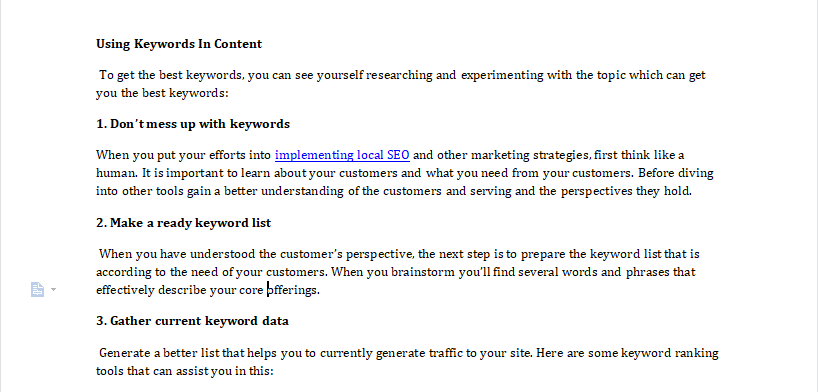 Using SEO Keywords In Your Content
When you have understood the top-notch benefits of link building you'll see how keywords in the SEO strategy work to grow your website. But the major step involves using keywords in the content.
Experts say, "Decide on one main keyword". This context means you need to focus on the keyword that belongs to the content used. When you don't optimize your content with the relevant keywords then strategy rarely works. For example, if you are writing a blog post that is optimized for "how to write a blog". Then using variations of that keyword such as "writing a blog" in the content can help the SEO to be pretty much focused on my main keyword.
Note: You can use your main keyword several times in your content but do not go overboard. Repeating your keyword 100 times doesn't work best. By mentioning the main keyword a few times can easily help Google to know that what your page is all about.
Example: Your content has the main keyword "SEO techniques". It is also important to add it once in my title tag and in my URL.
The below page uses the target keyword several times on the page.
In this, make sure the main keyword is mentioned in your title tag and URL as well.
Also, don't forget to add your keyword in your meta description.
Google cares a lot about the terms that are there in your meta description. Adding your keyword to your description helps your snippet stand out in the organic search results.
Example: Look out for the meta description for this page.
Google bolds the keyword and this can really help you to stand out in the search engines results and improve the CTR.
You can also choose to add slight variations in the "SEO tactics". You can also include keywords such as "SEO tips" and "SEO techniques".
If you want relevant keyword variations then by using the "Searches Related to" section which is present at the bottom of the search results. With this, you can see using internal links to send authority to your new page.

Note: The new pages don't have any quality backlinks but with the help of internal links the webpage can get instant link authority. In this, you need to make sure to use anchor text that includes your right target keyword. This helps Google understand that your page is related to a specific topic.
How To Use Keywords on a Webpage
When you are choosing keywords it is effectively important to optimize your website with keywords that can make your content live better. While using natural link building tactics, the addition of keywords is equally important as searching for the better keyword. When you want to make the best use of keywords, here are some ways you can see keywords working out best:
• Meta description tags: Unlike title tags, meta descriptions don't influence rankings in Google. When you include them this can increase the CTR rate.
• URLs: The addition of keywords in URLs makes your content highly visible and helps to describe the entire page. This is why even Google places some focus on URLs.
• Title tags: Title tags have a great influence on rankings and click-through rate (CTR). If written effectively then keywords can help your website to improve ranking and CTR.
• Static content: Search engines crawl your website to look for dynamic content. Using keywords in the static content helps in indexing your website.
• Schema markup: Schema adds context to content that becomes applicable and marks your keywords up with the most appropriate schema.
• Most visible content: Google very well understands content in the similar way we do. Using keywords on the H1 tag at the top of the page attracts more eyeballs. The most visible content is generally considered as influential for SEO.
• Internal links: Incorporating keywords help the anchor text of links pointing to your page. If your content has the link pointing to your page then this helps Google to understand the destination page.
• Image and video file: It may sound shocking, but the keywords are also used in naming the image or video. According to the experts, it is a descriptive name using a relevant keyword.
• Image title attributes: Image titles not only work on all browsers the same way, which is why Google may not put much weight into this content. However, this brings out an opportunity to gracefully include keywords.
• Video closed captioning: When you are adding videos it is important to add extremely relevant keywords. You need to make sure what is heard and seen gets included in your index-able closed captioning or transcript.
Some Keyword Integration Tips
Keywords are not going to disappear anytime soon and they will still be a very important part of SEO. SEO marketing may change time and time again but the importance of the keywords in the content will stay the same for the search engines ranking algorithms. While using the keywords, here are some integration tips you need know this:
• Don't overdo it : The over-optimization which is also known as keyword stuffing is the thing you should now do. Excessive use of the keywords can turn away your customers and you may get into Google's suspicious eyes. Each area of the content must use keywords that don't hurt the user experience.
• Don't optimize each page : If you have a one-page site then you need to look at your keyword targeting that takes all pages into context. This will help to guard against any gaps that can happen when you work on each page.
• Ignore the meta keywords tag : The meta keywords get little attention from the main search engines so it is better not to waste your time focusing on the meta keywords.
• Test everything : If you have the best opportunity to work on sites then it is best to make use of the opportunity and set up to polish your techniques.
Conclusion
Keywords are is integral to successful SEO and something this can do best in attracting customers on an ongoing basis. Better keyword research helps you understand how to describe yourself in the target market and helps to attract the attention of the search engines and customers. With professional LinkBuildingCorp. you can analyze the keywords helping you to stay in the competition and in a better position in the search results.
Our experts know the best way to use the target keywords that can help to grow your website. To avail of our solutions, contact us at +91-9205356986 or request a free instant quote.
Never miss a story..!!
Grab the Latest link building, seo, content News, Tips, Updates & Trends..!!
---
Want to read some trendy and fruitful resource? Learn Advanced SEO Marketing Hub 2.0
---