Do you want your websites to be attractive and informative at the same time? Want to gain more traffic? Content marketing is the answer to your questions.
Content marketing is continually evolving. It's not something you should set and overlook, particularly when all marketing is going digital. Today, the content has become the fulcrum of marketing, lead age, and even sales campaigns across inbound and paid channels, primarily because of something specific that is: its viability.
Here, in this article, we have covered a few topics and that are:

☛ What is Content Marketing?
☛ How Content Marketing Is Evolving?
☛ Why Content Writing Is The Important Part Of Marketing?
☛ 7 Actionable Content Writing Trends That Will Remain In 2023
So, let's get started with the first topic.
What Is Content Marketing?
Content marketing refer as a strategic marketing approach aimed on distributing and creating suitable, valuable, and consistent content to grab potential audience and, to drive profitable customer action.
Instead of pitching your products or services, you are delivering truly useful and relevant content to your customers and prospects to assist them to solve their problems.
Now that you are clear with the definition of content marketing, let's know how content writing is evolving.
How Content Marketing Is Evolving?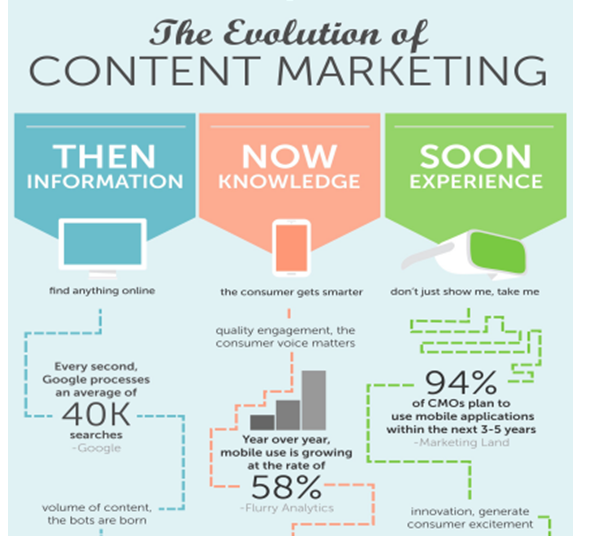 Image: source
In the last few months, there were speculations about what will happen to content marketing and how business owners and marketers will leverage content in the wake of COVID-19. Contrary to such speculations, the digital marketing trends for 2020 demonstrated a completely different story. Interestingly, content marketing has become more critical than ever, and the entire process of content creation & distribution has undergone a radical change.
Ideally suited for the internet generation, the concept of content marketing that is termed by Seth Godin, the American author, and former dot com business executive, as "the only marketing left," is fierce now. Businesses need a way to stand out. Today, marketers are exploring new ways to help their website visitors get faster results. They ensure that content is easy to consume and redirected to identify and solve the target audience's pain points and requirements. For this, marketers are blending content marketing with social media marketing in a more synchronized way.
Today's tech-savvy consumers prefer video content from their favorite brands. Moreover, the audience prefers to stay engaged longer with video content than with any other type of content. It is no surprise that live-stream audiences are growing consistently, and a majority of internet users prefer watching live videos than reading blog posts.
According to Statista.com, B2C organizations primarily from North America were asked in June and July 2019 about their plans regarding content marketing budgets. During the survey, 59% of marketers stated that they were planning to increase their content marketing spending in 2020 in comparison to 2019.
With more access to information and a superior comprehension of your purchasers' preferences, you may consistently be adjusting your way to deal with content marketing.
With this, we come to the importance of content writing.
Why Content Writing Is Important Part Of Marketing?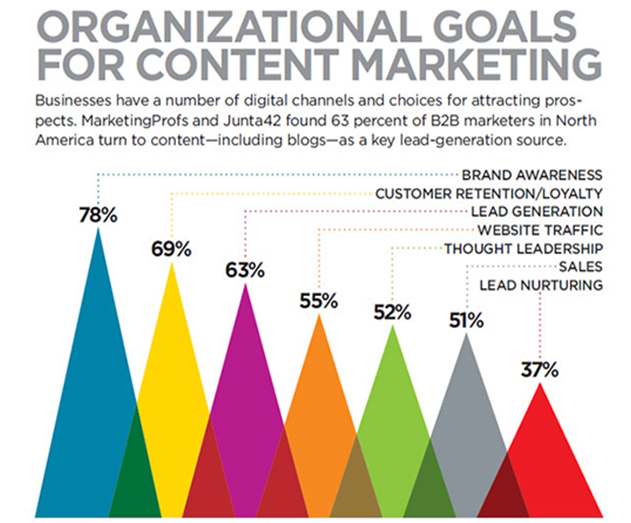 Image: source
We have broken down why content marketing is essential below.
1. Helps Build Brand Awareness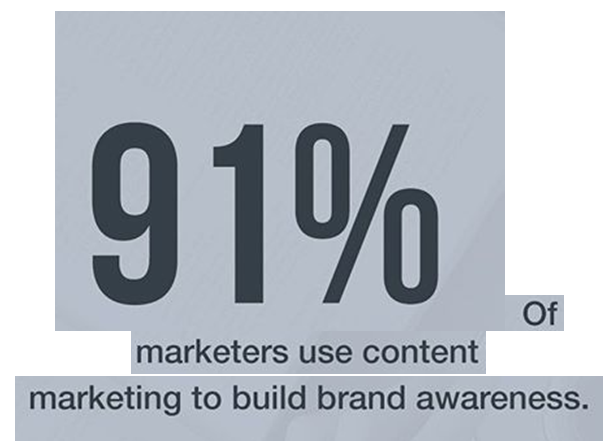 Image: source
Pushing business or product ideas can take time. You have to get customers on your side and let them explore more and more about what you are offering. Pushing content on your different channels will assist to do this. Utilizing your social accounts, blog, newsletters, and website to create well-written, engaging, and useful content that related to your brand will represent your potential customers that you are there.
2. Written Content Helps SEO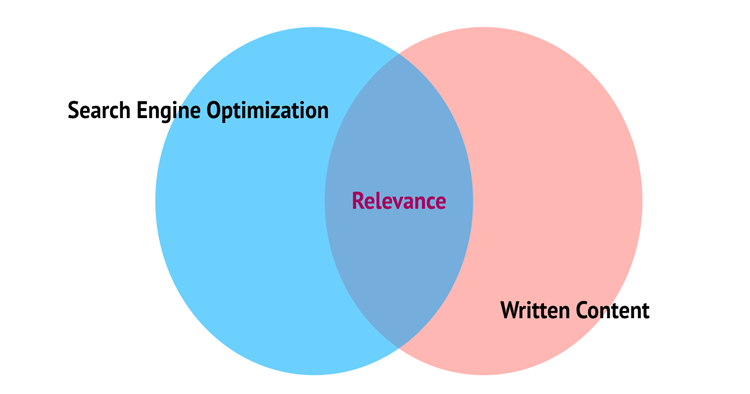 Yes, a mix of marketing is essential. But content marketing is and always will be essential for SEO rankings. A video rank higher when there is content with it. Whether that is a YouTube description or script using keywords this will assist drive SEO. There are many websites that have an excellent blog that talks about SEO content strategies and why content is essential for your marketing strategy.
3. Writing Helps Establish Your Business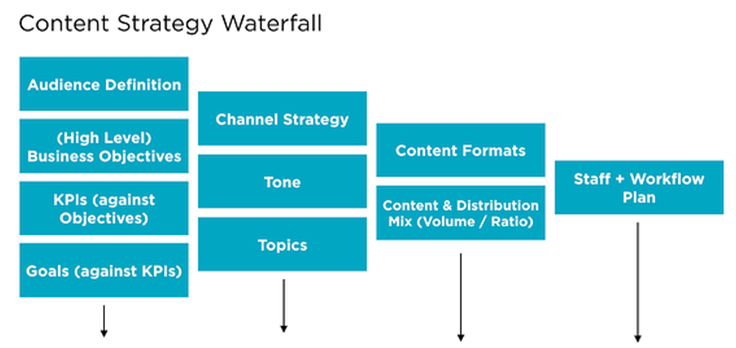 Image: source
Posting regular content makes people know what your business is all about. It tells them about what you can do and how can you help them. For instance, many websites regularly update the site with written blog posts about the services it provides. This maintains the visitors on the site and keeps people interested.
4. Good Content Earns Links from Other Websites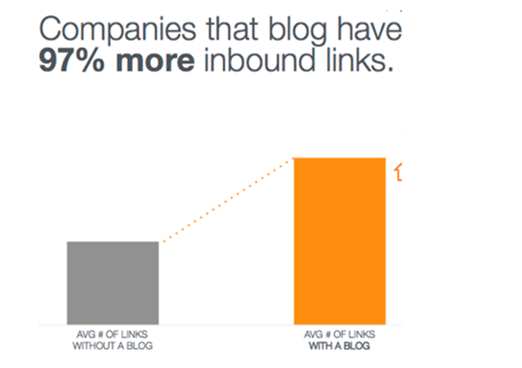 Image: source
If your business updates its site with content that is suitable and relevant to your product, you can be guaranteed that over time people will begin to mention and link this content when discussing that product or service. This will increase your SERP rating.
5. Good Content Will Always be Shared
Good and effective content will always be shared. That's a reality. Target keywords with high search volumes. Write an attractive headline and you will be sure people will definitely click to read. Or, consider utilizing strange questions, numbers, and something intrigue people in the content and headline as well. No matter what it is, if it is a blog post or social media post, keeping it engaging will generate shares.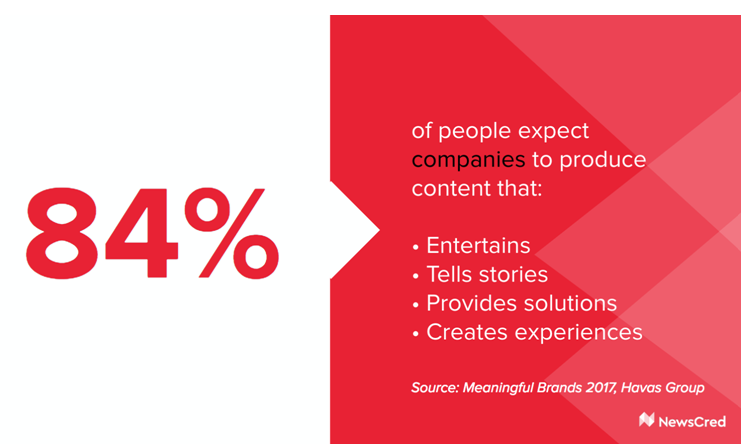 Image: source
6. Written Content Builds Retention
If you have an established business then more than likely you will be searching to maintain and build customer retention. Having a fabulous content strategy can initiate this plan. Think about your preferred brand and why it is your preferred brand? Possibilities are there is something to do with their digital strategy in there. Whether that is there attractive Instagram feed or an easy to use the site. No matter what it is, content writing will always play a big role in that. Because it keeps you engaged.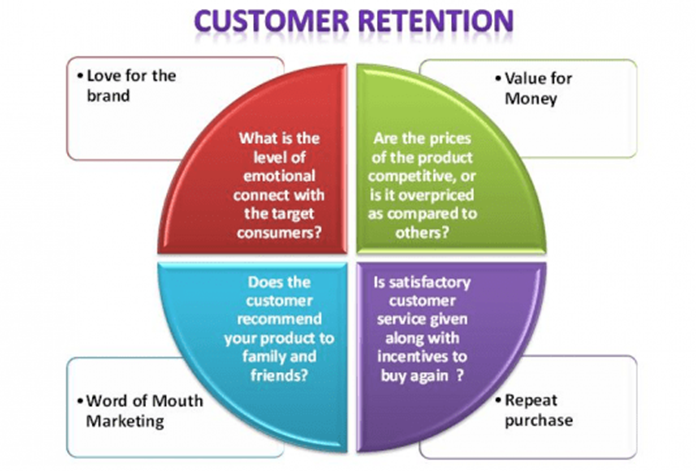 Image: source
So, without wasting any time, let us jump to
7 Actionable Content Writing Trends that will Remain in 2020 and Beyond
Trend 1: Keep guests engaged with the assistance of consistent programming
In a meeting with Wordable, content marketing tactician and proofreader Tommy Walker conveys a surge of priceless view that we should all acknowledge in 2020. However, there's one specific point that sticks out.
Walker accepts that individuals see the PC screen comparatively to how they used to see the TV screen before. Walker added you have to keep individuals engaged in a similar way that a TV show would, so you can "make a progressing story that individuals will need to tune into on numerous occasions." Programming is critical: build up a steady calendar so your audience can "start tuning in."
Past his point about keeping the audience drew in with the assistance of regular programming, Walker additionally gives us a couple of noteworthy composing tips, for example, writing sweater weave duplicate where one line can't exist without the other and continue cutting the original word you produce, so as not to exhaust your audience with your "warm-up," when you're mostly merely rehearsing.
Trend 2: Automated Content Creation and AI-powered content marketing strategy
Image: source
Numerous advertisers are searching for new and more robust approaches to make content past their consultants. We may start to see advertisers delivering content through automated algorithms soon, as these advancements proceed to improve and turn out to be more refined. We're beginning to see automated algorithms making essential content for a broad scope of businesses, including reporting and money.
The new software will, before long, be accessible to assist marketers with incorporating and making new content from all the data shared by social media clients around the globe. We saw this with Twitter's Project Lightning, which creates new stories dependent on the pictures, posts, recordings, and other content that individuals share in their tweets.
AI-driven content marketing perhaps is the most significant and most game-changing pattern yet. Search algorithms changes mean more significance is set on long-structure content and semantic hunt.
For instance, Google's Knowledge Graph helps search clients pull up better outcomes for their drawn-out pursuit inquiries. Google is taking this to the following level by utilizing AI to encourage better matches to look through queries using its RankBrain algorithm.
What will we do when the AI mentions to us what to make and where to disperse it? That future might be nearer than you might suspect!
Trend 3: Reward reader commitment with appreciation
In any case, in 2020, it won't be sufficient to screen and attempt to improve these: you should reward your draw in fans with gratefulness to keep them connected with and faithful to your image.
As per Hurley, prizes can be as necessary as answering to remarks that readers leave under your blog entries, sending them treats, or approaching them for input.
Trend 4: Test better approaches for content development:
Benji Hyam recently contributed a post on Grow and Convert, where he discusses how conventional methods of content development are done serving advertisers and what you can do to develop new techniques to get your content before your intended interest group.
He summarizes the three regular strategies most organizations use to develop their content: attempting to rank for specific keywords and hang tight for SEO to kick in, sharing blog entries on personal and business social media accounts, and distributing content in online networks, (for example, Facebook gatherings, Reddit, Quora, and so on).
Recently, Hyam's group has been encountering a similar battle that numerous other content marketers are managing. Because of the limits that platforms like Facebook have as of late forced to link sharing, leveraging online communities isn't close to as successful as it used to be.
Hyam recommends that as opposed to depending exclusively on SEO (which is a drawn-out methodology) and your social media devotees (where you likewise have a constrained reach), in 2020, you should try different things with better approaches for content development. He proposes testing paid promotion (Facebook, LinkedIn, Twitter, Quora, Reddit), purchasing or building industry-explicit pamphlets, and making your locale outside the usually utilized social media platforms.
Trend 5: Take SEO beyond Google
As per Kevin Indig, creator of The Time to Take SEO Beyond Google Is Now, there are a few reasons why in 2019, you should consider new ideas with regards to SEO.
Google's browser has experienced massive changes. The measure of rivalry in list items is turning crazy. Google has begun showing answers to questions legitimately in the SERPs (which disheartens clients from tapping on joins). They've likewise added it included pieces to oblige voice search, again bringing about fewer clicks.
Fortunately, there are numerous approaches to liberate yourself from Google and differentiate your SEO. You can go at stretching out your SEO procedure to video and exploit the second biggest web browser on the planet (YouTube).
You can coordinate the traffic that you do get from natural hunt to a medium that you can control (for instance an email rundown), and you can repurpose your content in various arrangements on various platforms (Medium articles, Pinterest pins, infographics, web recordings, and so on).
Trend 6: Produce customized video content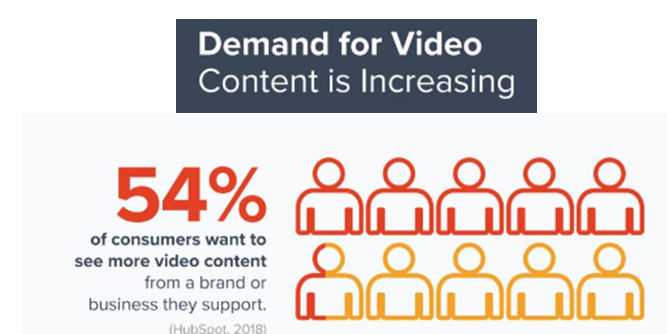 Image: source
In her article "Personalized Video Content Can Be The Marketing Breakthrough Brands Need," Forbes contributor Jia Wertz appropriately calls attention to that organizations can no longer disregard the expanding notoriety of video content. As indicated by her, "video is how marketers overcome the challenge of increasing reach and engagement in our current environment of constant media overload."
What's more, there is one surefire approach to cause your crowd to react to your videos: by making a genuinely engaging and personalized experience.
In 2019, your video content was significant and valuable to the client. It needs to separate you from different brands utilizing comparable video advertising strategies. Your videos should mirror an individual, balanced discussion to make a personal connection with your crowd. Also, to accomplish the entirety of this, you ought to use "all the huge information you've been gathering on leads and clients," says Wertz.
Trend 7: Utilize content marketing technology:
One of Joao Romao's 7 Tips To Be Successful With Content Marketing In 2019 isn't to avoid content advertising innovation.
Technologies that permit you to automate specific procedures – like booking posts via social media – can assist you with sparing time, which you can use to investigate better approaches for advancing your content (and perhaps test two or three the new development strategies we referenced above), or keep your crowd drew in through thankfulness (likewise one of the above tips).
The Future of Content Is Here
Content's future has shown up, and it has never looked so great. More advertisers than any other time in recent memory are organizing quality, and the client's data needs over sales messages. We're centered around building trust and authority with legitimacy, not sales stunts.
On the head of that, visual media is going in startlingly new and energizing ways. The opportunities for incorporation with content are insanely acceptable. In 2020, watch for creative marketers to push the limits of content creation.
Search for ultra-focused content, higher pledge to a client-first methodology, and generally speaking, better content flooding the scene.
Conclusion
By this point, you ought to be well headed to turning into a content marketing expert. You have enough information to take your organization's marketing system to a more significant efficiency and viability level.
Obviously, as this last area features, there will consistently be new developments in the field. As you push further in your journey towards content advertising, you'll figure out how to perceive and foresee those patterns. This will go a long way in identifying and exploring the innumerable advantages that your business can reap out of content marketing.
We're happy you decided to pursue and consider all that we've talked about here. To make the following stride, you can hire content marketing services in Canada to assist you with developing new content marketing strategies. By doing this, you can quickly request a no-cost consultation with a content development strategist who will help you out with innovative ways to enhance awareness about your brand and increase demand for the products and services offered by your business. It has been their success story for long, let's make it yours now!
Call us at +91-9205356986 or mail us at info@linkbuildingcorp.com